Welcoming the stampede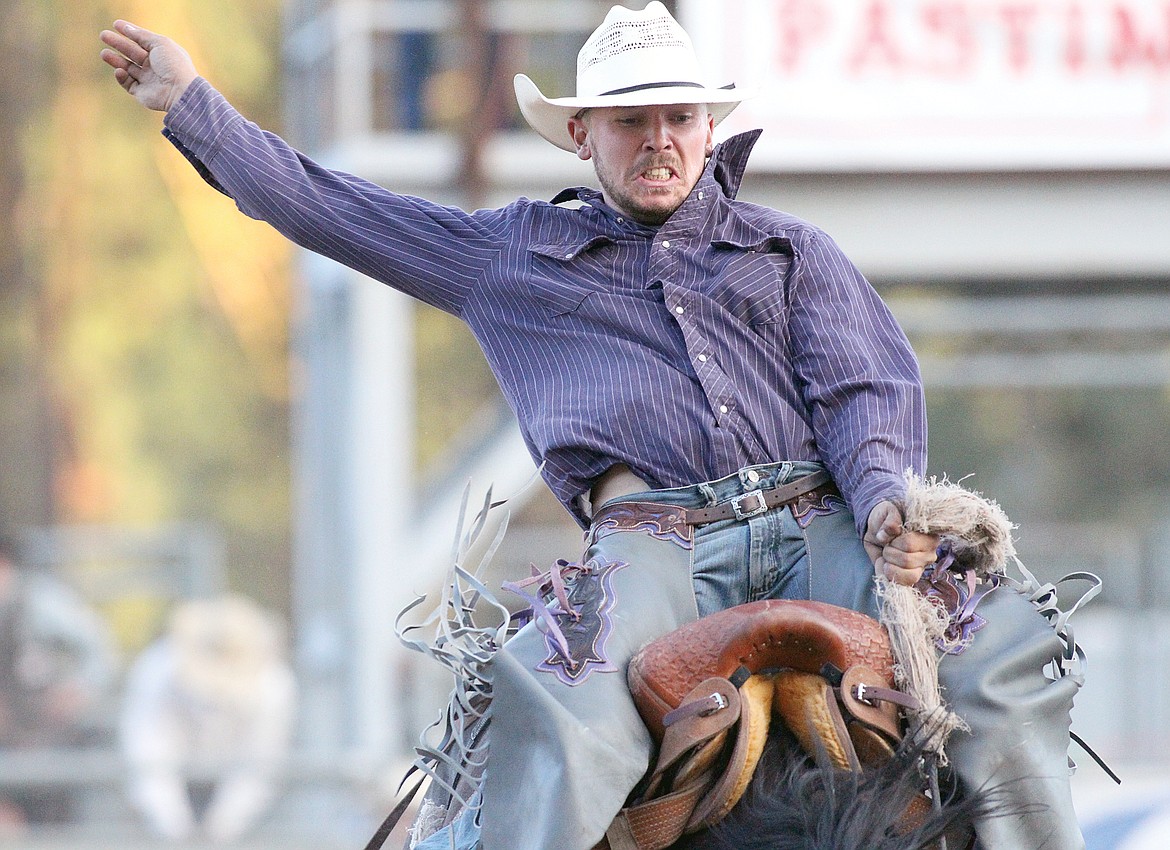 Friday night saddle bronc riding with Kade Bruno from Challis, idaho aboard "Wall Street Jr. (Paul Sievers/The Western News)
by
WILL LANGHORNE
The Western News
|
July 29, 2020 8:41 AM
Fans already had packed the bleachers when the speakers crackled to life.
"2020 has been a Debbie-Downer year, but now it's rodeo time," announcer Brent Jordan roared over the intercom. The annual Kootenai River Stampede was on.
More than 130 cowpokes from around the northwest came to try their skills in events ranging from bull riding to barrel racing at the J. Neils Arena on July 24 and 25. Scores of spectators also were drawn to watch the pros compete in the Professional Rodeo Cowboys Association competition,
"Are you ready?" Jordan asked and the crowd screamed back in response.
The night kicked off with the bareback riding event, which the stampede program likened to "riding a jackhammer with one hand."
Tristan Hansen of Dillon took the $1,071.60 first place prize with a score of 85.0 on the bronco named Silk & Dynomite.
Between competitions, visiting rodeo royalty Cassie Turner, 18, queen of the Last Chance Stampede in Helena Abby Riska, 17, the 2019 Darby Rodeo Association queen, and Leana Newman, 23, Miss Newport Rodeo 2020 and 2021, raced around the arena bearing sponsor flags and waving at spectators.
Fans were on the edge of their seats for the steer wrestling event. In impressive demonstrations of speed, strength and precision, contestants vaulted off their galloping horses to tackle steers more than twice their weight.
Jhet Murphy and Timmy Sparing, both of Helena, Mont., tied for first in the event with times of 6.6 seconds and took home $904.75 in prize money.
Ensuring no dull moment, Jordan and Clint "Wolfey" Selvester, the rodeo clown and funnyman, kept crowds entertained between contests with back and forth banter.
When Jordan remarked that Selvester was wearing more make-up than normal, Selvester joked that the extra layers were meant to give the impression that he was wearing a mask that could prevent the spread of the novel coronavirus.
"As long as you keep your mouth closed, its on," he said.
The arena went quiet during Friday's saddle bronc riding event. The horse, Hostile Takeover, collapsed after bucking rider Jake Clark of Crane, Ore. According to Jordan, the horse was still breathing when it was carted off the field.
Fans held their breath on Saturday when Matt Halmes of Cascade, Mont., was flipped over the arena barrier by the horse Evil Woman. With no apparent injuries, Halmes dusted himself off and climbed back into the ring to wild cheering from the crowd.
Jesse Kruse, of Fromberg, Mont., won the event with a score of 81.0 after riding a bronco named Queen High. He took home $1,225.29 in prize money.
During an equestrian demonstration, stunt rider Madison MacDonald-Thomas of Calgary, Alberta Canada, seemed to bend the laws of physics. As her horse, Chex, thundered around the arena, MacDonald-Thomas vaulted on and off its glittered back and spun herself around the saddle with the grace of a trapeze artist.
No true rodeo could be complete without lasso wielding cowboys and cowgirls.
Delon Parker of Worden and Matt Robertson of Augusta won the team roping event with a time of 5.9 seconds. They were each awarded $954.10.
With a time of 3.70 seconds, Brittany Martin, of Cody, Wyo., won first place and a prize of $761.40 in the breakaway roping contest.
Jordan Ketscher, of Squaw Valley, Calif., placed first in the tie down roping event with a time of 8.6 seconds. His prize was $1,184.40.
A break between events over the weekend was taken to honor Louise Christine Rice, a former executive director of the Libby Chamber of Commerce who helped create the Kootenai River Stampede. As Jordan eulogized Rice, John Smith, the stock contractor, rode slowly around the arena leading a horse bearing an empty saddle and Rice's boots in the stirrups.
The nights were capped with two of the most pulse-pounding events in rodeo: barrel racing and bull riding.
Lois Ferguson, of West, Texas, gave the crowd a run to remember when she wove her horse through the barrel course in 17.41 seconds. She took home $925.80 in prize money.
Weston Grant, of Toppenish, Wash., hung onto the bull named Red for an impressive score of 81.0. He took first place and a prize of $1,184.40.
Before going home, spectators were treated to a glimpse of the next generation of rodeo broncos during the bucking horse tribute.
If it hadn't been for the stands and the fences, the horses could have been mistaken for a roaming herd of mustangs.
"The blood that flows through the veins of these great American quarter horses goes back centuries," Jordan said. "Now they're in front of your very eyes."
---