Lincoln County law enforcement agencies take educational stance on Bullock's mask directive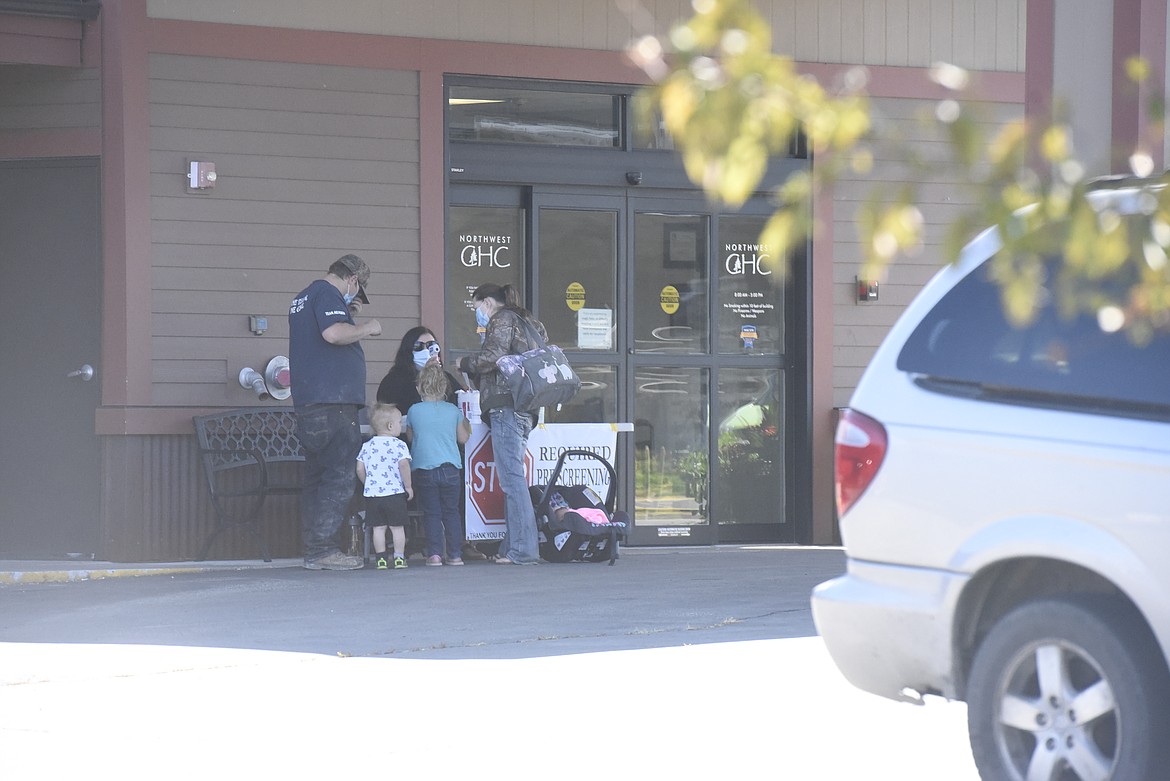 Residents wearing masks check in at the Northwest Community Health Center earlier this month. (File photo)
Lincoln County law enforcement agencies have made clear that they do not intend to investigate alleged violations of the new mask ordinance.
An editorial written by Montana sheriffs and co-signed by Lincoln County Sheriff Darren Short, stated that Gov. Steve Bullock's July 15 directive is not a mandate that allows law enforcement to issue citations or make arrests.
Bullock's directive requires residents to wear masks in indoor public spaces and at outdoor public gatherings of more than 50 people where social distancing is not possible. The directive is intended to slow the spread of the novel coronavirus and only applies to counties with four or more active cases of COVID-19.
In the Montana Sheriffs' editorial, which was published on the Sanders County Sheriff's Office Facebook page, the 38 co-signed sheriffs promised to continue focusing their efforts on educating residents. These sheriffs said their offices would encourage residents to make public health related decisions based on their own circumstances and the level of interaction they have with people who are vulnerable to the disease.
"Personal responsibility is the only way we can keep our vulnerable citizens safe and our economy open," the editorial read.
The Libby Police Department took a similar stance on the issue on July 18, posting on Facebook that they would not be issuing tickets to people who violate the mandate. The department did write that they would intervene on the basis of trespassing or causing a disturbance if a resident refused to wear a mask in a business that required one.
"The governor's mandate is a public health order and a civil law. Non-compliance is considered a civil violation and the county attorney's office can issue a fine for egregious acts," the post stated.
During a Lincoln County Health Board meeting on July 20, County Attorney Marcia Boris said that health officers are prepared to issue health complaints as a remedy of last resort.
"If we have a person that is continually violating the health officer's order … we will take whatever measures are necessary under the law," said Boris.
Dr. Brad Black, public health officer, also emphasized that law enforcement should seek to educate residents in their approach to the mask directive. The presence of officers might be enough, Black reasoned during a July 20 health board meeting, to compel residents to wear masks.
"When people see an officer there they think maybe I have to do something," said Black.
"If I see an officer coming I respect that," he said.
The Troy Police Department has not yet responded to requests for comment regarding its approach to the directive.
---