Despite uncertainty, Loggers keep up training
It seemed, at first, that the only sound disturbing the early morning quiet hanging over Education Way on Friday was the cry of a lonesome rooster.
Approaching the Libby Middle High School parking lot, however, the faint clanging of barbells and the muffled baselines of workout anthems wafted out from the gym. Inside, Logger student-athletes were training hard for a fall season, the fate of which still hangs in the balance as cases of the novel coronavirus climb in Lincoln County.
Every Monday, Wednesday and Friday since the beginning of June, starting at 7 a.m., boys and girls on the cross-country, football, soccer and volleyball teams assemble on the second floor of the gym for weight training.
"Monday is a big leg day, Wednesday is more back, and Friday is 'fat-arm Friday," said Devyn Christian, the summer weight training coach. The "Bigger, Faster, Stronger" training program the athletes are following is designed to build all-around strength, he said.
The athletes also meet on Tuesday and Thursday mornings for runs, sprint workouts and hikes.
Ryker McElmurry, a football, basketball and tennis player, said there's been an especially high turnout for this year's summer training, with 25 athletes showing up almost every day. He attributed the spike to the greater-than-normal numbers of younger athletes that have been attending the sessions.
"I think younger kids in the past were kinda scared to show up, but we just want them to come so we can develop a relationship," said McElmurry.
With the possibility of sports being canceled in the fall, Dawson Young, a football player and track runner said he and his teammates are just trying to focus on the training.
"We don't think about it," he said, referring to the uncertainty of the coming school year.
Kinzee Boehmoen, a volleyball, basketball and softball player, said she remains hopeful that sports will resume, despite the rising number of COVID-19 cases.
As a way of marking their determination each morning, the Logger athletes pool whatever pocket change they have in a black bucket that sits near the basketball court locker rooms.
"It's filling up, slowly" said McElmurry. "You don't notice it, but it's definitely going up."
The funds collected in the bucket will go towards Logger themed apparel and an end of the year party for the athletes according to Christian.
"Everyday these kids come in, they put pennies in the bank," said Christian. "We've been watching the bucket grow. It's like an investment of time and money."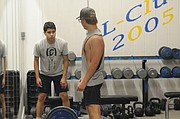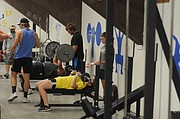 ---