Businesses adjust to mask directive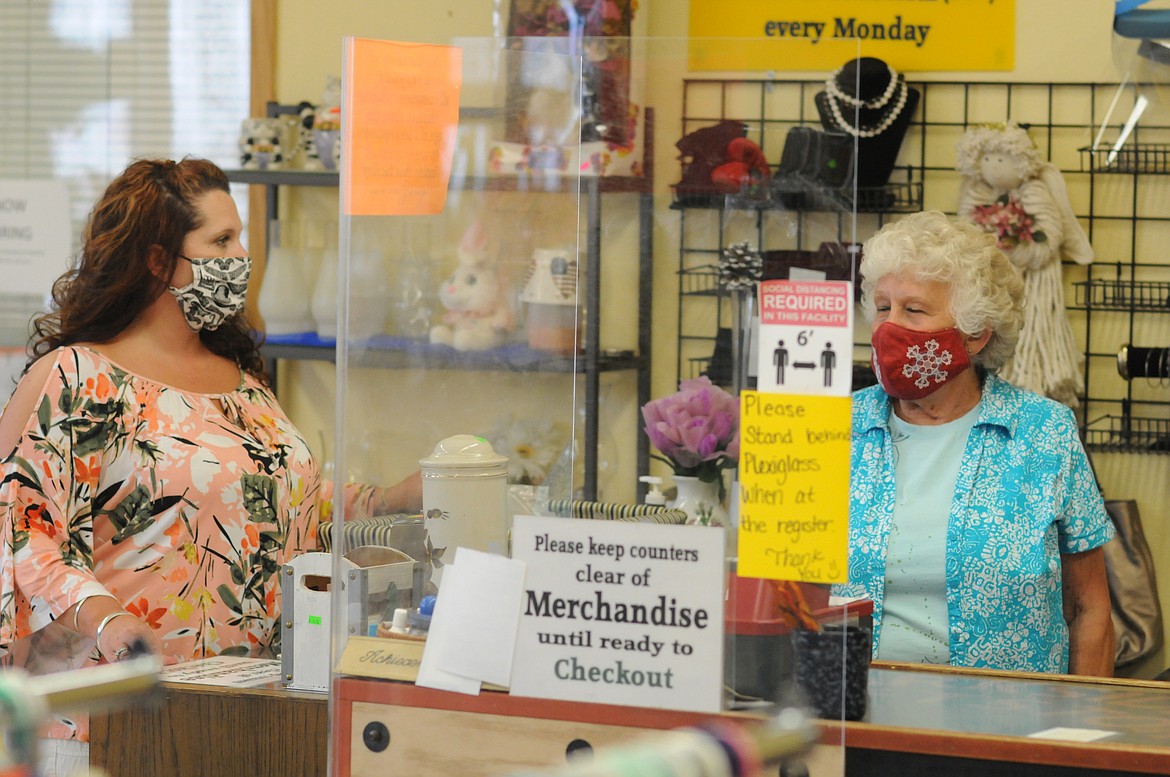 Sommer Navarro, left, a supervisor at the Park Side Thrift store, talks through her mask with cashier Tanna Erickson. Businesses in Lincoln County have adjusted to comply with the state's new face covering mandate. At Park Side Thrift, masks have been required since April. (Will Langhorne/The Western News)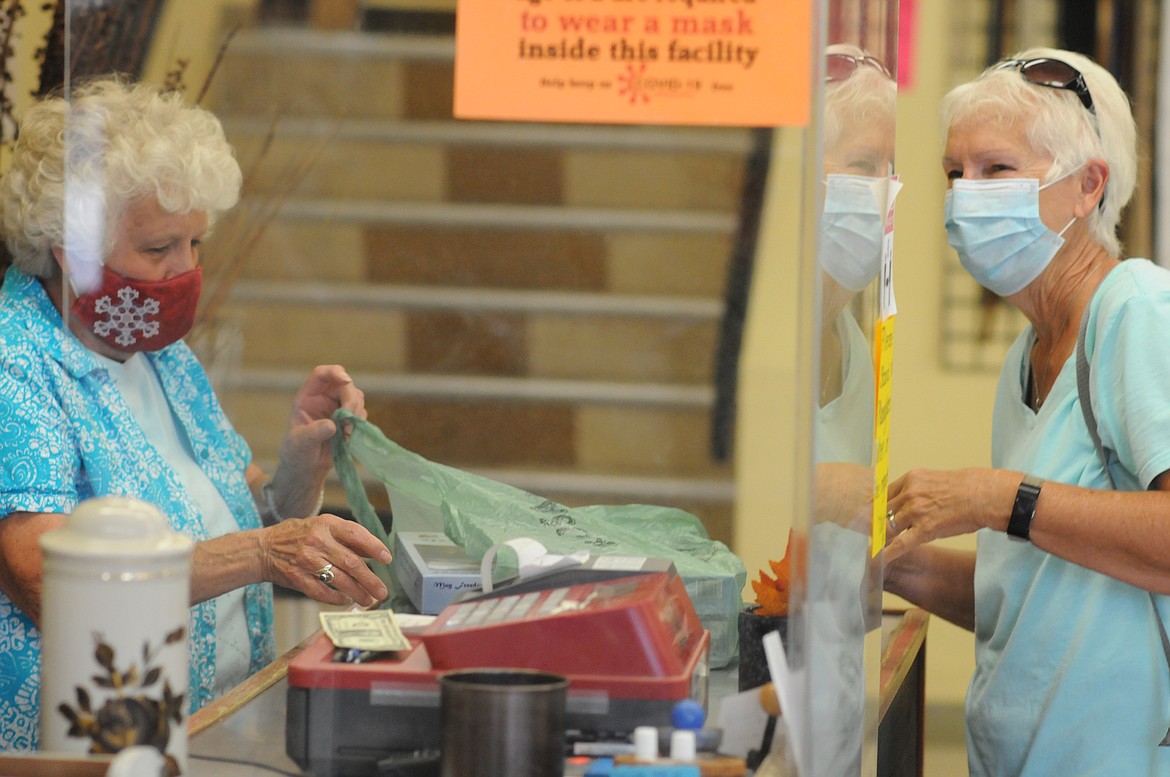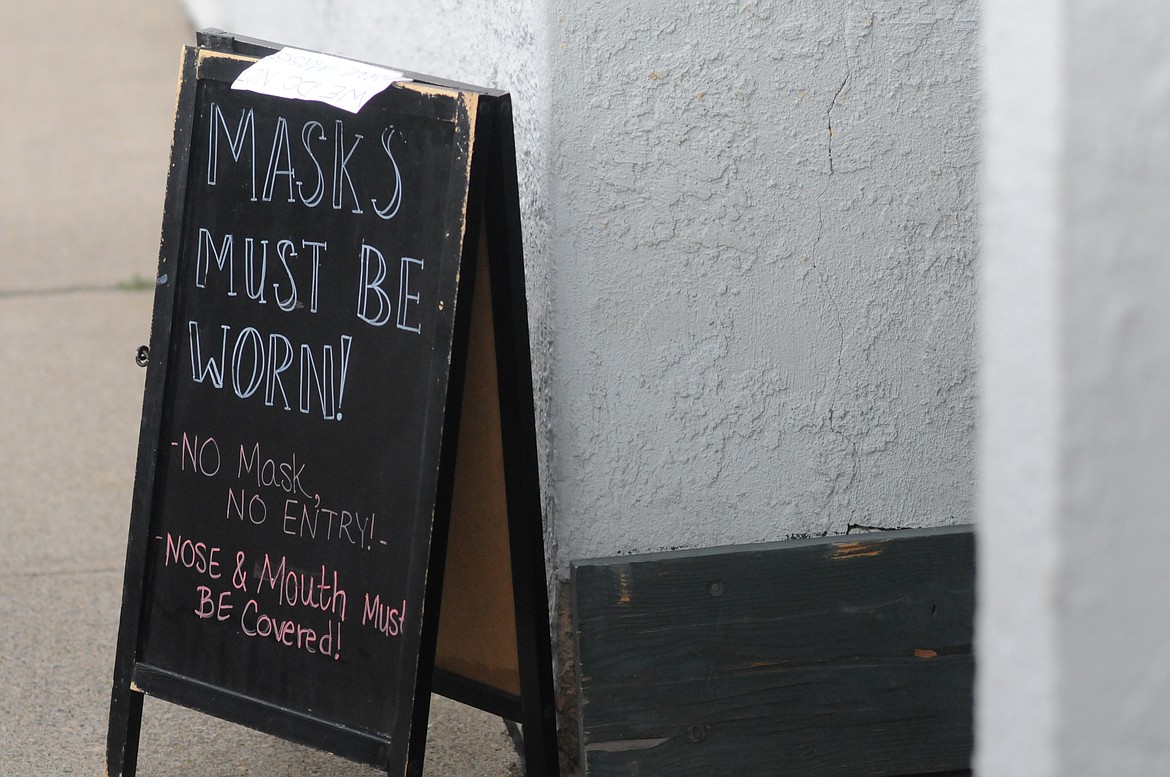 Flyers and sandwich boards displaying new face mask requirements went up across town last week. (Will Langhorne/The Western News)
Previous
Next
by
WILL LANGHORNE
The Western News
|
July 21, 2020 8:25 AM
Along Mineral Avenue, signs have appeared on storefronts urging customers to comply with a new state directive by wearing masks in indoor public spaces.
They have been met with mixed reactions, according to business owners.
"I had someone scream at my door, 'I'm not wearing no F'ing mask,'" said Leeanne Bacus, owner of Boutique Brielle.
Bacus said she posted a sign asking her customers to wear masks nearly a week before Gov. Steve Bullock issued a controversial directive on July 15 requiring that residents don face coverings in indoor public spaces to prevent the spread of the novel coronavirus. Since displaying her sign, Bacus has seen sales drop. Nevertheless, she stands by the mask requirement. The health of her family is most important, she said.
"My husband, he's got a ton of health problems, I'm not going to risk it," Bacus said.
Were a customer unwilling to wear a mask in her store, Bacus said she would absolutely consider calling law enforcement to have them removed on trespassing charges.
For Linda O'Brien, the owner of Shear Dzine, the face covering requirement is not yet an issue. Having worked with many of her customers for 30 years, she has not had any problems asking them to wear masks. If someone were to refuse to wear a face covering, however, O'Brien said accommodating them would not be worth losing her license over.
"Quite frankly, if somebody wants to [not wear a mask] they can just leave," she said.
Randa Holm, owner of AuntT's Coffee Corner, said locals were adapting to the directive better than out-of-state customers. While recognizing that she is obligated to turn customers away if they are not wearing masks, Holm plans to get extra face coverings to give away to patrons. If someone were to refuse to put on a face covering though, Holm said she would consider threatening to call the police.

At the Park Side Thrift Store, masks have been required since the business reopened on April 27 following the statewide shut down. Supervisor Sommer Navarro said she made this decision because some of her employees have health problems that could be complicated if they were to contract COVID-19. While she has not seen a change in her sales due to the mask requirement, Navarro has noticed the community as a whole has slowed down since the start of the pandemic.
In addition to requiring masks, Navarro said her store has also been careful to disinfect donations. The material she receives that cannot be disinfected is isolated for a few days before it is brought into the store. Navarro has found that the majority of her customers have been courteous about the directive.
"I would say 95 percent of them said that they were thankful and grateful that we are worried about their health," she said. "But then we have that five percent that come in and are nasty."
The couple customers Navarro has asked to leave were refused service because of their offensive behavior rather than their objections to wearing masks.
Jim Hayes, the owner of The Perfect Assh cigar store, said he would be worried about a customer resorting to violence if he asked them to wear a mask.
"I've read enough about people trying to force people to wear a mask that get shot," Hayes said, referring to an incident where a dollar store employee was killed after asking a customer to put on a mask. "That's not my job, to enforce the law."
Hayes said that if the state demands everyone to wear a mask they should be able to provide one to all residents. So far Hayes has not seen a decline in his business.
First Montana Bank announced on Facebook that effective July 13 their lobbies are closed and they are offering in-person service by appointment only. Glacier Bank has closed its lobby to the public, but it offering banking services at its drivethru.
Granite Pharmacy on Minnesota Avenue posted on social media that masks are required indoors for customers aged 12 and older. Customers using the walk-up window and drivethru would not be required to wear masks.
Kootenai Pets for Life on County Shop Road announced on July 12 that they would remain open by appointment only.
The Switchback Bar and Grill opted to close for a week, beginning July 20. The move came after a staff meeting on the mask mandate and was influenced by the backlog in test results in Lincoln County, company officials said on social media.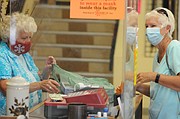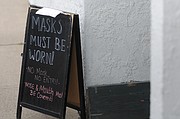 ---