Gianforte touts economic plan during Libby event
by
WILL LANGHORNE
The Western News
|
July 17, 2020 8:41 AM
Republican gubernatorial candidate and U.S. Rep. Greg Gianforte clarified the central issue of his platform during a campaign stop in Libby on July 14.
"Folks, we need to open the economy," Gianforte said. "We've created an economic pandemic and we need a cure for that too."
Gianforte and his running mate Kristen Juras announced their "Montana Comeback Plan," a set of economic policies the two would push for if elected, during an event held at the Hecla Mining office on U.S. Highway 2. The Libby stop was the second of 12 in Gianforte's four-day "Montana Comeback Tour" around the state.
Gesturing around the open-air garage in the back of the Hecla office, Gianforte cited the mining company as a perfect example of why new leadership is needed in Helena. He referenced the Montanore and Rock Creek mines, which have been in the permit process for 22 and 35 years respectively.
"I don't think we should approve every permit but we ought to be able to get a yes or no in less than 35 years," Gianforte said.
To speed up the bureaucratic process, the gubernatorial candidate plans to change "the tone at the top." While regulations ensure public safety and environmental safety, Gianforte believes the state has too many. In addition to initiating staff changes in the Department of Environmental Quality and the Department of Natural Resources, Gianforte said for every regulation enacted under his administration he plans to repeal at least two.
"[President Donald] Trump has now cut about a third from the federal regulation book," said Gianforte, "It starts with getting the right people at the top of the agencies."
Gianforte referred to the DEQ and DNR as "project prevention departments" that have impeded development in areas including the management of Libby's asbestos contamination.
"I believe that we can develop our natural resources while protecting the environment and where there has been a problem, like there has been in Libby, we got to work to clean it up," said Gianforte.
Juras, who has practiced law in Great Falls for 38 years and taught at the University of Montana Law, said that there are many "outdated, duplicative and unnecessary regulations."
Within six to nine months of taking office, she promised to roll back controls in every industry.
Asked about restarting the timber industry in Libby, Gianforte said the state improperly managed forests and faces a "forest health crisis." The big issue for sawmill owners, according to the candidate for governor, is log supply. Gianforte cited legislation he passed as a congressman, including the Farm Bill, which the state could use to better manage federal forests.
"When we manage our forests, we have healthier forests, there's more recreational opportunities, there's more wildlife, we have jobs and we have less wildfires," Gianforte said. "Everybody wins."
Other key points of Gianforte's economic plan include adding value to Montana's agricultural commodities, an increased emphasis on trade education and apprenticeship and revitalizing rural communities by growing the technology sector.
Gianforte also promised to promote tourism, reform Montana's tax code and partner with tribal governments. The candidate's "Montana Comeback Plan" can be found online.
Gianforte faces Democrat Mike Cooney, the outgoing lieutenant governor, Green Party candidate Robert Barb and Libertarian Party candidate Lyman Bishop in the Montana gubernatorial election scheduled for November 3.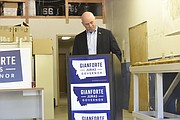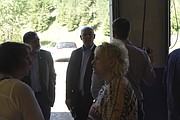 ---