Local couple distributes lawn signs supporting law enforcement
The Pizza Hut parking lot on California Avenue saw a bump in traffic on the evening of July 8 but not from customers stopping for dinner.
Many of the drivers circulating through the lot had come to show their support for law enforcement by purchasing yard signs that read "406 Back the Blue."
The sale was organized by Bryce Ford, a Montana Highway Patrol trooper, and his wife Ann Ford. By 5:30 p.m. they had set up a folding table and were unloading signs from the back of their pickup truck in preparation for their first customers.
Ann Ford said the couple decided to organize the sale after a Facebook post they had made advertising the signs received an groundswell of support. The couple ordered and paid for 150 signs, which they hoped to sell for no profit at $15 each.
"The rioters are getting so much support it's nice for the blue to know there are people supporting them too," said Ann Ford, referencing a wave of protests and violence in cities large and small across the nation in recent weeks following the death of Minneapolis resident George Floyd.
Floyd died after a police officer knelt on his neck for more than eight minutes. He was accused at the time of trying to pass a counterfeit bill.
His death sparked a national debate on race relations and policing reforms. Libby played host to a Black Lives Matter rally and counter protests in June.
To bring the signs to Libby, the Fords coordinated with Samara Sant, organizer of the "406 Back the Blue" movement that began in Helena. Sant started the campaign after the Helena City Commission voted to delay almost $300,000 in police funding.
The Fords were also selling stickers that read "406 Supports Our Law Enforcement."
Proceeds from the sticker sales would be donated to the Lincoln County Sheriff's Office and Libby Police Department, according to Ann Ford.
For Erik Miller, a Navy veteran who purchased three signs, showing support for law enforcement is critical even in Lincoln County where there have not been any calls to defund the police.
"I think it's an important issue here and everywhere," said Miller.

Michelle Chapel, who also purchased a sign, does not consider protecting law enforcement from budget cuts a pressing issue in Libby, but still wanted to show her support given national debate.
"We can't hide in the sand. We have to be aware of what's going on around us," Chapel said.
Across the country, law enforcement agencies have come under scrutiny for use of excessive force. Cities including Minneapolis, Baltimore and Philadelphia have reduced police budgets in response.
Even if the situation for law enforcement in Lincoln County is not dire, Bryce Ford has enjoyed the surprising amount of support and thanks he has received from people while on the job in the past two weeks.
"We didn't use to get that," he said. "It's nice to hear for a change."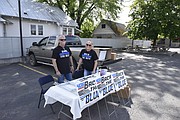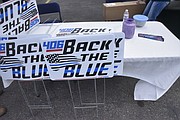 ---