Loggers axe Missoula Mavs in doubleheader
The Libby Loggers defeated the Missoula Mavericks in two decisive victories during a July 6 doubleheader at Lee Gehring Field.
The first game ended with a score of 19-5 after the Loggers mercy-ruled the Mavs in the fifth inning. The second matchup saw the Loggers win 11-5 after seven innings.
The Loggers started strong during the first inning of the night with an 8-0 lead over the Mavs. Libby fans roared when catcher Quade Anderson knocked a ball out of the park and then again a few at-bats later when outfielder Tripp Zhang slammed one over the right-field fence.
Libby opened up their lead in the second inning with seven runs on three hits, bringing the score to 15-0. The Mavs made three runs in the third inning and two in the fifth, but the Loggers closed out the game by scoring four runs in the fourth.
Between games, coach Kelly Morford described it as a relief to be ahead by such a large margin after the first inning. The lead gave him the flexibility to try out different pitchers. He focused on tightening up the team's defense in the second game of the doubleheader.
"In games like this, I don't want them to relax and get complacent," Morford said.
Before returning to the field to face the Mavs again, Libby shortstop Jeffery Offenbecher said he needed to work on grounding every ball. Second baseman Alex Svendsbye planned to focus on his hitting in the second game. Both, though, were buoyed by the Loggers' overall performance so far.
"We don't do that to a lot of teams," said Svendsbye referencing the mercy rule win.
"It was pretty nice to watch some of my teammates knock the snot out of the ball," said Offenbecher.
While the Loggers fell behind in the first inning of the second game of the doubleheader, they had come roaring back by the third, boasting an 8-4 lead. Morford's defensive focus paid off as the Mavs failed to score a run in the third, fourth, fifth and seventh innings.
Looking forward to July 7's game against Kalispell, Morford planned to make another strong showing at the Lumberyard.
"We're going to keep the momentum going," he said.
The Loggers went on to split a doubleheader against the Kalispell Lakers on July 7 winning 4-1 in the first game and falling 4-3 in the nightcap. Libby will go on to play in the Sapa-Johnsrud Tournament in Whitefish from July 10-12.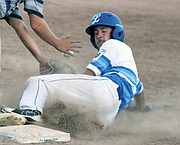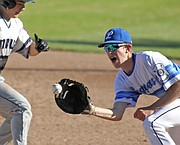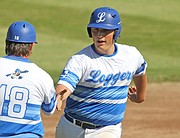 ---