Lincoln County educators weigh plans for reopening public schools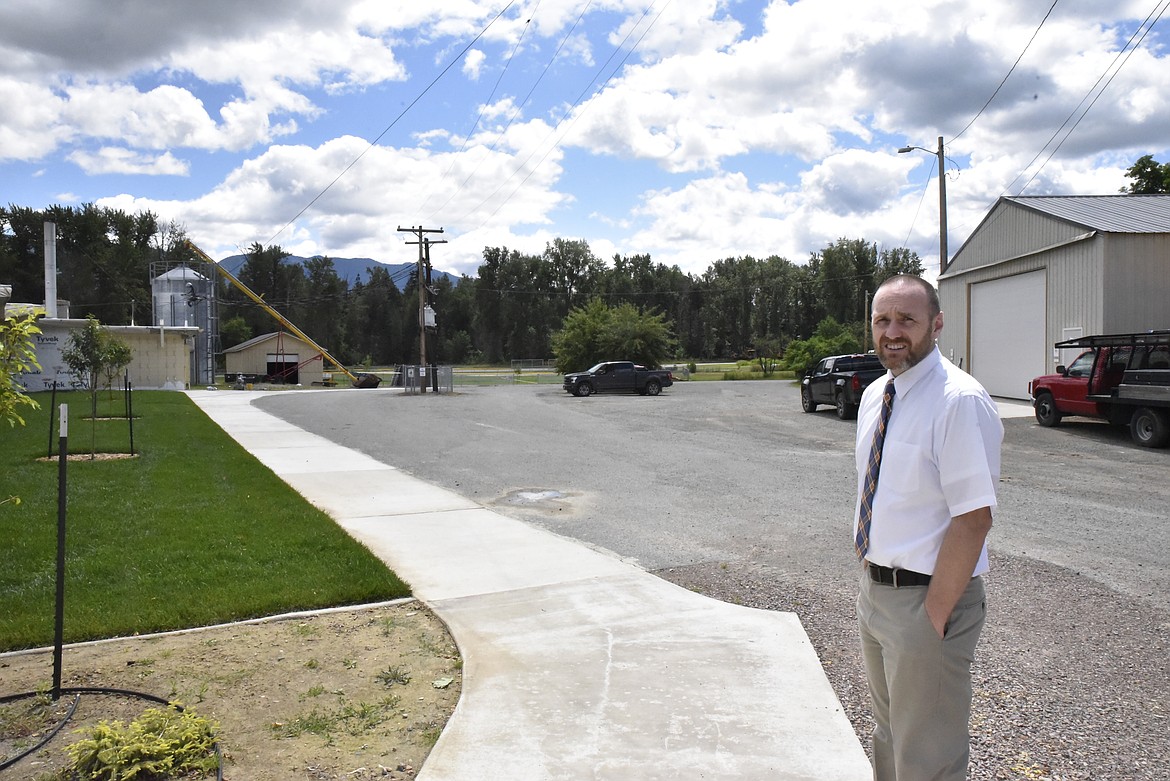 Troy Superintendent Jacob Francom is preparing for the resumption of classes in the fall. Administrators are developing different scenarios for reopening buildings, contingent on the danger of the COVID-19 pandemic. (Will Langhorne/The Western News)
With less than two months to go before the end of summer break, Lincoln County educators are determining how schools will open in the fall amid the COVID-19 pandemic.
Officials with the Lincoln County Health Department are reviewing a draft of potential reopening scenarios submitted by the Troy Public School District. According to Jacob Francom, superintendent, summer sports practices are being held in anticipation of fall athletics but it remains hard to know what school will look like in the autumn months.
"No one can look into a crystal ball and tell what is going to happen," he said.
Under the draft submitted by Francom's district, phase zero — the worst case possible — involves keeping facilities closed, canceling activities and making students continue remote learning. Schools would continue food services through home delivery.
In phase one, classes in Troy would run Monday through Thursday. Children living in town would attend school in the mornings while students bused in from out of town would attend classes in the afternoon.
To allow for social distancing, students would be divided into groups of no more than 10 and placed in strict seating charts. Most facilities, including libraries, gyms and playgrounds, would remain closed and students would receive meals in their classrooms. Surfaces would be disinfected between morning and afternoon sessions.
The next best scenario, phase two, involves running the school schedule and calendar regularly but with staggered lunch periods and recesses. Students would be placed in strict seating charts but extracurricular activities would resume with a maximum of 50 spectators. Surfaces would be disinfected between classes. Meals would be served in classrooms and cafeterias.
Under phases one and two, students with a valid medical excuse would be allowed to work remotely.
The best-case scenario, known as phase three, calls for a resumption of a relatively normal schedule with a possible reduction in extracurricular activities.
In addition to providing hand washing stations and sanitizer throughout school buildings, Troy administrators plan to dedicate a room where staff or students that exhibit symptoms of the virus can wait to be picked up.
According to the draft, anyone who spends more than 15 minutes within a six-foot radius of a person infected with the virus may be quarantined. The district will be prepared to shut down schools if necessary.
The biggest obstacle for reopening schools, according to Keith Haggerty, director of transportation and maintenance for Troy Public Schools, is getting disinfection material. While the district stockpiled enough supplies to produce 50 gallons of hand sanitizer, they placed the order well in advance to ensure they had the material for the fall semester. Haggerty said that since schools in the area use the same company for supplies, there could be shortages.
Both Troy and the Libby Public School District are working off of guidelines issued by Gov. Steve Bullock and the Office of Public Instruction. These recommendations are broken down into phases similar to the ones outlined in the draft plans released by Troy Public Schools.
"Public education has shaped who we are today, and we want to make certain that our children have the same experience," wrote Bullock and Lt. Gov. Mike Cooney in a joint letter to educators across the state. "This is why we have made the safe reopening of our public schools a top priority."
Nationally, whether or not to open public schools in the fall has become a roiling political debate. President Donald Trump threatened July 8 to withhold federal funds from schools if they do not resume classes. Francom said the controversy has not affected his plans for reopening.
Ron Goodman, incoming superintendent in Libby, said he would be discussing school reopening guidelines at a school board meeting on Monday but that the district plans to go ahead with fall sports.
"The big thing is that there's a goal of getting kids to compete," he said.
According to Jim Germany, assistant principal of Libby Middle High School, summer training camps are in session and the fall season will continue as long as the state remains in Phase II of Bullock's reopening roadmap.
Germany said district administrators have worked closely with the Lincoln County Health Department to ensure that games and practices are conducted safely. The number of spectators allowed for each event has not yet been determined. Germany suspects that the size of crowds will be limited, especially for indoor sports.
The district's plans for the season should be finalized by August 13.
"Right now, we're in a hurry up and wait mode," said Germany.
The National Federation of State High School Associations has issued guidelines for fall sports. The proposals range from screening all coaches and students before workouts and limiting gatherings to no more than 10 people to screening only those who have shown symptoms within the past 24 hours and allowing gatherings of up to 50 people.
Mark Beckman, the executive director of the Montana High School Association, said his organization will issue recommendations for conducting the fall season within the next few weeks.
---