Despite rainy June, dry summer could still dictate fire season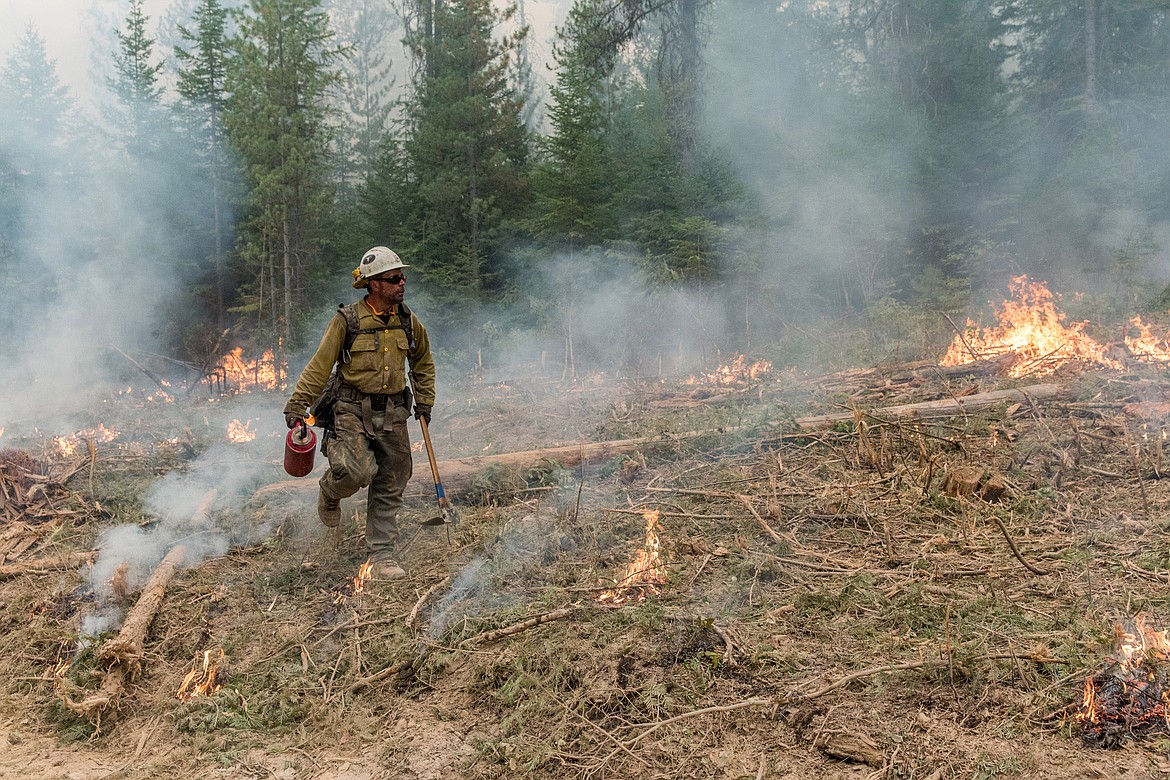 A Mesa Hotshots crew member works a controlled burn on the West Fork fire in September 2017. (File photo)
It was a wet June, but forecasts still predict a hot and dry summer in Northwest Montana.
In terms of what that means for a fire season, U.S. Forest Service Fire Management Officer Rick Connell said we'll just have to wait and see.
"If you can tell me what your tomatoes are going to look like in August, I can tell you what the fire season will be like," he said.
Connell cautioned making any big predictions on what the fire season will look like this year, during a media event last week including local and regional officials from agencies like the state Department of Natural Resources and Conservation and Glacier National Park.
As far as snowpack goes, he said, the Montana Rockies are at 118 percent of average, and there's no early drought signal in this part of the country as well.
But according to the National Weather Service, there are indications of a hot and dry summer beginning in mid- to late-July.
That could mean a lot, or it could mean a little, Connell said.
"In 2017 we were similar to this, then the rain stopped and it cranked up to 100 degrees and the fires started going. So we'll just keep looking at it," he said.
It's fair to say it will be an unusual fire season regardless, and not because of the weather.
This year response teams and all agencies involved will have to mitigate the risks of the coronavirus outbreak, which is considered very contagious and passes easily from person to person in small groups.
That doesn't translate well to fighting fires, Connell noted, as teams are driving, working, eating and sleeping in groups.
As an answer, Connell said a few changes are being made to the way his firefighters are working this summer, all of which were echoed by the other teams.
For one, they're instituting a "module of one" idea, where teams are in their groups and remain an individual group, essentially an entity of one "person." Module intermingling is discouraged, and all measures are taken to ensure nothing spreads between groups.
Likewise, the firefighters will no longer be getting the same sort of catered or donated meals they're used to. Instead each person will receive individualized, boxed meals.
Donations, while appreciated, cannot be accepted.
"Our objective is to keep COVID out, and to keep COVID from coming from our camp into a community." Connell said. "Almost every incident I've been on, we get the public wanting to donate everything from cookies to socks to toothpaste. We're not going to be able to take that this year, again because we're trying to minimize that contact."
However, Connell said fighting fires will always be the top priority.
While the teams will do their best at all times to adhere to best practices regarding the virus, he said, it's all about looking at the different risks and making the right decisions.
"We have a fire to deal with. And on that fire there are a lot of hazards that are instantaneously damaging or can cause death. COVID can cause illness, rarely can cause death, and it can cause a lot of people to get sick, but it's not instantaneous like a fire," Connell said. "So what we're really trying to do, at least my opinion on our force, is when our guys get in the truck to go fight a fire their head is in the game to go fight a fire, not distracted by COVID. If COVID is the bigger risk at that moment, then they manage for COVID, but more than likely on the fire line, the fire, gravity, all the other things that can cause challenges are what we want them to focus on."
The outbreak will change other facets of the wildfire season, like moving press briefings and other interactions with media to a virtual space to limit physical contact.
Greg Ponson, with the DNRC, added how encouraging it's been to see different agencies and teams come together.
"It's remarkable that the fire community has really pulled together. We've been working really closely with the county and the health department because this is their arena, they're in charge of this public health crisis," he said. "It's going to go really smoothly."
---