Man accused of killing cat sentenced for criminal endangerment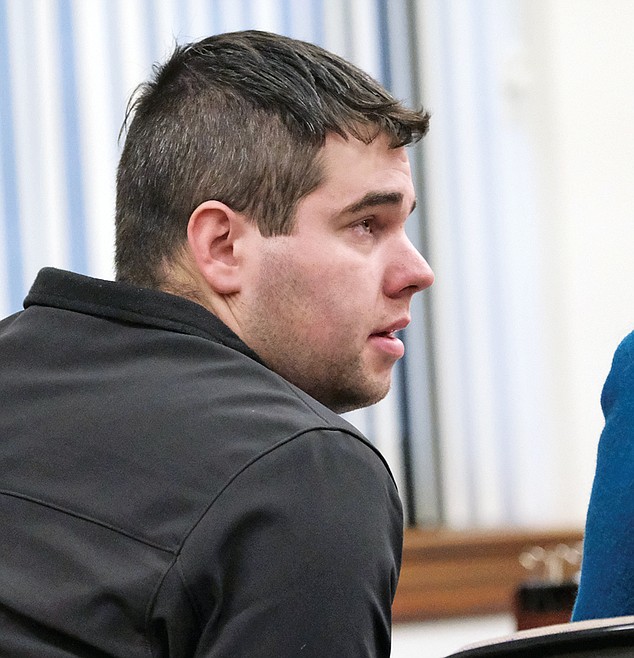 Abraham Abijah Ingraham at his Jan. 27 sentencing. (Paul Sievers/The Western News)
A Libby man accused of shooting a cat in a residential neighborhood last summer received a deferred, two-year sentence in Lincoln County District Court on Jan. 27.
Authorities initially charged Abraham Abijah Ingraham, 23, with felony criminal endangerment and misdemeanor cruelty to animals. They dismissed the latter charge after Ingraham agreed to a deal wherein he offered an Alford plea to criminal endangerment.
An Alford plea is when a defendant acknowledges a judge or jury likely would find him or her guilty based on the evidence. Although it is a guilty plea, the defendant maintains innocence.
"Two years deferred gives the defendant an opportunity to be accountable for his actions and recognize he needs to follow the rules," said Lincoln County District Court Judge Matthew Cuffe while handing down the sentence.
Lincoln County Sheriff's Office deputies began investigating the incident Aug. 23 after learning a pet cat had been shot and killed. Upon arrival, Deputy John Hyslop met with a resident who reported hearing a gunshot and went outside to find a pet cat in its death throes.
The resident also saw a man standing nearby with a rifle in his hands, court documents said. He told Hyslop that he chased the man to a nearby cabin and confronted him, but the alleged shooter denied involvement.
Hyslop confirmed the death of the cat and took down a description of the armed man and his vehicle, which he recognized as matching Ingraham, court documents said. Several children playing nearby said they saw Ingraham fire the rifle, Hyslop wrote in the affidavit.
When interviewed by authorities, Ingraham said he heard the gunshot and went outside to investigate. He repeatedly denied firing the weapon.
Ingraham pleaded not guilty to the charges Sept. 19. He changed his plea Dec. 30.
The criminal endangerment charge stems from the firing of a gun in a residential area where children were playing, according to court documents.
---