Lady Trojans ground Two Eagle River School, fall to Libby
by
Duncan Adams Western News
|
January 24, 2020 10:29 AM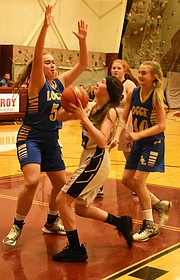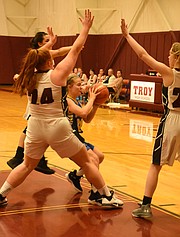 When the Troy Lady Trojans basketball team defeated the Two Eagle River School last weekend by a score of 44-20 it broke a 28-game losing streak.
Point guard Talise Becquart was the Trojans' leading scorer with 15 points. Tony Smith, head coach for the Lady Trojans, described the win as important for the girls and for Becquart. She is beginning to realize she has an affinity for basketball, he said.
"She can play this game," Smith said. "She is turning into the player I knew she could be. Now, we just need her to direct the floor more as point guard."
Becquart was Troy's high scorer again Jan. 21, tallying seven points during a county rivalry matchup with the Libby Lady Loggers. But the young and inexperienced team lost 48-14 during a home game at the Troy Activity Center.
Libby pressed the Troy girls early on and converted turnovers into points.
"We still have difficulty taking care of the ball," Smith said.
He said the Lady Trojans can get disheartened when losing by large margins but typically bounce back quickly and are pumped up for practice.
The halftime score Tuesday was 29-1.
"I don't want them to accept what's happening with these better teams," Smith said.
Elise Erickson led Lady Loggers' scoring with 10, followed by Julia Martineau, with nine, and Syd Gier and McKenzie Proffitt, both with eight.
Lady Loggers head coach Jackie DeShazer said her team moved the ball well during their victory.
"It's a very unselfish team," she said. "They're willing to make that extra pass."
Meanwhile, the Libby Loggers boys team nailed another victory, bringing the team's record to 7-2. They won 56-25 over the Troy Trojans.
TJ Andersen was the Loggers' high scorer, with 16, followed by Caden Williams, with 15. Keith Johnson was ill and did not play.
"I didn't think we necessarily got off to a good start," Loggers head coach Josh Bean said. "We didn't jump to the ball defensively."
That may be, but Trojans head coach Justin Young said he was mightily impressed by Libby's defense.
"They're probably the best defensive outfit we've seen this year," Young said.
He said his team seemed weary after a spate of recent games and made mistakes. Libby took advantage of the errors, Young said.
"Everything has to be perfect against the Libby defense," he said.
Moxley Roesler Begalke was Troy's high scorer, with 10. Braden Lowry had seven.
---