Loggers triumph over gritty C-Falls squad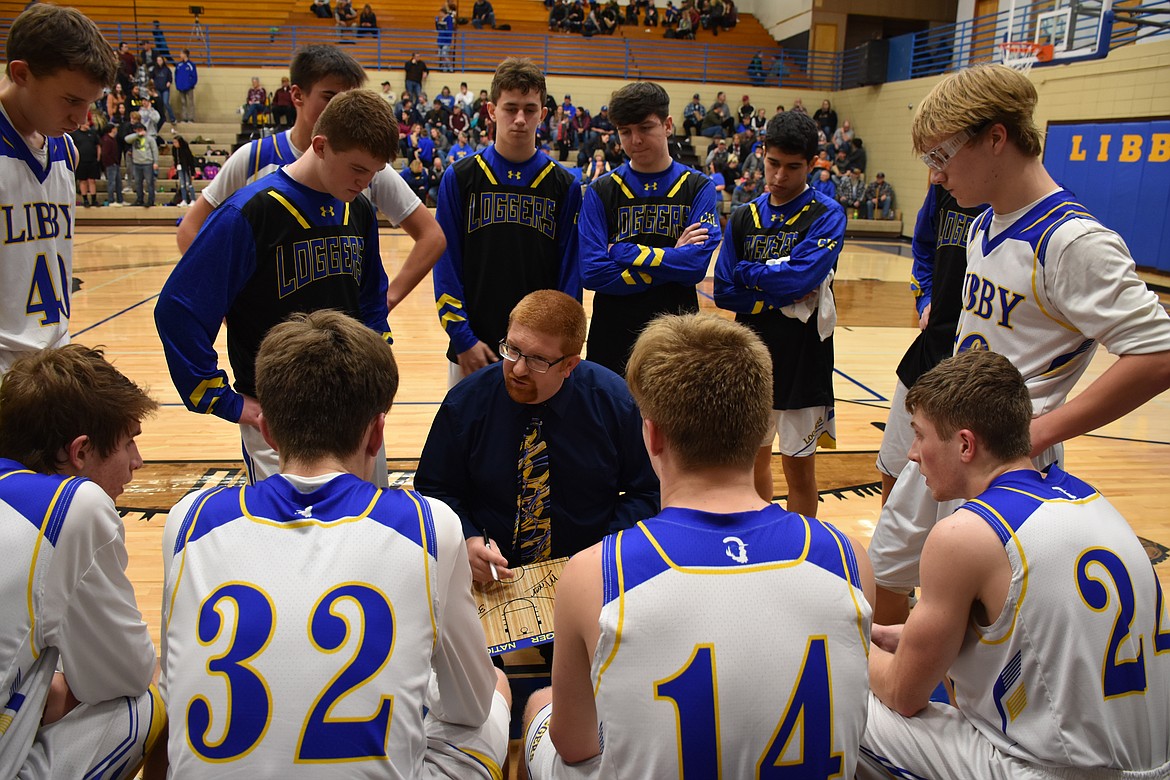 Libby Loggers head coach Josh Bean talks strategy with his team during a break in the action Jan. 11. Libby beat the Wildcats 39-31. A second weekend game was canceled owing to the weather, but will be rescheduled. (Duncan Adams/The Western News)
by
Duncan Adams Western News
|
January 14, 2020 11:11 AM
A withering half-court trap defense helped the Libby boys basketball team nail a home court win Jan. 10 against the Columbia Falls Wildcats.
The comparatively low scoring game — in the end, the Loggers triumphed 39-31 — reflected the Wildcats' tenacious 2-3 zone defense and the Loggers' struggles with outside shooting.
"We didn't have a lot of easy opportunities," said head coach Josh Bean. "We didn't shoot the ball real well from the field."
Caden Williams led Loggers in scoring with 17 points, a tally that included one three-point basket.
Ryan Goodman was the team's second leading scorer, with 10.
The high scorer for the Wildcats was Danny Henjum, with 9 points.
Goodman scored the Loggers' first basket on a drive to the hoop and Williams added two points shortly thereafter with a shot from along the baseline.
The Loggers' 1-3-1 half-court trap eventually rattled the Wildcats and yielded turnovers. Libby led 13-7 at the end of the first quarter.
"We waited until they crossed half court and then came after them," Bean said. "I don't think [Columbia Falls] ever felt super comfortable with it."
The Wildcats tied the game about midway through the second period after cold shooting and a bevy of turnovers by the Loggers. But Libby led 20-13 at the half.
Columbia Falls' William Dyon hit a three-point shot during the third quarter that helped close the gap as the period ended, narrowing the Loggers' lead to 29-25. Dyon hit another three-pointer in the fourth period that led to the Wildcats tying it at 31 - 31 about midway through the quarter.
But the Loggers' Jay Beagle, who had been cold from the field, hit a key basket. And a drive by Goodman added a basket and a foul shot that helped the team regain the lead as the clock ticked down.
"Jay's a competitor," Bean said. "That [basket] was big late because that pushed our lead from four to six."
The Loggers' win put the team's record at 5-1.
A game against Browning that had been scheduled for Saturday was canceled because of snow and road conditions. Bean said the conference game will be rescheduled.
---