Adkison faces drug possession charges after arrest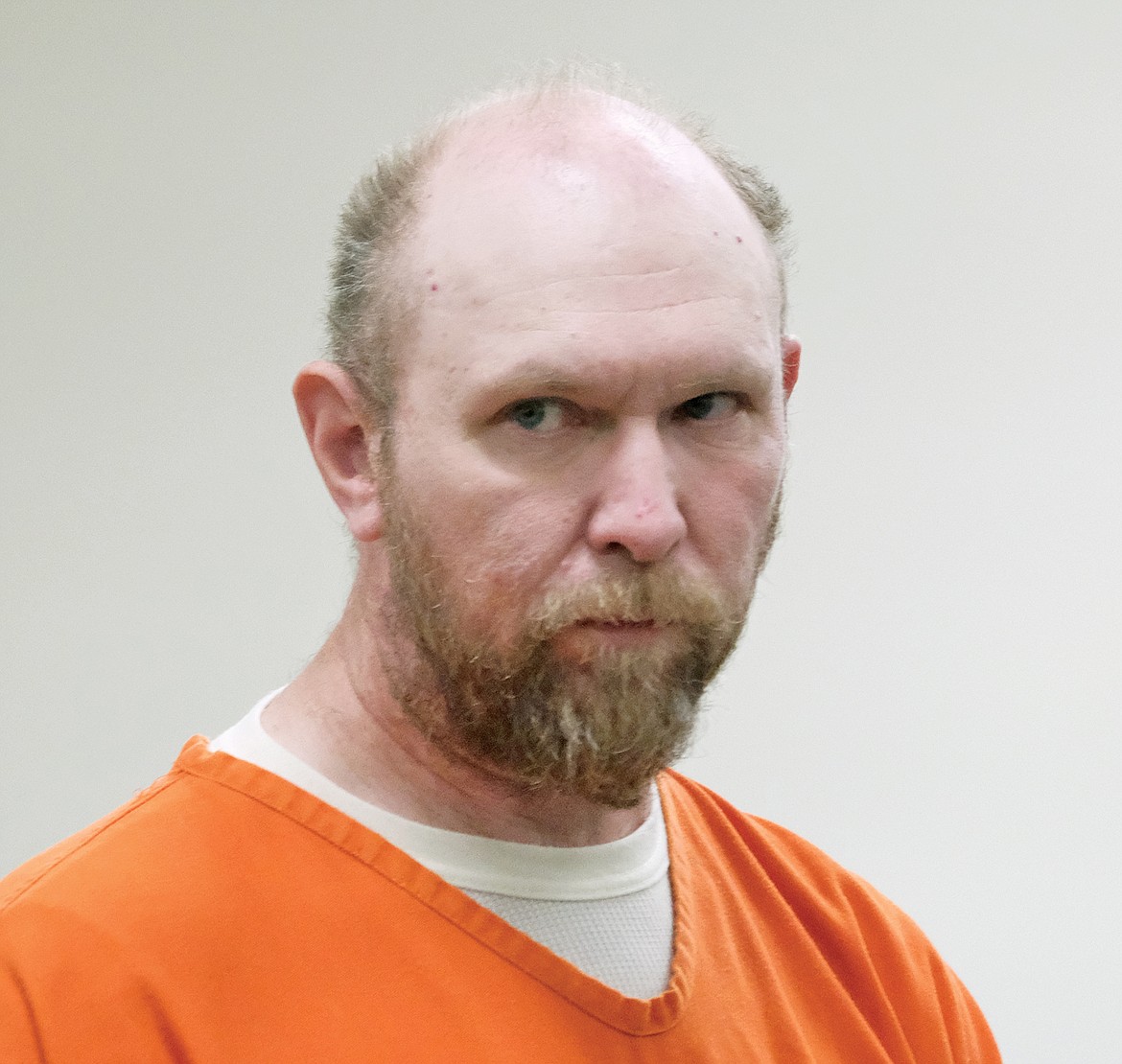 Eldon Lee Adkison arraignment, Monday, Dec. 30, 2019. (Paul Sievers/The Western News)
by
Derrick Perkins Western News
|
January 7, 2020 10:58 AM
A Libby man was arraigned Dec. 30 on drug possession charges after Lincoln County Sheriff's deputies caught him with methamphetamine, a pipe and more than $1,000 in cash.
Eldon Lee Adkison, 45, pleaded not guilty to criminal possession of dangerous drugs, criminal possession of drug paraphernalia, use of property subject to forfeiture and driving with a suspended license. He was arrested Dec. 10 after authorities received a tip about methamphetamine being sold south of Libby, court documents said.
Detective Brandon Holzer, writing in an affidavit, said that he and Deputy Brent Faulkner came across Adkison after Holzer unsuccessfully tried to convince an informant to set up a controlled drug buy with the 45-year-old.
While discussing the rumored methamphetamine sales, the pair spotted Adkison driving a Jeep Grand Cherokee near a gas station on U.S. Highway 2. They stopped him on Granite Avenue not long after, knowing he had a suspended license, court documents said.
"[Adkison] drove a short way before stopping," Holzer wrote. "This is consistent with people trying to hide or conceal items in a vehicle prior to being contacted by law enforcement."
When approached, Adkison had a cigarette in his mouth and smelled strongly of cologne, Holzer wrote.
After they took Adkison into custody for driving on a suspended license, the deputies found $1,005 and assorted loose change on him, court documents said. Adkison told authorities the money was for tires. He also told them the Jeep belonged to another individual.
But Holzer reported seeing the vehicle at Adkison's home for months.
Meanwhile, Faulkner's K9 detected narcotics in the vehicle. Authorities seized the Jeep and obtained a search warrant, according to court documents.
Officer Cody DeWitt of the Libby Police Department found a plastic medical kit inside containing 4.4 grams of suspected methamphetamine and a meth pipe, court documents said. He also found balloons, often used by drug dealers to distribute their illicit wares, Holzer wrote.
Authorities also secured a search warrant for Adkison's home, finding marijuana and drug paraphernalia, but no narcotics, court documents said. Investigators did locate apparent methamphetamine residue in an underwear drawer and on various mirrors in the home, according to the affidavit.
In an interview with authorities, Adkison admitted to using the Jeep, but blamed the methamphetamine on his roommate, who is a drug user, he said.
According to Holzer's account, Adkison also admitted to selling "product" to a woman a few days prior to his arrest. He refused to discuss his supplier, Holzer wrote.
The criminal possession of dangerous drugs and use of property subject to forfeiture charges are both felonies. Criminal possession of drug paraphernalia and driving on a suspended license are misdemeanor charges.
Adkison, originally held on a $25,000 bond, has an omnibus hearing scheduled for Feb. 10.
---