Zenón Ignacio Chio Almeida, 81
|
February 28, 2020 2:57 PM
Zenón Ignacio "Nash" Chio Almeida passed away peacefully at home at the age of 81 on the morning of Feb. 20, 2020. He was a loving husband and father, born June 6, 1938, in Tampico Alto, Veracruz, Mexico.
After receiving a third grade education in Mexico, he made his way to Libby in 1961 and married a local girl, Shirline Jones. In 1967, he became a naturalized citizen and earned his G.E.D in 1983. He worked as a machinist and millwright. He loved the community; he volunteered for search and rescue, the ambulance, mentored local youth and was an advocate for the anti-bullying initiative.
In his spare time he enjoyed rock climbing, scuba diving and collecting rocks. He loved the United States of America, Montana and especially Libby and the surrounding mountains.
He is preceded in death by beloved son Eric.
He is survived by his wife, Shirline, of 58 years and their children; daughter-in-law Donna and her children, Tanya and Erika; Sally (Rick) Cordier and their children, Tyler, Lindsay, Jace, Damon, Dustin and Devin; Greg (Amy) and their children, Michael and Rose; foster son Curtis Cureau; and many much loved nieces, nephews, great-grandchildren and extended family.
A celebration of life will be announced at a later date.
Arrangements are by Schnackenberg Funeral Home in Libby. Online condolences and memories may be made to www.schnackenbergfh.com.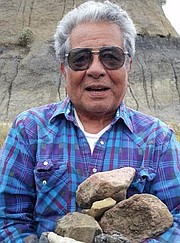 ---