Loggers succumb to Bulldogs in overtime
by
DUNCAN ADAMS
Staff Writer
|
February 25, 2020 8:51 AM
Chandler Bower shone during Senior Night at Libby High School. Among other contributions, he sank two three-point shots in the fourth quarter Friday night that helped the Libby Loggers take the Whitefish Bulldogs into overtime.
Fellow senior Keith Johnson also played well, snagging rebounds and leading Loggers scoring with 15. Bower had 13.
But it wasn't enough to whip Whitefish, which prevailed 45-44 in overtime.
The Bulldogs boasted some pure shooters. And if they had enough time to square up, set their feet and get a good shot, most of their attempts slipped through the net.
Both teams started in man-to-man defense but Whitefish also used a zone defense during the game.
Justin Conklin led Whitefish in scoring with 15, followed by Bodie Smith with 11.
During the first period, Conklin, Smith and Bower all hit three-point shots. At the end of the quarter, Whitefish led 13-11.
A few minutes into the second quarter Johnson scored and was fouled. His foul shot put Libby ahead, 18-17, with about five minutes left in the half. The Loggers' Jay Beagle drove the floor and scored and Libby was up 20-17.
But Conklin hit another three, as did Whitefish's Jayce Cripe, and the Bulldogs led at halftime 25-22.
The score at the end of three quarters was Whitefish 30 and Libby 26.
Libby lost starter Caden Williams to an injury in the third period, a loss that affected scoring, rebounding and defense.
Libby coach Josh Bean said later that Williams sustained a shoulder to his sternum and was in pain on the bench, where Williams held an ice bag to his chest.
Whitefish led throughout the fourth quarter but Bower's two three-point shots tied the game at 38-38 with 41 seconds left. No one scored and the game went into overtime.
Bean said Bower's performance on Senior Night was memorable.
"Chandler has been solid for us all year and he came up big for us Friday," he said.
Whitefish held a small lead through overtime and kept it.
Meanwhile, the Lady Loggers stayed within striking distance of the Lady Bulldogs throughout most of the game Friday but ultimately lost 33-22.
The game started slowly offensively for both teams. The score at the end of the first period was Whitefish 7 and Libby 4. The half ended with Whitefish up 17-11.
Whitefish led by four at the end of the third period, 23-19, but started to pull away in the fourth.
The boys team was scheduled to play Ronan at Libby High School on Feb. 24 and the girls were scheduled to play Whitefish High School in Whitefish. If the teams win they will advance to divisional playoffs in Ronan on Feb. 27.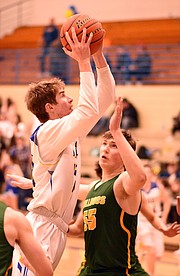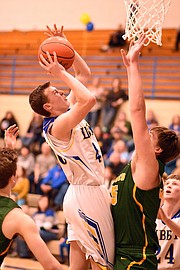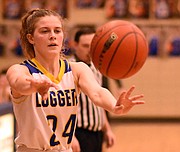 ---