Roadtrip a mixed bag for Loggers squads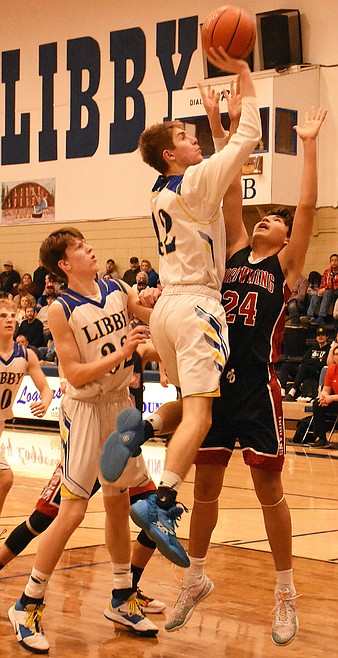 |
February 21, 2020 11:52 AM
The girls and boys basketball teams from Libby High School recently traveled for games against Polson High School and Browning High School.
The girls returned with a win and a loss while the boys dropped two, including a tight game against Polson.
Down by nine points with two minutes remaining, the Polson Pirates rallied Feb. 15 to beat the Libby Loggers 42-38 in Northwest A basketball at Salish-Kootenai College.
It was the Loggers' second loss this season to Polson. The Pirates prevailed 63-44 during a Jan. 18 game at Libby High School.
Pirates freshman Jarrett Wilson had four steals and nine points in the fourth quarter. Wilson finished the day with 10 points, leading the team. Xavier Fisher, a sophomore, hit a triple to help Polson's cause. Fisher scored five points. The Pirates trailed 29-22 after three quarters.
Libby's Keith Johnson led all scorers with 14 points. Caden Williams added 13.
Loggers coach Josh Bean said Polson hit his team with a press during the final two minutes that affected the boys more than it had early in the game.
"For 29 minutes of that 32-minute game we masterfully controlled the game," Bean said.
Meanwhile, the Lady Loggers notched a win against the Lady Pirates, with a final score of 40-29. It was the Lady Loggers' second win this year over the Lady Pirates.
Coach Jackie DeShazer said she was proud of how the team played during the Feb. 15 game.
"We executed on defense better than we have all year, and were able to speed up Polson's offense with our press in the second half," DeShazer said.
She said McKenzie Proffitt played an outstanding game, "stepping up and playing tough defense and boxing out the best she has all year. She had seven points to go along with her team high nine rebounds."
DeShazer said Syd Gier ran the offense as point guard and led the team on defense too. Gier scored seven.
Elise Erickson led all scorers, with 14, a career high.
"Elise grabbed five rebounds and played tough defense all night," DeShazer said. "She is always a big part of the positive things we do on the court even when the stats do not reflect that."
In Browning on Feb. 18, the boys lost 52-45. The Loggers got off to a slow start and were down 33-16 at half. They outscored the Browning Indians during the third and fourth quarters but could not close the gap.
The Lady Loggers lost to the Lady Indians 45-24.
---