Gary Peck becomes first inductee from Libby High School into state Athletes' Hall of Fame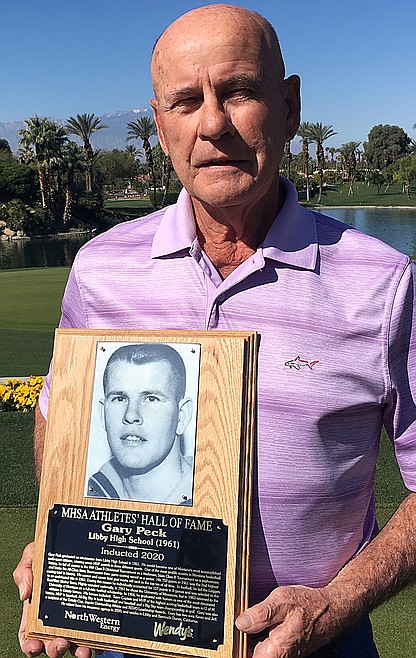 Gary Peck, 77, a Libby native, recently learned of his induction into the Montana High School Association Athletes' Hall of Fame. Peck graduated from Libby High School in 1961. (Photo courtesy Gary Peck)
|
February 21, 2020 11:52 AM
One sportswriter described Gary Peck as that speedy little guard with the buzz cut who nobody can defend.
That description is one nugget discovered by Jeff Peck when he mined newspaper clippings about his father's standout athletic career at Libby High School – where Gary Peck played basketball, football and baseball and ran track.
Especially memorable was Gary Peck's performance as a high-scoring, record-setting point guard for the Libby Loggers in the late 1950s and early 1960s. He graduated from Libby High School in 1961. He was salutatorian.
Jeff Peck's research informed his submission this summer of paperwork nominating his father for the Montana High School Association's Athletes' Hall of Fame. Gary Peck had been nominated once before, years ago, but not inducted.
"As I was reading back through his scrapbooks last summer, I felt his athletic accomplishments were uniquely extraordinary and I couldn't imagine there being a more deserving candidate," Jeff Peck said.
Gary Peck, now 77 years old, learned in early February that the Montana High School Association had reached the same conclusion. He is the first athlete from Libby High School to be inducted into the association's Hall of Fame.
"Obviously, I was really happy, honored, humbled," he said. "A lot of great athletes go through school and never get this recognition."
Gary was one of seven Montana athletes inducted in the 2020 class. The Hall of Fame is located on the campus of Rocky Mountain College in Billings. The Montana High School Association's news release about the 2020 inductees noted that "Peck was an accomplished multi-sport athlete at Libby until his graduation in 1961. He won seven Most Valuable Player awards in three different sports, was one of the most prolific scorers in Montana basketball history and helped lead Libby to an undefeated state championship football season."
In 1961, Gary played quarterback or tailback, depending on the offensive formation, on the Loggers football team that was undefeated and named state champions. He also punted, returned punts, kicked off and kicked extra points and field goals.
Jeff Peck's research discovered that his father's gridiron contributions in 1961 accounted for 157 points in eight games. He was selected that year to play in the East-West Shrine Game.
Yet Jeff said his father's play as a point guard is still what many people remember.
"I believe you could drive today from Browning and go east along the Hi-Line and stop in a small town café and mention my father and basketball and someone of a certain age would remember they were at the state tournament when he scored 44," Jeff said.
He said his father's 752 points in 1961 were the second highest in Montana history. His career total at Libby High School was 1,842.
The inaugural inductees in 1993 for the Montana High School Association's Athletes' Hall of Fame included such standouts as the late Wayne Estes, a basketball star from Anaconda High School. Like Peck, Estes graduated in 1961. He was a superstar at Utah State University until dying in an accidental electrocution.
Peck played against Estes during the North-South All Star Game in high school. Peck led the North in scoring and his team won.
To date, Shannon Butler is the only other athlete from Lincoln County who has been inducted into the Hall of Fame. Butler, inducted in 1990, was a track star at both Lincoln County High School and Montana State University.
Gary Peck was born in Kalispell and lived briefly in Columbia Falls before his family moved to Libby. His father, Frank, was a personnel manager for J. Neils Lumber and a gifted athlete who specialized in track and boxing but also played basketball and football in Columbia Falls. In Libby, Frank coached Babe Ruth Baseball. Gary played for his father and for renowned baseball coach Lee Gehring.
Gary said the Peck family was renowned in Columbia Falls for athletic prowess. Those abilities surfaced again in Libby. The Libby High School Hall of Fame includes four Pecks for their achievements as basketball players — Gary, his brother, Tom, and Gary's sons Jeff and Kevin. Brian Peck, Gary's grandson, is a high school hall of famer in track.
In the debate about nature vs. nurture, Gary acknowledged that genetics play an important role in athletic ability. But he said nurture is key.
"Probably the most important thing when you grow up is the family atmosphere," Gary said. "You may have the genetics and the ability, but there's no incentive to excel."
Jeff agreed.
"If you ask anyone who played with him, no one worked harder," he said. "Some of it is genetics but a lot of it was he just refused to be mediocre."
Gary played basketball at the University of Minnesota for legendary coach John Kundla before returning to Montana in 1963 to play for the University of Montana. Jeff's research suggests that his father was captain of one of the university's highest scoring basketball teams and won most valuable player awards in both basketball and baseball. With the Grizzlies, Gary was an all-conference player on both the basketball and baseball teams and won a Big Sky team championship in golf.
Gary graduated with honors in 1966 from the University of Montana and then served in the U.S. Navy from 1968 to 1976. When he left the Navy, he returned to Libby and began to sell insurance through his Glacier Insurance of Libby agency. He retired in 2000 and sold the business to Kevin.
Today, Gary divides his time between Libby and Bermuda Springs, Calif.
He said he is deeply grateful for his induction and for the myriad gifts of past athletic endeavors.
"You learn to be part of a team. You learn discipline. You learn to have a work ethic. And you form lifelong friendships."
---