Wildkats shred Lady Loggers in 67-21 win
|
February 11, 2020 8:55 AM
The Libby Lady Loggers faced a formidable Columbia Falls squad during a Feb. 7 home game and suffered a rout that reflected the Wildkats' successful execution of a full court press, the team's offensive skills and a full-bore demonstration of basketball fundamentals.
The final score was 67-21.
The Wildkats have but one loss this year, falling last month to the Browning Lady Indians. The team is considered a strong candidate for a state title.
The Columbia Falls girls harvested a bounty of turnovers with their press. Steals turned into easy baskets. The Wildkats moved the ball well and the team's crisp passing yielded good shots from inside, mid-range and the perimeter.
Columbia Falls led 15-4 at the end of the first period. By halftime the Wildkats had extended their lead to 40-11.
The score at the end of three periods was 54-18.
Olivia Gilliam-Smith, a 5-foot, 7-inch junior, led the Loggers in scoring, with nine. Kinzee Boehmler, a 5-foot, 2-inch freshman guard, scored five.
Maddie Robison led the Wildkats in scoring, with 14. Hannah Schweikert added 13.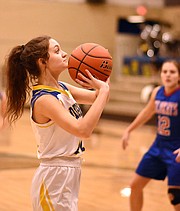 ---