Eight Libby wrestlers headed to state tourney
|
February 11, 2020 8:55 AM
Libby High School qualified eight wrestlers for the state tournament during the Feb. Northwest A Divisional tournament in Ronan.
Lincoln County High School in Eureka qualified seven grapplers during the Feb. 8 Western B/C Divisional tournament at St. Ignatius High School.
The state tournament competitions will be held Feb. 14-15 in Billings.
Libby qualified: Cael Schwindt (103 pounds); Xander Spady (126); Zane Nordwick, (138); Trey Thompson (152); Cody Crace (160); Tucker Masters (160); Tyler Smith (205); and Aydan Williamson (285).
Coach Dean Thompson said he was impressed with the team's performance. He said that four of the wrestlers who qualified for state are new to the wrestling program at Libby High School.
He said Schwindt defeated several opponents during the divisional tournament that had previously beaten him. He said Masters, Smith, Nordwick, Spady and Williamson all wrestled well.
Crace returned to the mat during divisionals after being out for an injury and took second place at 160. Trey Thompson took a divisional championship at 152 pounds by pinning opponents throughout the contest.
Eureka qualified: Hank Dunn (152 pounds); Nathan Schmidt (138); Gunnar Smith (126); Kyle Durden (132); Pancho Ibenez (103); Chance Muller (145); and Austin Warren (126).
Dunn, Schmidt, Smith and Durden earned first-place finishes in their weight classes.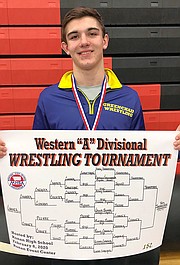 ---