Trojans fall to Noxon despite last minute rally
|
February 7, 2020 9:01 AM
The Troy Trojans staged a fierce, crowd-pleasing comeback but fell just three points short during a Feb. 4 home game against the Noxon Red Devils.
Noxon led 26-11 at the half and 32-25 at the end of the third period. But tenacious defense by the Trojans held Noxon to only six points in the fourth period.
The final score at the Troy Activity Center was 38-35.
With less than a minute to play, Troy had cut Noxon's lead to a single point.
Noxon's Rylan Weltz, a 6-foot, 5-inch senior, was a force throughout the game, scoring, snagging rebounds and blocking shots. He finished with 21 points. One of those points was at the foul line with just a few seconds remaining.
High scorers for the Trojans were Terren Winebark, with 15, and Kolton Lewis with seven.
Turnovers by the Trojans during the first period affected Troy's scoring. The team had only seven points at the end of the period.
"The second quarter we just didn't bring the energy on defense and rebounding, which gave Noxon some easy buckets and put us in the hole we were in to start the second half," said Troy coach Justin Young after the game.
"I was proud of the ways the boys responded and made their own personal adjustments the second half," Young said. "The boys increased the intensity, which swung the momentum to our side.
"As disappointing as the loss was on Senior Night for our boys, I couldn't be prouder of the boys' grit," he said. "They fought and clawed their way back into the game and gave the fans their money's worth." Young said the game highlighted areas that still need work, including fouling less on defense and limiting scoring droughts.
"Hopefully we can continue playing tough-nosed basketball and finish out the season in competitive form," he said.
The Lady Trojans also hung tough with the Lady Red Devils earlier in the day, losing by only five in the closing minutes. The final score was 43-28.
Montana Rice, a senior, led scoring for the Lady Trojans with 14. She also pulled down rebounds. Izzy Ramirez, also a senior in her final regular season home game at the Troy Activity Center, scored seven, as did juniors Emma Johnson and Talise Becquart.
The Lady Trojans experienced a setback late in the fourth period when Rice suffered a bloody nose and left the game during a crucial period. Johnson stepped in and played well, but Rice's absence hurt, said coach Tony Smith after the game.
"That one minute stretch when [Noxon] sort of stretched out their lead showed how important Montana is to us," Smith said. "We lost our momentum."
Smith said poor foul shooting continues to plague the Lady Trojans. The team was three for 18 from the free throw line.
Still, Smith said he was pleased with the Lady Trojans' effort.
"They played well," he said.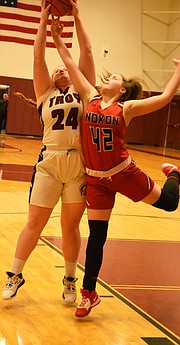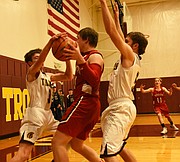 ---