Portrait of a young wrestler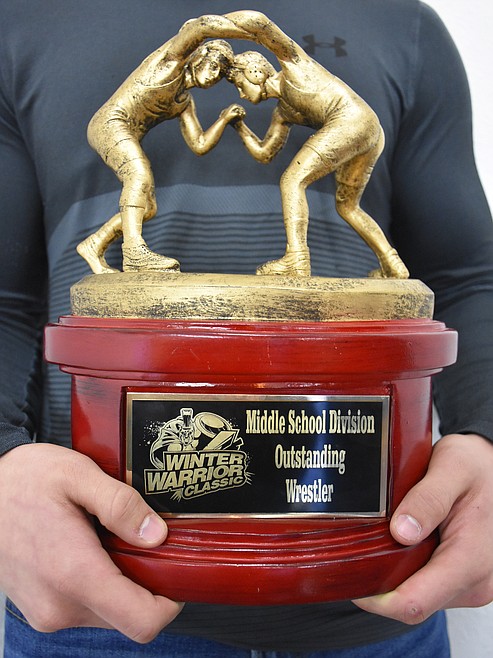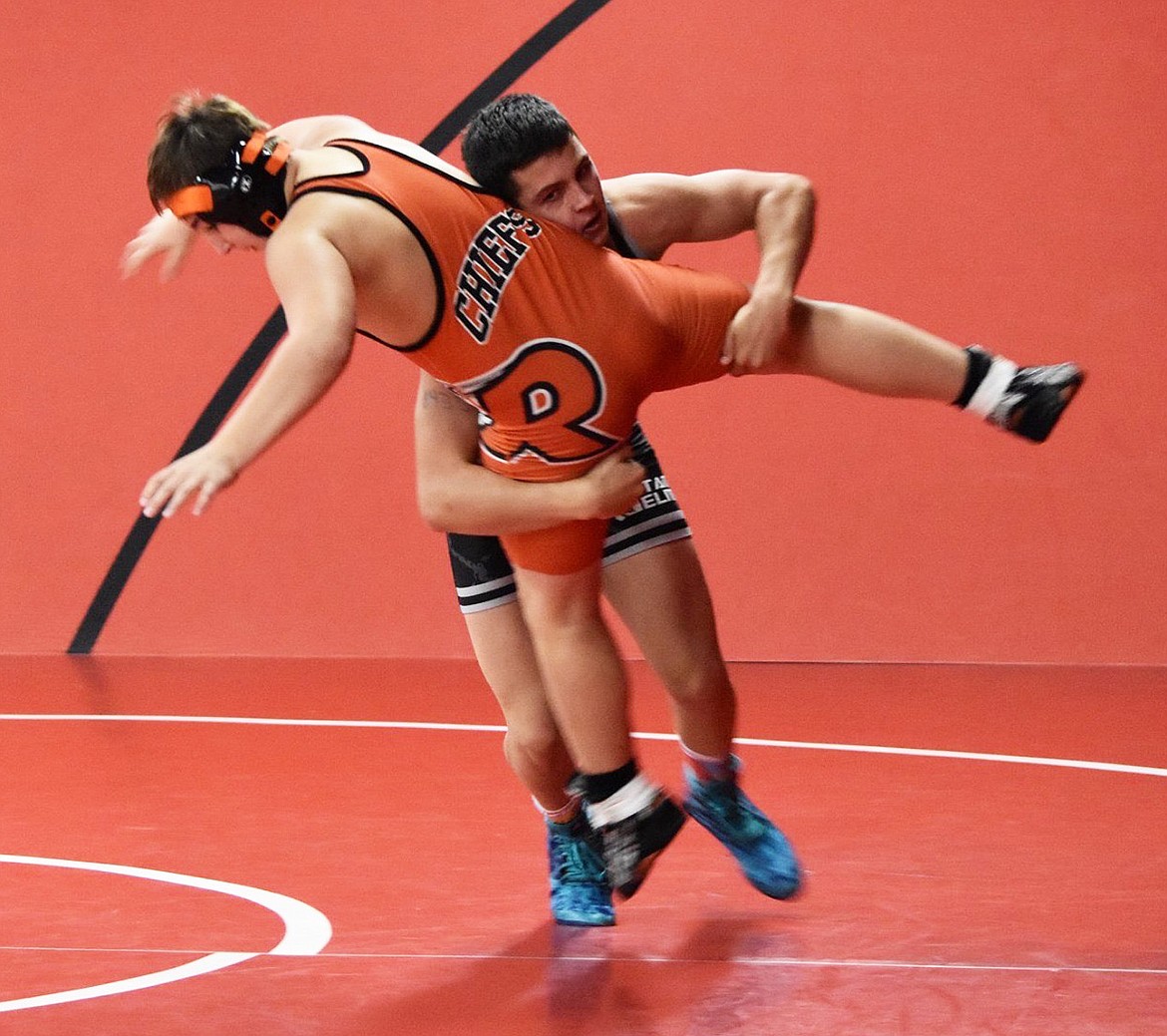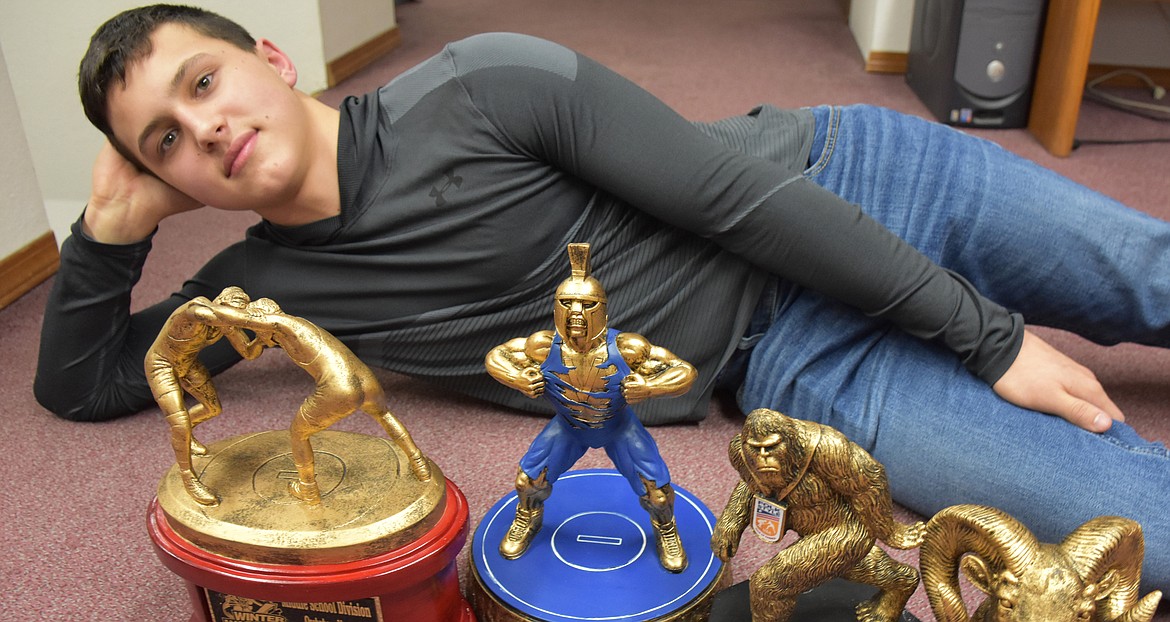 Jace DeShazer, 14, poses with a few of the trophies he has won wrestling in recent years. The Libby native and eighth grader wrestles at 149 pounds. (Duncan Adams/The Western News)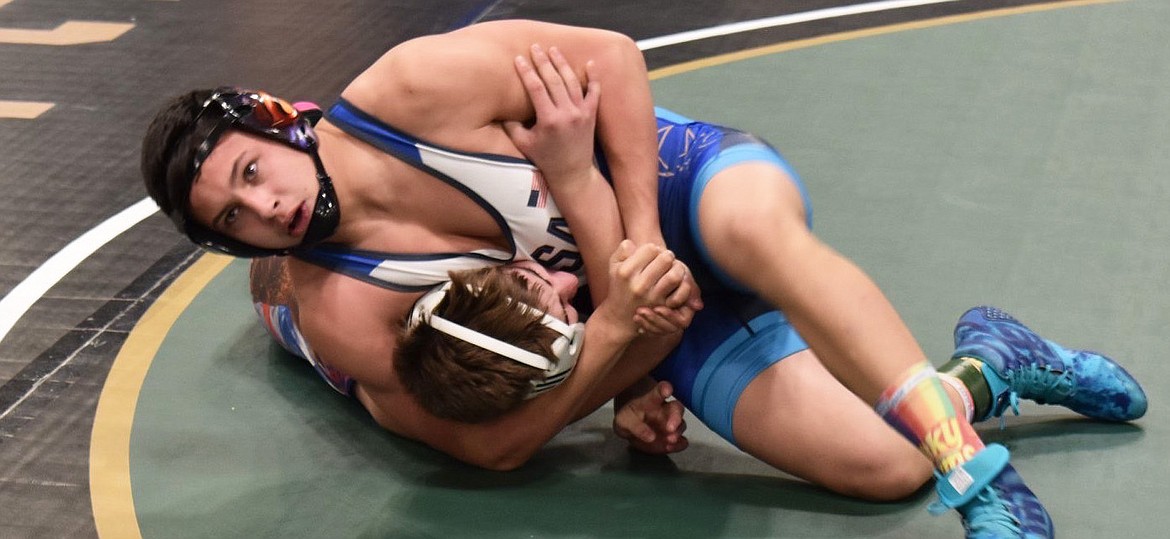 Jace DeShazer prepares to pin his opponent during the Jan. 25 Winter Warrior Classic tournament in Spokane, Wash. (Courtesy photo)
Previous
Next
|
February 7, 2020 9:01 AM
Jace DeShazer's opponent kept shoving him out of bounds. Then, the opposing grappler grabbed DeShazer's leg and wrenched it into a position that shot pain through his knee.
The 14-year-old wrestler from Libby felt escalating ire.
During the third and final round, DeShazer was in the bottom position. At the whistle, with lightning speed, DeShazer executed a Granby roll, akin to a somersault, to escape the opponent's grasp. Moments later, he won the 149-pound match with a pin.
The youthful wrestler walked away from the 2020 Winter Warrior Wrestling Classic, held Jan. 24 and 25 in Spokane, Wash., with two hefty trophies. One celebrated DeShazer's win in the Middle School Division in the 149-pound weight class. He collected the other after being named the tournament's Outstanding Wrestler, Middle School Division.
Quick moves. Quick mind. Rock solid work ethic.
Jace DeShazer's father, Doug DeShazer, and the teen's grandfather, Jack DeShazer, said these attributes and the guidance of several coaches help account for Jace DeShazer's precocious accomplishments as a wrestler.
Yet that success hasn't inflated the youngster's ego, said his father.
"He's a very gracious winner," Doug DeShazer said, noting that Jace remains friendly with opponents who are frequent rivals.
Doug and Ashley DeShazer have two other sons: Luke, 16, and Tristan, 11. Doug works in real estate at DeShazer Ryan Realty in Libby and Ashley is a teacher with Head Start.
Doug said Jace began lobbying his parents at a young age to let him try a sport his father knew comparatively little about.
"He begged to wrestle," Doug recalled, smiling. "Our whole family had played basketball."
That included Doug's sister, Jackie, a former Libby High School standout who played hoops for the University of Montana.
During a Feb. 3 interview, Jace said his friends and two uncles, Adam Orr and Jeff Manson, encouraged him as a child to try grappling.
"There were a lot of people urging me to wrestle," Jace said.
Doug said he and Ashley ultimately consented.
"Finally, when he was six, we said, 'OK, you can wrestle this year,'" Doug recalled.
Jace finished his first season in Little Guy Wrestling undefeated and won the state title.
Today, he does not win every match. In Spokane, he wrestled sometime nemesis Luis Mendoza.
"I had one of the tough kids," Jace said. "I go back and forth with him."
This time, Jace won. He pinned Mendoza, who came in second in the 149-pound weight class, Middle School Division.
As a growing teen who lifts weights to add muscle during regular workouts, Jace knows he won't linger long in the 149-pound weight class.
Doug said he and Ashley have heard horror stories about young wrestlers adopting draconian weight loss practices to pass weigh-ins.
"At first, we told Jace we would not let him cut at all," Doug said.
Now, his parents allow Jace, if necessary, to drop just a few pounds before a match.
Which means Jace sometimes experiences hunger pangs on long road trips to tournaments in places like Denver. He said such lengthy trips are what he likes least about competitive wrestling.
What does he like most?
"I don't have to worry about other people doing right to do good," Jace said. "I just have to worry about myself."
On the other hand, he said, "I don't like all the pressure being on me the whole time."
Most of that pressure seems self-imposed.
Doug said he and Ashley have no grand ambitions for Jace to wrestle in college or the Olympics. In fact, he said they'd likely prefer he not wrestle in college because of the sport's time consuming and demanding nature.
Jace, who his father said is a very good student, dreams of becoming a pediatric surgeon. He knows that getting to medical school would surely require more library time than mat time.
And Jace, who played halfback and middle linebacker for eighth grade football this fall, isn't sure whether he prefers wrestling or football. He also plays baseball.
Success at wrestling requires disciplined conditioning and regular practicing, Doug said.
Jace does both, according to his father. He lifts weights. He runs. He runs stairs.
"He's pretty much been like that since … forever," Doug said.
Jace has been practicing in advance of the start of Little Guy Wrestling by going to Kalispell and working out with wrestlers and a coach there.
Coaches through the years have included, Kurt Spencer, J. R. Rebo, Dean Thompson and Jason Harrington.
Spencer, who has worked with Jace in Libby from an early age, expressed admiration for the young man's dedication.
"He wants to be a wrestler," Spencer said. "He's going above and beyond to be the best he can be.
"Wrestling is a very humbling sport. You get out of it what you put into it. He's putting a lot into it," he added.
And getting a lot back.
Other tournament victories in recent months have included, but have not been limited to: the 2019 King of the Mountain competition in Denver and the 2019 Northwest Bigfoot Battle in Spokane.
Small town Libby hosts many people who care deeply about the folkstyle wrestling that occurs at the scholastic level. And that means that Jace DeShazer likely is a familiar name to people he's never met.
He shrugged. And smiled at the notion.
"That's OK," he said.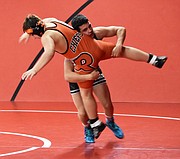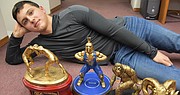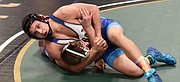 ---