Troy teams come up short against Hot Springs, Plains
by
DUNCAN ADAMS
Staff Writer
|
February 6, 2020 3:18 PM
The Lady Trojans suffered another lopsided loss Jan. 25 in a matchup with the Plains Trotters at the Troy Activity Center, but the team's coach sees signs of growth.
Coach Tony Smith, who described the Lady Trojans as young and inexperienced, said that he saw improvements on the court over the weekend.
"We're aggressive," Smith said. "We're attacking the basket better now. We're scoring more points."
The Trotters won, 51-20.
Yet Smith said the Lady Trojans hung with the Trotters for much of the first half. They were down just four points at the end of the first quarter and 12 points at the half. The Trojans' Talise Becquart took several shots that just didn't fall.
"I feel like we had a chance to compete really well in that first half," Smith said, noting that the Lady Trojans possessed untapped talent.
"They need to understand that they can be a lot better than they are," he said.
The Plains Trotters owned the second half. They did a better job of getting the ball to Kara Altmiller, who is 6-feet, 2-inches and can handle the ball and shoot well both from inside the paint and from the perimeter. Altmiller led scoring for both teams with 25.
Plains coach Eddie Fultz said Altmiller also excels at volleyball and track.
The Lady Trojans also turned the ball over frequently during the second half.
Smith said he felt the girls showed signs of mental fatigue after playing at Hot Springs the previous night. The score was similar, with Hot Springs winning 50-21.
Against Plains, Izzy Ramirez led Lady Trojans scoring with seven, followed by Montana Rice, with six.
Meanwhile, Troy's boys varsity team lost to the Plains Horsemen by a score of 55-24. Moxley Roesler Begalke led Trojans scoring, with seven; Dylan Peterson followed, with six.
Trojans coach Justin Young said his team was a bit undisciplined on defense and got into foul trouble. The Trojans played both man-to-man defense and a two-three zone.
"Three of our starters were on the bench quite a bit," Young said.
"We definitely had trouble making baskets we should have made," he added.
The boys squad also fell to Hot Springs, 67-49, on Jan. 24.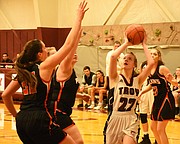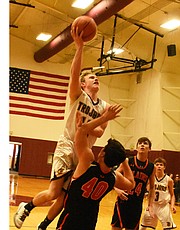 ---