Libby Loggers emerge victorious in Battle of the Kootenai
|
February 6, 2020 3:20 PM
The Kootenai cup trophy is staying in Libby.
Two victories by Libby High School winter sports teams Jan. 30 resulted in the Loggers holding on to the Battle of the Kootenai trophy for another year.
The annual sports competition pits the Loggers against athletes at Eureka's Lincoln County High School. Nine matchups, spanning all three high school sports seasons, make up the event.
Libby High School's boys basketball squad and its wrestling team won Jan. 30. Those victories sealed the deal, allowing the Loggers to hang on to the Kootenai cup.
During the spring season in 2019, Libby defeated Eureka in softball, girls track and boys track. In the fall, Libby won in volleyball while Eureka prevailed in boys and girls cross country.
On Jan. 30, Eureka's Lady Lions basketball team defeated the Lady Loggers, 36-27, but Libby's boys team overcame their Eureka counterparts earlier in the day, 49-40.
The Loggers hit the Lions with a zone press but played man-to-man defense during most of the game. Eureka also relied on man-to-man.
Libby led at half time, 21-16. The score at the end of three quarters was Loggers 38, Lions 30.
Loggers coach Josh Bean said after the game that he challenged the team during the half-time break to play better defense. They did just that, he said, with jumping to help on screens and making steals.
Bean said the team also played well offensively during the last two quarters, moving the ball, sharing the ball and executing plays.
"I think our second half was solid," he said.
Key shots in the fourth quarter by Loggers Ryan Goodman, Chandler Bower and Keith Johnson pushed the team's lead to 48-32. Johnson also hit three of four free throws in the final period.
The Loggers' Caden Williams led team scoring, with 14, a tally that included four field goals and six points from the foul line. Teammates Jay Beagle and Keith Johnson each had nine.
Eureka's Cory Channey led his team's scoring with 16. AJ Parcella and Jake Kindel each scored seven.
As the clock wound down, both head coaches replaced their starters with players who typically have less playing time.
"Those guys practice every day," Bean said, noting it's only fair to give them some playing time "out in front of the big crowd."
That big crowd grew boisterous when wrestling mats were rolled out after the boys basketball game for the next competition.
Wins by Libby grapplers included Matthew Niemi at 113 pounds, Trey Thompson at 152 pounds and Tucker Masters at 170 pounds.
Several matches were forfeits because of prior injuries suffered by wrestlers on both teams. Libby won forfeits at weight classes that included 103, 120, 205 and 285.
"We had some kids hurt; they had some kids hurt," said Dean Thompson, Libby wrestling's head coach.
An exhibition pairing that featured Trey Thompson and Hank Dunn closed the event and was an obvious crowd pleaser. Thompson, son of Dean Thompson, and Dunn, son of Chad Dunn, a coach for Eureka, battled until the final seconds, when Dunn eked out a decision victory.
"They've grown up wrestling each other," Dean Thompson said.
The night's final contest pitted the Libby Lady Loggers basketball team against the Eureka Lady Lions.
Both teams struggled with cold shooting during the first period. The quarter ended with Eureka leading 6-4.
That trend continued for Libby during much of the game. The Lady Loggers fought to find a good shot and then often missed when they did.
"We had quite a few good shots in the second half but they didn't go down," said Lady Loggers head coach Jackie DeShazer after the game.
She said the girls squared up to the basket and did the right things fundamentally but the shots just didn't fall.
DeShazer said she was generally pleased with her team's defensive play and that the girls boxed out well underneath.
The Lady Loggers' top scorers were Olivia Gilliam-Smith, with 10, and Syd Gier, with five. Elise Erickson and Kinzee Boehmler each added four.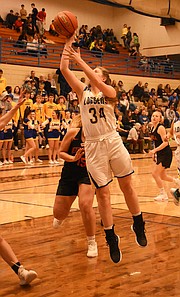 ---