Libby boys pull out tough win, Lady Loggers fall to Ronan
by
DUNCAN ADAMS
Staff Writer
|
February 6, 2020 3:18 PM
Both teams played aggressive defense. Both boasted players with speed that lightning would envy.
And the refs let the boys from Libby and Ronan play Jan. 25 when the Loggers hosted the Chiefs.
If a player hesitated just two seconds before dribbling, passing or shooting, the basketball would be plucked from his hands like a ripe apple. This defensive scrapping engendered a low scoring first half and a low scoring game, which Libby won, 37-24.
The Loggers enjoyed a two-point lead before the game even began. Ryan Goodman sank two free throws after the referees hit Ronan's Girma Detwiler with a technical foul for dunking the ball during warm-ups.
In the game's early minutes, Libby's Caden Williams rebounded a teammate's missed shot, hit the boards again for his own miss and then scored. He was fouled and hit the free throw.
Libby had a 5-0 lead.
Libby led at the end of the first quarter 9-7.
At the halftime break, the Loggers were up 14-11.
In the end, Chandler Bower led Loggers scoring, with 10, followed by Keith Johnson, with eight. Bower hit two three pointers and was three-for-three from the field. The Chiefs' top scorers were Elijah Tonasket, with 10, and Leonard Burke, with five.
Earlier in the day, the Libby Lady Loggers didn't fare as well against the Ronan Maidens, losing 50-31. Ronan moved the ball well on offense, whipping it with crisp passes around Libby's zone.
After they scored, the Maidens hit the Loggers with a full court press.
The Lady Loggers relied again and again on Syd Gier's deft ball-handling to break the press. Later, coach Jackie DeShazer complimented Gier's play.
"Syd's ball handling is incredibly important to the team," DeShazer said. "Her ability to break presses and still keep her head up to find the open player is vital when we face full court pressure."
The Maidens led 27-15 at the half.
"We struggled in the second half breaking the very aggressive half-court trap that Ronan used but the Lady Loggers team never stopped battling and I am very proud of them for the heart they showed," DeShazer said.
She complimented the play of Taylor Munro, whom she said "played very tough this weekend, especially against Ronan where she stepped up and played great defense against a tough post."
DeShazer said the Lady Loggers got into foul trouble early with Mackenzie Proffitt, Elise Erickson and Julia Martineau, which affected player rotations.
She also complimented Rylee Boltz, saying she "had her best varsity minutes yet against Ronan."
Gier led Libby's scoring, with seven, followed by Olivia Gilliam-Smith, with six. The Maidens' high scorer was Jaleigh Gatch, with 14.
Both the Lady Loggers and the boys team played Whitefish High School in Whitefish on Friday. The Loggers boys won 33-32. The Lady Loggers lost 46-18.
"Whitefish ended up being a long night for us," DeShazer said. "They shot out the lights and collectively the Bulldogs had the best shooting game of their year. Almost everything they put up went in and while some of those shots were open the vast majority of their shots were challenged with a hand in their face."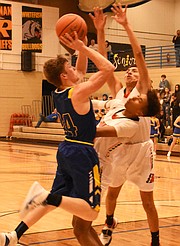 ---