Year in Review, Part I
|
December 29, 2020 7:00 AM
Join the Western News in taking a look at the biggest stories of the first half of 2020, an unforgettable year.
Jan. 21
Raise a glass
"It was a lot of fun for a lot of years," said Lisa Mohr of owning the Red Dog Saloon for decades. "The customers have been great. But in our hearts I think we were done a while ago."
It came as a shock when the Mohrs announced plans to close the Red Dog Saloon. Its last day was Jan. 12.
Loyal customers grieved. John Sievers, 88, a neighbor, was a regular at Red Dog for decades. That's been especially true on Sunday evenings when he and a few others gathered for what was jokingly referred to as meetings of the Pipe Creek City Council.
"I have so much respect for Bruce and Lisa," Sievers said, for their dedication to the Red Dog Saloon and its customers.
"It's just a real homey place. An oasis out here in the mountains," he said.
The Mohrs said they decided to stay open one last Sunday to accommodate Sievers and other members of the "council" before locking the doors.
Sievers said that final evening left him feeling sad.
"We didn't want to leave. We didn't want to stay. I just kind of wanted to cry," he said.
Feb. 6
Accused Army deserter freed
Officials with the Lincoln County Detention Center released a man on Jan. 15 accused of deserting the U.S. Army nearly five decades prior.
Authorities said they let Gary James Armstrong, 68, go after the warrant for his arrest was quashed. U.S. Customs and Border Protection officials detained Armstrong while he was trying to cross the border from Canada on Dec. 27. Agents discovered a felony desertion warrant for Armstrong when he presented himself for entry.
He was later turned over to the Lincoln County Sheriff's Office to await extradition. The wait ended when the warrant was recalled. The U.S. Army removed Armstrong's name from its online database of deserters.
Feb. 6
Winter storm leaves thousands without power
A windstorm caused widespread power outages on Feb. 1. The National Weather Service in Missoula reported wind gusts of 47 miles per hour in Troy, 53 miles per hour in Thompson Falls and 57 miles per hour in Kalispell.
Libby bore the brunt of the storm, according to Flathead Electric officials. Wendy Ostrom-Price, a spokeswoman for Flathead Electric, said 3,367 cooperative members were without power in Libby.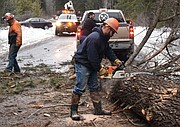 Lincoln Electric Cooperative, headquartered in Eureka, experienced a system-wide outage tied to a transmission line affected by the storm. Melissa Brandon, a spokeswoman for Lincoln Electric said at one point all of the cooperative's 4,700 members lost power.
Feb. 11
Libby superintendent takes Wyoming job
Libby superintendent Craig Barringer announced his departure from the school district to the school board on Feb. 10.
Barringer had recently accepted a superintendent position in Sweetwater County Wyoming which was set to begin on July 1. Officials Sweetwater County School said in a press release that they were "excited to be moving forward with such a dynamic leader."
In 2014, Barringer took the top job in the Libby School District after spending 16 years as an educator in Conrad.
On March 12, the Libby Public School Board tapped former principal Ron Goodman for the position of superintendent.
March 17
Libby board taps Goodman as next superintendent
Following over an hour of public questioning, Libby Public School Board offered former principal Ron Goodman the position of superintendent. Goodman, 49, replaced outgoing Superintendent Craig Barringer.
Working as an educator since the mid-1990s, Goodman previously served as principal of Libby Elementary School. While he left the district to pursue a career as a financial advisor for Edward Jones, Goodman told school board members that education remained his passion.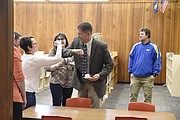 "You have your butchers and bakers and candlestick makers and butchers should not be candlestick makers," he said. "For me, it's about investment and I think in terms of if I worked [as a financial advisor] for the next 10 years of my life there would be lots of investments made but it would not be the same investment as the one into our children."
March 27
Lincoln County man is first COVID-19 fatality in Montana
Jim Tomlin, 77, who lived in the Bull Lake area, succumbed to COVID-19 on March 27. Tomlin was both the county's first confirmed case of the novel coronavirus and the state's first fatality linked to the respiratory disease.
Tomlin was transported from Libby to the hospital in Kalispell, where he was soon placed on a respirator. His son, Scott Tomlin said that by 9 p.m. on March 25 Jim Tomlin was in a medically induced coma and in critical condition. He died late in the afternoon the following day.
"Last rites were given over the phone," Scott Tomlin wrote. "His wife got to say goodbye and that [his] children love him, over the phone.'
April 3
Idaho earthquake felt by residents in Flathead and Lincoln counties
A 6.5 magnitude earthquake captured the attention of residents in Lincoln, Flathead, Missoula and Gallatin counties on March 31. Tremors were also felt in Washington and Utah.
The U.S. Geological Survey reported that the quake occurred "as a result of complex strike-slip faulting within the shallow crust of the North American plate."
There were no immediate reports of damage or injuries.
According to USGS, the March 31 quake was the largest in Idaho since the Borah Peak earthquake in 1983 which killed two people in Challis and caused millions of dollars of damage.
---