Charles Leonard Pitman, Sr., 98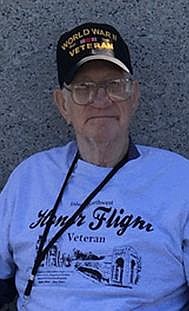 |
December 24, 2020 7:00 AM
Charles Leonard Pitman Sr., 98, of Libby, peacefully passed away Dec. 18, 2020, of natural causes. He was born on Oct. 22, 1922, to Wilson and Eva Pitman in Buffalo, New York.

Charles graduated from Central Bucks High School, in Doylestown, Penn., in 1939. He enlisted in the U.S. Army and served through World War II and was honorably discharged in 1952.
After his time in the Army, Charles worked as an auto mechanic, police officer, maintenance engineer for a photo engraving plant, and as an electrician. He retired in 1987.
In 1950, Charles met and married Georgette Cutshall (March 1922 - January 1985) at Jameson's Roller Rink near Hatboro, Penn. They went on to have five children. In 1987 Charles met and married Syneva Sunell. They both loved to hunt, fish and travel.
Charles retired in 1987 and moved to Libby. While retired, he volunteered his services as an electrician to several churches in Libby. He and Syneva worked for years at the Libby Food Bank.
Charles is survived by four children, five stepchildren, and many grandchildren and great-grandchildren.
A celebration of his life will be held privately. In lieu of flowers, please consider a donation to the Libby chapter of the Veterans of Foreign Wars Post 1548 or the Senior Center in Troy.
---