Yaak Valley Forest Council offers reward after bear slaying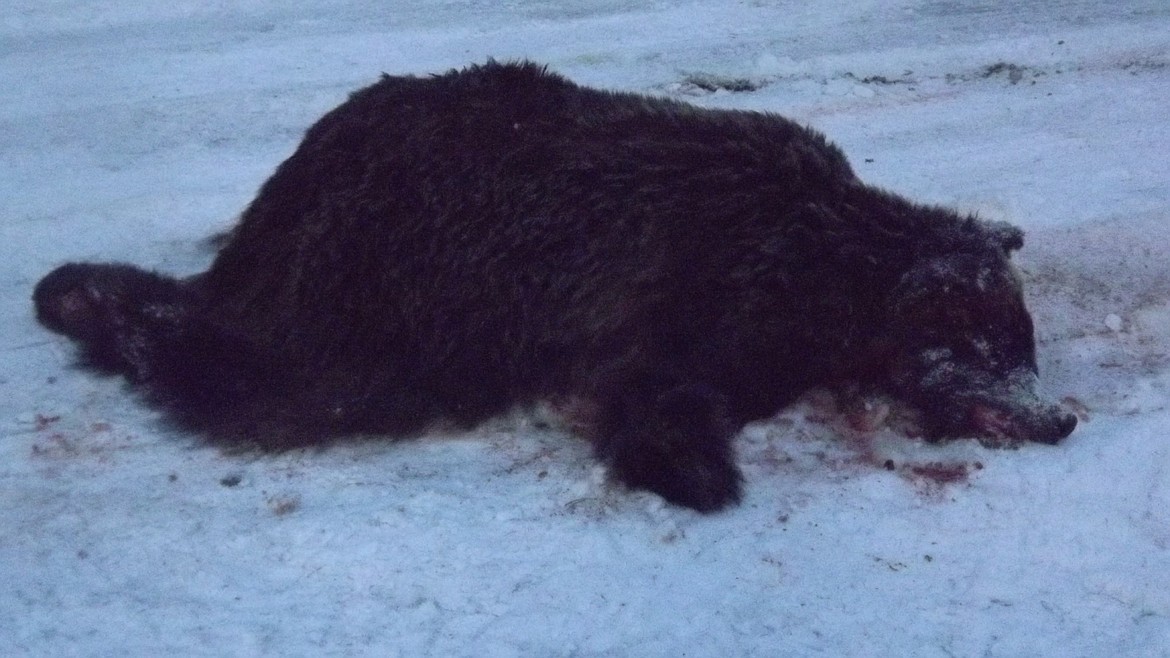 Carcass of the female grizzly bear found near the Yaak. (Courtesy Wynn Zellmer)
Courtesy Wynn Zellmer
by
WILL LANGHORNE
The Western News
|
December 18, 2020 7:00 AM
Following the killing of a female grizzly bear near the Yaak, a local environmental group is contributing to a reward fund of up to $50,000 for anyone who helps secure a conviction.
The Yaak Valley Forest Council announced they are partnering with the Save the Yellowstone Grizzly Bear environmental group to offer the reward on top of funds already offered by the state.
Dillon Tabish, regional information and education program manager for Montana Fish, Wildlife and Parks Region 1, said the state agency offers a baseline reward of $1,000 for any information that leads to a conviction.
The bear carcass was found about four miles south of the Yaak on Pipe Creek Road on Nov. 20. Wynn Zellmer, a Yaak resident, said a neighbor called him around 11 p.m. after spotting the dead grizzly left prone in the driveway of his secondary property.
After reporting the death to the Lincoln County Sheriff's Office, Zellmer inspected the carcass the following morning. He said it appeared that poachers killed the bear and dumped it in the driveway. The killers had shot the bear and removed its legs.
"There is such villainy in this act that I can hardly express my rage and sadness," said Betsy Gaines Quammen, a Montana-based author, environmental historian and conservationist quoted in a forest council press release announcing the additional reward.

Tabish said officials with the U.S. Fish and Wildlife Service and FWP game wardens are investigating the death.
Residents with tips may call the anonymous tip line 1-800-TIP-MONT (1-800-847-6668).
Grizzly bears are federally protected as a threatened species under the Endangered Species Act. It is illegal to harm, harass or kill these bears, except in cases of self-defense or the defense of others.
---