Health officer again eyes event cancellations
Lincoln County's health officer warned late last week that the continued spread of the coronavirus locally could lead to further restrictions on public gatherings.
Dr. Brad Black raised the possibility in a press release sent to local newspapers July 30. He previously proposed a ban on public gatherings of more than 50 people, but changed course after meeting stiff resistance from residents and elected officials.
Black said the decision to tighten restrictions beyond Gov. Steve Bullock's guidelines for the state hinged on whether the percentage of positive cases in the county increases in the next two weeks.
Owing to a testing backlog, officials will compare the results of symptomatic residents to form the percentage. In a perfect world, Black also would have results from community surveillance testing, but the resources to resume that level of monitoring remain several weeks away.
"We're going to be using that over the next week or two to make hard decisions related to our concerns. If it is rising at a rate that is uncomfortable, waiting is not going to serve us well," Black said. "We would have to then look at steps of reducing social contact in the community. Obviously, one way that is outstanding still is [restricting] the community events that are larger than 50 people."
One way to avoid that outcome is by doubling down on face coverings and social distancing in the community. But that falls on the public, he said.
"What I'm really trying to get across is that what's happening with case numbers and percent positives all depends on our behaviors — independent behaviors," Black said.
Raising the possibility of cancelling events once more serves several purposes, he said. Black wanted to let the public know it was again under consideration so as to avoid it coming as a surprise. He also hopes it will spur residents to wear masks and take social distancing more seriously.
Black first reconsidered public events with more than 50 expected attendees when cases increased sharply in early July. Following a contentious, vitriolic Lincoln County Health Board meeting where Bullock's mask mandate drew much of the ire, Black agreed to reconsider.
Representatives from the Kootenai River Stampede and Ignite the Nites car show, two local summer staples, petitioned Black and the health board to allow the events to go forward as planned.
At a second meeting of the board held just a few days later, Black released a toned down version of restrictions. Event organizers were required to submit plans detailing how they would adhere to the state's pandemic guidelines with health department officials holding the final say.
Despite pushback — several members of the health board wanted to see Black stick to the governor's mandate and go no further — Black signed the order. At the events held since, efforts at mask wearing and social distancing by attendees were middling at best.
Black said that outdoor venues are shown to have cut down on the virus' transmission. But people could negate that by gathering in close proximity. Event planners could impose stringent rules, but it's ultimately up to individuals to obey them, Black said.
"Once again, it's back to personal behavior," he said. "We have a lot of people following the rules — I don't want to take anything away from them. There are a lot of people doing a lot of good things, but we've got to be closer to 90 percent [compliance]."
Were Black to move toward a ban on events, he expects to bring it before the county health board first. While Montana law gives health officers wide latitude in times of crisis, Black said he would want to gather feedback from residents and board members alike.
The next meeting of the Lincoln County Board of Health is scheduled for 6 p.m., Aug. 12.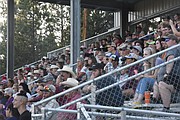 ---