Businesses, workers alike suffer during pandemic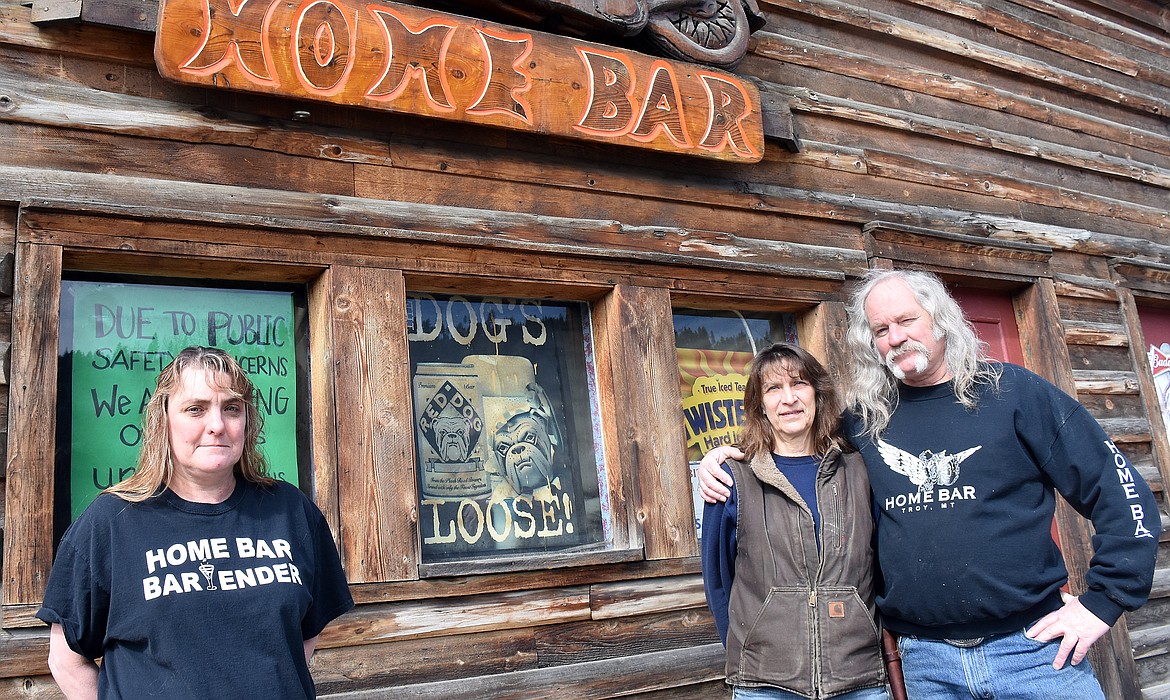 A man driving by in a battered compact pickup noticed that the door to the Home Bar was open. He saw that the owner and a bartender were standing on the sidewalk. It was a warm spring morning in Troy and people who might have been working during more normal times were out on stoops or splitting wood or walking the dog.
The Home Bar had closed nearly a month before because of COVID-19. Owner Bruce Flock said at the time that he felt shutting down was the right thing to do.
The man in the pickup swung parallel to the sidewalk and spoke Tuesday morning to bartender Shelia Johnston.
"I'm wanting him to open up so I can play pool," the man said, gesturing toward Flock. "I'm going insane."
"He can't do that," Johnston said.
The man drove off.
Flock, 64, shuttered the Home Bar on March 19, one day before Gov. Steve Bullock mandated the closing of bars and dine-in restaurants.
That's when Johnston filed for unemployment benefits. The timing allowed her to beat the crowd that surged to file a claim after the March 20 directive from Bullock and other social distancing directives that followed. Unemployment filings have soared in March and April, both in Lincoln County and statewide.
Filings in Lincoln County for unemployment benefits totaled 728 in March, a jump of 320 percent when compared to March 2019. For the week ending April 4 there were 441 claims from Lincoln County, according to the Montana Department of Labor and Industry.
During that same week there were 26,457 claims statewide, the department said.
"Before March 15, we averaged 8,122 weekly payment requests. Since then, the payment requests have increased to 22,037 per week," officials with the Department of Labor and Industry reported.
Johnston, whose work hours varied at the Home Bar, said Tuesday that she had received one unemployment check so far.
"I'm actually doing pretty good," she said.
Her partner, a bartender at the VFW in Troy, is drawing unemployment too.
Johnston said the two of them are tackling projects around their residence and waiting and hoping for a return to a semblance of normalcy.
"I miss coming to work," she said. "This isolation…I'd rather be working. I love my customers, I love the bosses, the co-workers that we have."
Flock, who has owned the Home Bar for about 15 years, said he does not think he will apply for federal assistance offered to small businesses in the Coronavirus Aid, Relief, and Economic Security Act, or CARES Act.
"I'm leery of taking out a loan even though I know it's supposed to be forgiven," he said.
"I don't owe anybody any money and I don't want to owe anybody money."
The Home Bar typically has about five part-time employees, Flock said.
He declined to estimate what the business is losing each week that it remains closed, though he noted the bar is approaching its busiest season.
"It's going to get into the losing situation if it doesn't start getting back to normal soon," Flock said.
He said Home Bar revenues come from sales of alcohol and food and from gambling.
The U.S. Small Business Administration's Paycheck Protection Program offers a loan designed to help businesses retain workers during the COVID-19 crisis. The SBA says the loan will be forgiven if funds are used for payroll costs, interest on mortgages, rent and utilities during the eight-week period after the loan. Guidance suggests at least 75 percent of the forgiven amount must be used for payroll.
In Libby, George Mercer is a vice president and branch manager for Glacier Bank.
In an April 13 email, he said Glacier Bank in Libby was then working with more than 100 businesses "in one way or another" regarding the Paycheck Protection Program.
Mercer said the program's rapid rollout by the federal government presented challenges because "the guidelines were not clear and are still not clear as of today."
"With that being said, many of our customers have done a great job of doing their best to research the program and make sure they supplied the bank with the best documentation they could," he said.
Mercer said the Small Business Administration has been bogged down by phone calls and emails inquiring about the Paycheck Protection Program and that businesspeople who cannot get through might end up following guidelines found on the Internet that aren't accurate.
"The Paycheck Protection Program is more important to Libby than most will ever know," Mercer said. "The intention of the program is to get all businesses who qualify to start paying their employees again and funds it at two months of average payroll."
Jackson Garrison, market president for First Montana Bank's Libby and Troy market, said his bank too has been busy processing the Paycheck Protection loans. About half have closed and been funded, he said.
Like Mercer, Garrison said it took a while for details about qualifying standards to flow to banks from the Small Business Administration, or SBA.
"That has been the biggest obstacle, figuring out what information the borrower needed to present for the loan and what qualifies as a 'qualified payroll expense,'" Garrison said.
Garrison said he believes the Paycheck Protection loans are very important to businesses in Lincoln County.
"The goal of the PPP loans is to keep employees paid and/or working," he said. "Many business owners' first thoughts and worries are keeping their employees paid. Many forego a paycheck themselves in order to pay their employees first."
Cary Hegreberg, president and CEO of the Montana Bankers Association, said he believes the Paycheck Protection Program is going to play a key role in helping the state's small businesses weather the COVID-19 crisis. He said bank employees across the state have been working weekends and nights to process the loan applications.
"We're really proud of Montana's banks for stepping up," Hegreberg said.
The SBA program pays banks a fee to process the loans. But given that the loan amount is forgiven if conditions are met and the interest is only 1 percent, the Paycheck Protection Program isn't a moneymaker for banks.
Instead, Hegreberg said banks recognize that the program could help their commercial loan customers stay afloat and retain on their payroll the employees who have consumer loans.
"The bankers were eager to jump on board with this program," he said, even though the processing and administration of the loans is demanding.
Mercer said he believes banks in the region can provide help during a time of extraordinary challenges.
"I am hopeful that between Glacier Bank, First Montana Bank and Lincoln County Credit Union that each and every one of our businesses can survive this," he said.
Kristin Smith, a co-owner of Cabinet Mountain Brewing Co., and a member of Libby City Council, sat alone with her laptop at the brewing company's bar around 1:45 p.m. on April 15. The restaurant is offering food and growlers to go but is otherwise closed.
Smith was feeling less than upbeat about the near future and not especially confident about how business will be months from now.
She said Cabinet Mountain Brewing Co. has applied for a Paycheck Protection Program loan but hasn't yet learned whether the business will receive funding.
Even if it does, Smith isn't sure whether and how the paycheck loan would help sustain her and the business.
"Unfortunately, that doesn't help me because I've lost my income," she said.
Smith said she cannot file for unemployment as a partner in a limited liability company.
She said Cabinet Mountain Brewing typically employs 11 people. The business is down to two workers and herself. She said employees drawing unemployment are making more money than when they were employed at Cabinet Mountain Brewing.
Smith said the CARES Act came together without a full understanding of how business owners like her might fall through the cracks.
"I think the whole approach and response has been chaotic and lopsided and really inconsiderate of the impacts to small business owners," she said. "There is a whole swath of small businesses that are not going to get help from the Paycheck Protection Program. Eight weeks is not going to cut it."
Smith said some experts suggest COVID-19 will re-emerge and cause more periods of closures and social distancing in the months ahead.
"This is going to be a protracted and painfully long process," she said.
In Libby, the Kootenai Job Service, which focuses on helping people find jobs, suddenly became an outpost peppered with questions about unemployment.
"We're just having an unprecedented demand for our services, especially unemployment insurance," said Johnette Watkins, general manager. "What we're doing is that different job service personnel are being trained to help with parts of unemployment service. We can't help with individual claims, but sometimes if a person is locked out we can help them reset their account. We are here for that."
She said the state's regular phone line for unemployment insurance information has been swamped.
"We're just trying to pick up some of the slack," Watkins said. "We've had a lot of calls where people have just been so appreciative to get through to a person. We can help with some things."
Watkins said anyone who loses their job or has their hours reduced through no fault of their own is eligible to file for unemployment benefits. People who are self employed should also file, she said.
"Basically, we want everyone to be sure to go to montanaworks.gov, log in or create an account and file for unemployment as soon as their hours are reduced or they're laid off," she said.
Watkins acknowledged that online filing isn't easy for everyone.
"We have quite a few people calling us because they don't have Internet access or don't have a computer and they're having a hard time on the phone — there are a million different scenarios — but we've been able to help people in various ways suited to what they need," she said.
Kim and Jay Moody co-own Moody's Dirty Laundry & Self Service Dog Wash in Libby. Their business also includes Pinup Girls Salon and Massage, considered to be non-essential services under state guidelines. And they rent space in their building on U.S. 2 to a cellular phone provider.
Kim Moody said the loss of revenues from the salon will hurt but that there is money coming in from the laundromat and the leased space. If summer tourism drops off the laundromat will have reduced revenues, she said.
Moody said the business is still recovering from a fire in May 2019 that shuttered the enterprise for months. She said money she inherited, initially earmarked for a vacation, will now help support the couple's businesses during the COVID-19 shutdown.
Meanwhile, Watkins and others said this crisis, like many others, can create a sense of solidarity even in the midst of social distancing.
"We want to let everyone know that although our doors are locked, we are all here and we're working very hard to help everyone through the myriad of issues we're working with," Watkins said. "We're all a part of one community. We're all in it together."
---