Gentry pleads not guilty to multiple charges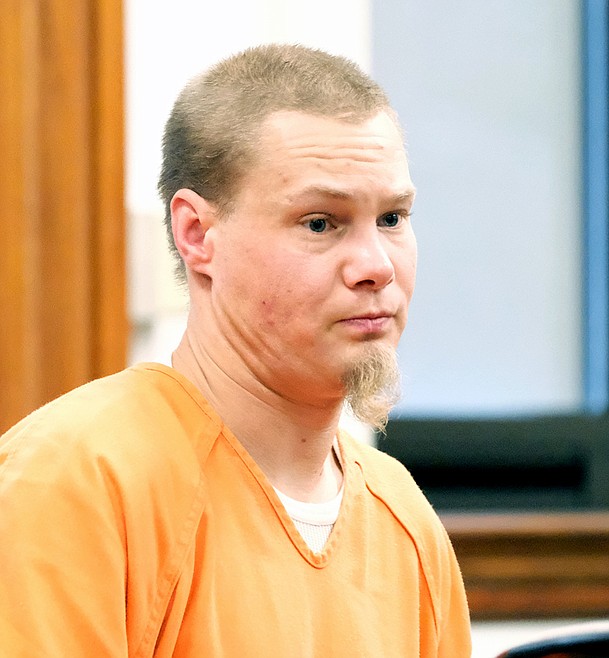 Khristafer Lee Gentry arraignment, Monday, Nov. 18, 2019. (Paul Sievers/The Western)
by
Derrick Perkins Western News
|
November 26, 2019 10:26 AM
Khristafer Gentry, 34, of Libby pleaded not guilty to multiple drug and assault charges Nov. 18 after authorities arrested him following an alleged fight with a former girlfriend last month.
Gentry faces charges of partner or family member assault, third or subsequent offense, criminal possession of dangerous drugs and two counts of possession of drug paraphernalia. His previous two partner or family member assault convictions occurred in June 2017 and July 2000.
Authorities arrested Gentry Oct. 25 after a caller reported a man and woman fighting in a sport utility vehicle about 10:11 a.m. Lincoln County Sheriff's deputy Luke Hauke was the first at the scene.
He described Gentry, who also goes by Kristopher, Kristafer and Khristafer, as calm in demeanor. He only spoke to answer questions, Hauke recalled.
While Sgt. Brandon Holzer, who also had arrived on scene, searched and arrested Gentry, Hauke spoke with the victim. Her swollen left lip was cut and bleeding, he wrote in the affidavit. Blood had stained her hands from wiping her mouth, he recalled.
"I'm scared, I'm scared," she told Hauke, according to court documents. "That hurt."
While an ambulance made its way to the scene, the victim told Hauke she had picked up Gentry in Libby and was taking him to a friend's house. The pair previously dated and the victim was hoping to remain friends if he was sober.
On the way, Gentry began arguing with her and accusing her of seeing other men, the victim told Hauke. He struck her with a closed fist, according to the affidavit.
"He has hit me before," she told Hauke. "I have just not turned him in before."
Hauke gathered Gentry's belongings so that they could be reunited with him later. The items included a black backpack stored in the rear of the vehicle that the victim said belonged to Gentry.
As Hauke and other law enforcement personnel had seen Gentry bicycling around town with the backpack, he grabbed it.
During a search at the sheriff's office, authorities found a smaller fanny pack stored inside the backpack. Contained within were two hypodermic needles, a clear glass pipe with brown and white residue, a curvy glass pipe with brown residue emanating the odor of marijuana, an empty flask and a small tin, according to court documents.
Opening the tin, Hauke found six unused baggies, two containing white powder residue and one full of translucent crystals and white powder weighing about two grams, court documents said. The latter tested positive for methamphetamine and was sent to the Montana crime lab, the affidavit said.
The partner or family member assault charge carries a possible sentence of five years of jail time and a $50,000 fine. The drug possession charge is punishable by a maximum five year sentence and $5,000 fine while the possession of drug paraphernalia charge carries a possible six month, $500 penalty.
---