Logger legend inducted into Grizzlies Hall of Fame
by
Derrick Perkins Western News
|
November 19, 2019 11:27 AM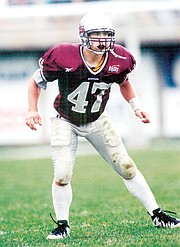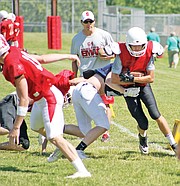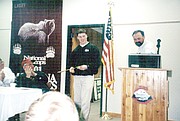 Vince Huntsberger cannot help but admit the oddity of being honored for his individual achievements.
From his early days in middle school, to playing for the Libby Loggers and then the University of Montana Grizzlies, Huntsberger learned the importance of teamwork and group effort. When he looks back on his gridiron career, it's the camaraderie between teammates he cherishes.
But with 393 career tackles — still a record at the University of Montana — a starter for 55 consecutive games and an instrumental part of the Grizzlies winning four Big Sky titles during his time in Missoula, Huntsberger entered his former school's hall of fame over the weekend.
"I'm one of [many] people on the team," he said prior to the induction banquet. "It's great to get a personal award, but it's a reflection of your team."
Born and raised in Libby, Huntsberger learned to love football at an early age. His uncles had all played during high school and one even ended up getting drafted into the NFL. He fondly remembers watching Notre Dame games with his grandfather.
And he recalls seeing Blaine McElmurry play for Troy before heading to the University of Montana and then a professional career with the Green Bay Packers and Jacksonville Jaguars.
Athletics, and football specifically, were just always a part of his life, he said.
By the time Huntsberger made it to the Libby Loggers, it was clear he was going to stand out, recalled former coach Wayne Baker.
"We played him on varsity as a freshman," Baker said. "As a sophomore he kind of took over. He was a pretty physically mature kid coming in; mentally, he was really sharp. He had a special knack for the game."
On defense, Huntsberger always seemed to find the ball, Baker recalled. And he was a natural leader.
"I always appreciate him, because his competitive, fierce style of play rubbed off on the other players around him," Baker said. "He was a leader by how he played. He wasn't the most vocal guy all the time, but he was a leader by his style of play, a tremendous competitor."
Huntsberger remembers the joy of playing a physical sport with his friends. There is a feeling of achievement that comes with excelling at a demanding sport. High school football, after all, means two-a-days, playing in the heat of late summer and then in the snow, gym sessions in the offseason and running, always running.
But the bonds forged through the hard work remain the highlight for Huntsberger.
"Sports are about the camaraderie," he said.
That has translated over personally and professionally for Huntsberger. After getting named to several All-American teams, earning his college league's defensive MVP and winning the 2001 Division I-AA National Championship as a member of the Grizzlies, Huntsberger became a husband, father and emergency room physician.
"It was a very positive thing — I got a lot out of football," he said. "The memories I have obtained through football and the life skills it gave me … it's been huge for me and my family. It's been a very positive thing in my life and I'm really glad I played."
While his shifts in the ER are not as intense as a high school or college football game — they last 12 hours, for example, so pacing is important, he said — Huntsberger relies on his skill as a team player to get the job done. As a father, he also is part of a team. Communication skills are critical in both, Huntsberger said.
Using sports to prepare you for the rest of your life is a bit of advice Huntsberger would give to any teenager donning the blue and yellow of the Libby Loggers.
"Most of us know that, outside of a sport, we're going to move on to something else, so enjoy it while you're there," he said. "Try to take those life skills from sports: working as a team, working hard, enjoying it. It's fun, it's a game, and hope that you use it in the next step in life."
---