Crews extinguish house fire
by
Derrick Perkins Western News
|
November 12, 2019 10:41 AM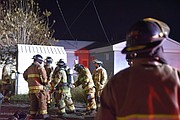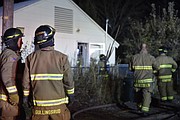 Libby officials said the spontaneous ignition of a pile of oily rags likely led to a house fire on Louisiana Avenue on Nov. 7.
The Libby Volunteer Fire Department responded to the blaze on the 1200 block a little before 7 p.m., said First Assistant Chief Steve Lauer. First responders learned of the fire after the resident returned home to find smoke coming out of the doorway.
Crews spent about 45 minutes extinguishing the fire, Lauer said. He estimated the single story, wooden-frame home at about 600 square feet.*
"It was a pretty good, quick offensive knockdown of the fire by a single three-man mask crew," he said.
An ambulance responded to the scene out of precaution, Lauer said, but no one was injured during the fire. In total, three engines and the department's command vehicle were called to the fire.
An investigation determined recently dried rags as the source of the blaze. Lauer said they initially thought it began in the dryer. Once heated, the oiled-stained rags suffered a spontaneous ignition, he said.
"Sometimes it happens with just the rags piled up, but you see it most often after it's laundered," Lauer said. "You still have the oil heated up from the dryer."
The fire did set off smoke alarms in the building, he said.
Lauer estimates the damages at between $8,000 and $10,000.
*This article has been updated.
---