Libby eliminates Butte Central in playoff opener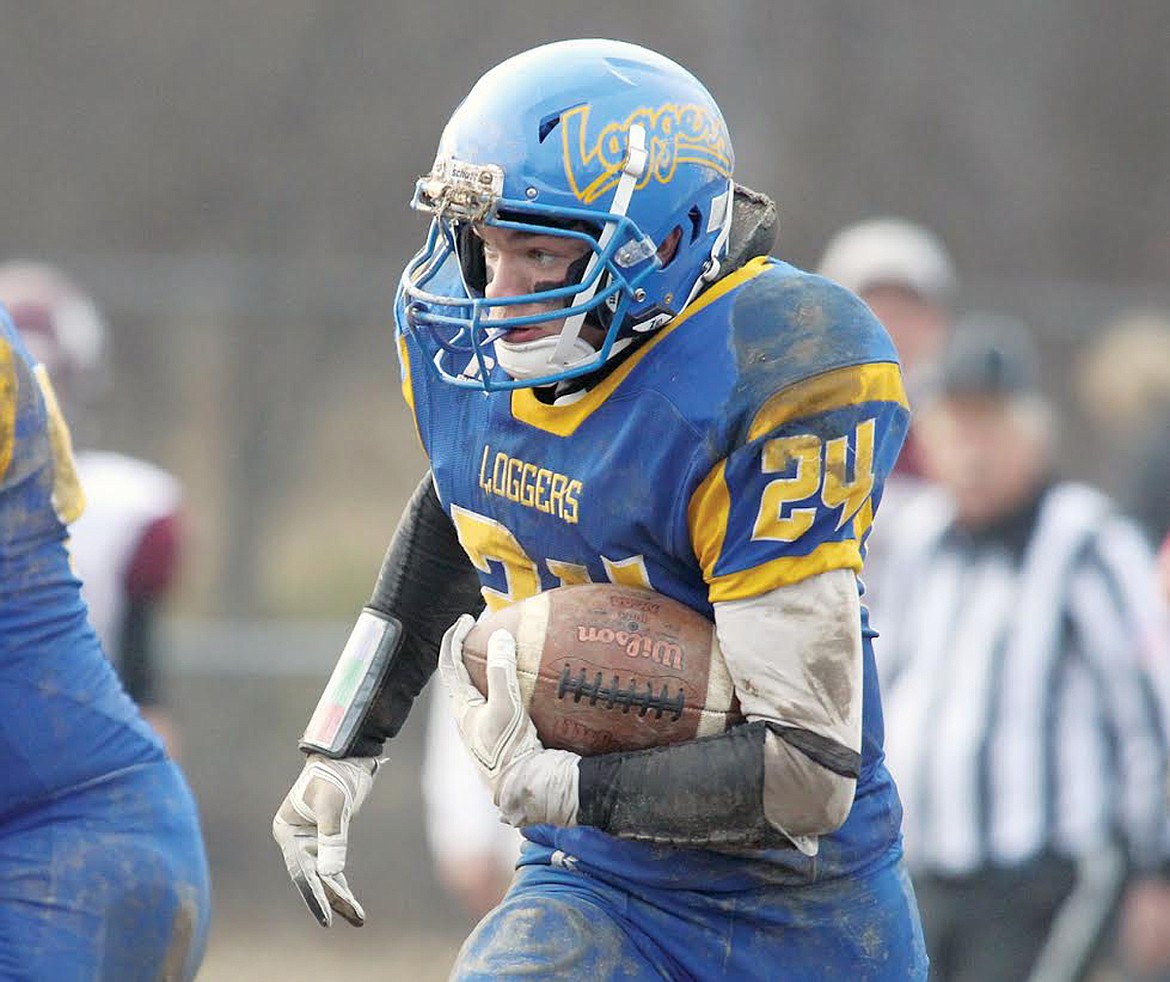 Libby Loggers sophomore Hunter Hoover on the carry for a gain of three in fourth quarter. (Paul Sievers/The Western News)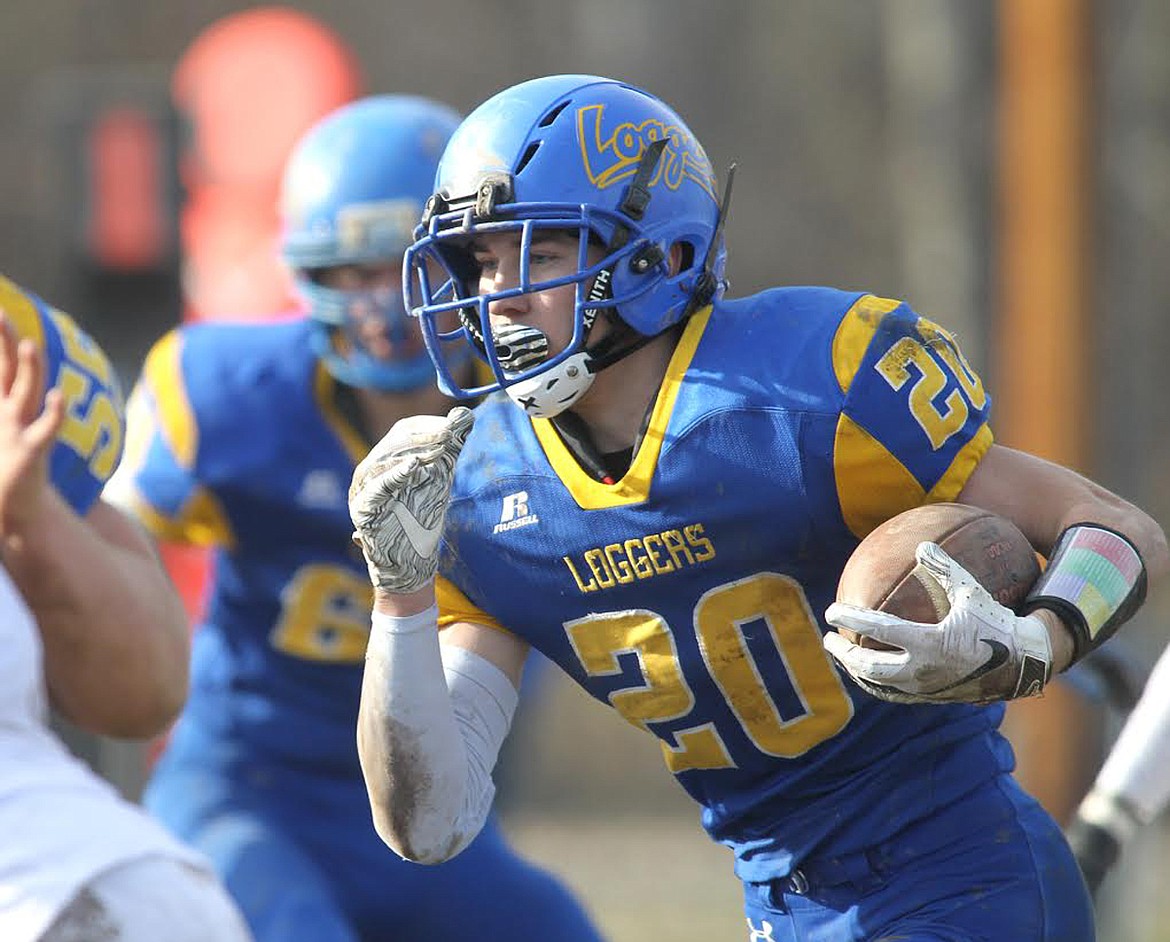 Junior Dawson Young on the carry for a gain of four in first quarter. Young helped the Loggers to a 49-28 win over Butte Central Catholic Saturday afternoon. (Paul Sievers/The Wester News)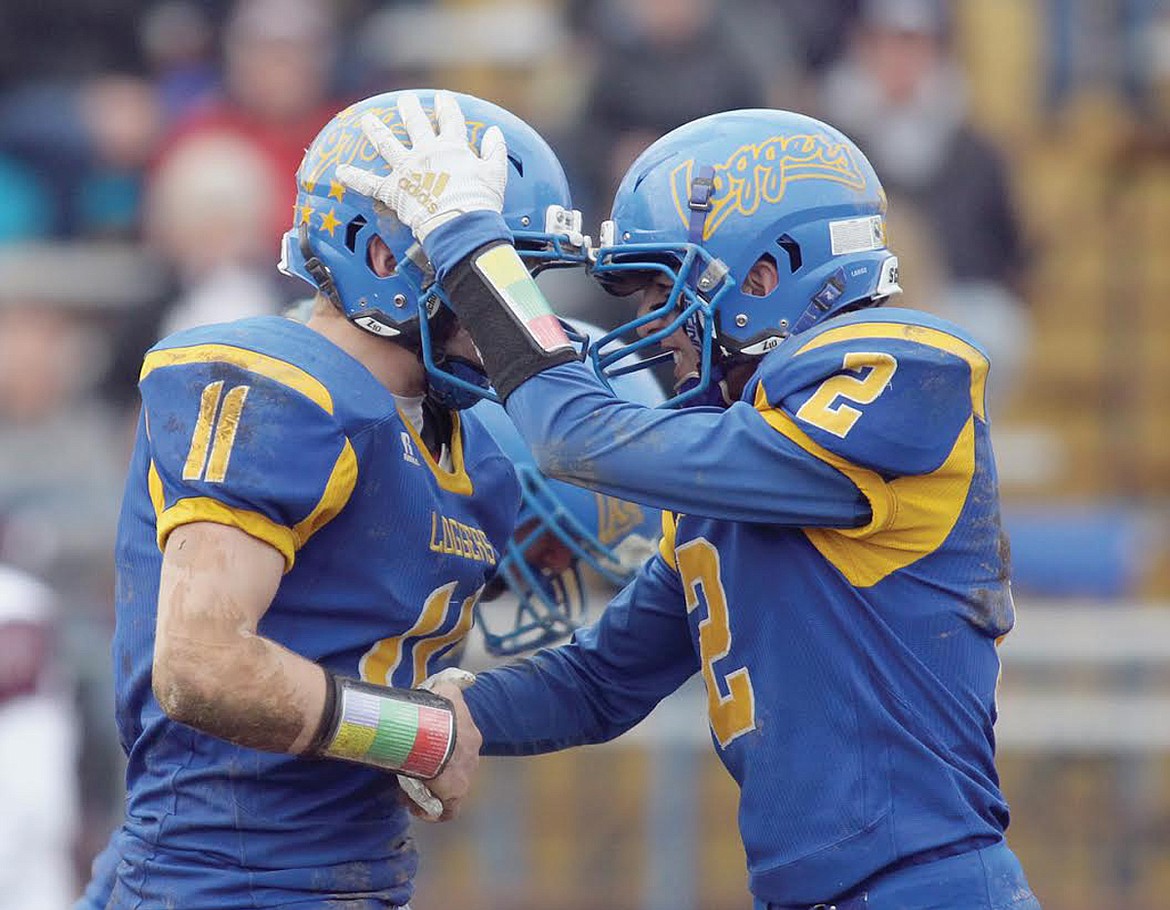 Chandler Bower, left, gets congrats from Colton Halvorson for his interception with 1:25 left in fourth quarter vs. Butte Central Saturday. Loggers over Maroons 49-28. (Paul Sievers/The Western News)
Previous
Next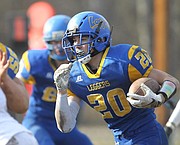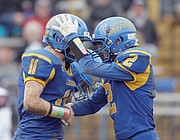 The Libby Loggers axed the Butte Central Maroons in a 49-28 win in the opening round of Class A football playoffs Nov. 2.
The Loggers (7-2 in the regular season) went up early with a first quarter touchdown run to the outside by junior running back Dawson Young. Young finished with four TDs, including on runs of 3, 40, 2 and 28 yards.
The scoring drive began after junior defensive back Ryker McElmurry took advantage of a badly placed ball for an interception.
But the Maroons nipped at the Loggers' heels throughout the game. At the end of the first quarter, Libby led 7-6 thanks only to a missed point after kick.
When the Loggers broke away to make it 13-6 in the second quarter, off of a run by junior quarterback Jay Beagle, the Maroons responded in kind and took the lead with a two-point conversion.
Led by Beagle, who filled in for injured senior Jeff Offenbecher, the Loggers scored on a 24-yard touchdown pass to sophomore wide receiver Caden Williams. Despite a penalty pushing them back, the Loggers successfully earned a two-point conversion to make it a 21-14 game.
Whereas the Maroons, led by senior quarterback Thomas McGree, took to the air, the Loggers stuck to their ground game.
"We wanted to control the ball and eat the clock up," said head coach Neil Fuller, who attributed "goofball penalties" and big passing plays to keeping Butte Central in the game early on.
He credited Beagle with "the best game of his life" in the victory, noting that the Loggers did not suffer a single turnover.
The turning point came only in the fourth quarter when a pass behind the line of scrimmage slipped through the hands of intended receiver senior Guido Ossello. The ball landed at the feet of sophomore linebacker Hunter Hoover, who — after a moment of uncertainty — scooped it up and plunged headlong for the end zone. Up 35-21 with 8:32 left in the game, the Loggers never looked back. Beagle ran for a 54-yard score and threw a TD pass to David Patterson.
The victory puts Libby on the road next week to face Laurel. The Locomotives are coming off of a bye week after finishing second in their league.
Frenchtown 34, Whitefish 7
The Bulldogs' season ended at the hands of the Broncs in the first round of the Class A playoffs in Libby on Saturday.
Frenchtown led just 13-7 at halftime before running away with the game in the second half.
Jace Klucewich dominated the Bulldogs on the ground with three rushing touchdowns, including an 88-yard score in the third quarter. Whitefish's lone score came on a second-quarter 14-yard touchdown pass from Fynn Ridgeway to Bodi Smith.
Whitefish ends the season 6-3.
Frenchtown 6 7 14 7 – 34
Whitefish 0 7 0 0 – 7
F – Jace Klucewich 49 run (Conversion no good)
F – Klucewich 1 run (Hank Rugg kick)
W – Bodi Smith 14 pass from Fynn Ridgeway (Jaszen Schlauch kick)
F – Klucewich 88 run (Rugg kick)
F – Cade Baker 4 run (Rugg kick)
F – Ben Larson 15 run (Rugg kick)
---