Man found asleep at end of manhunt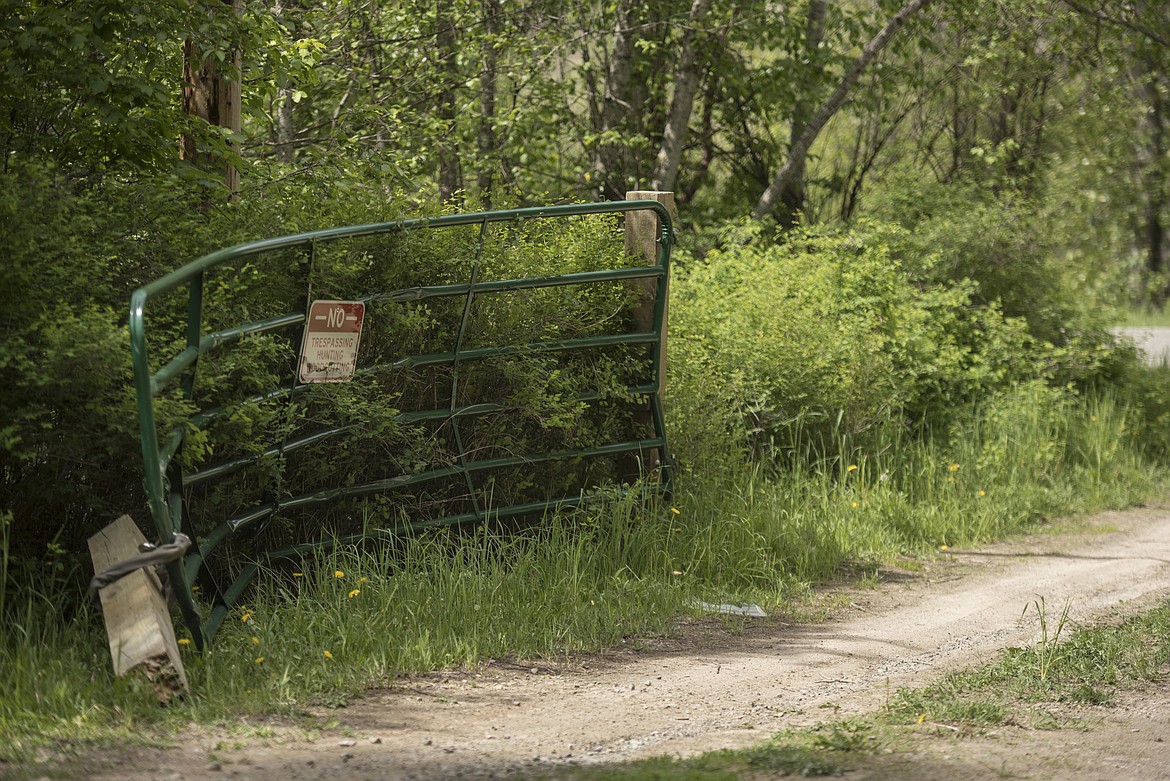 The stolen pick up broke through a resident's gate off of Lake Creek Road, Tuesday. (Luke Hollister/The Western News)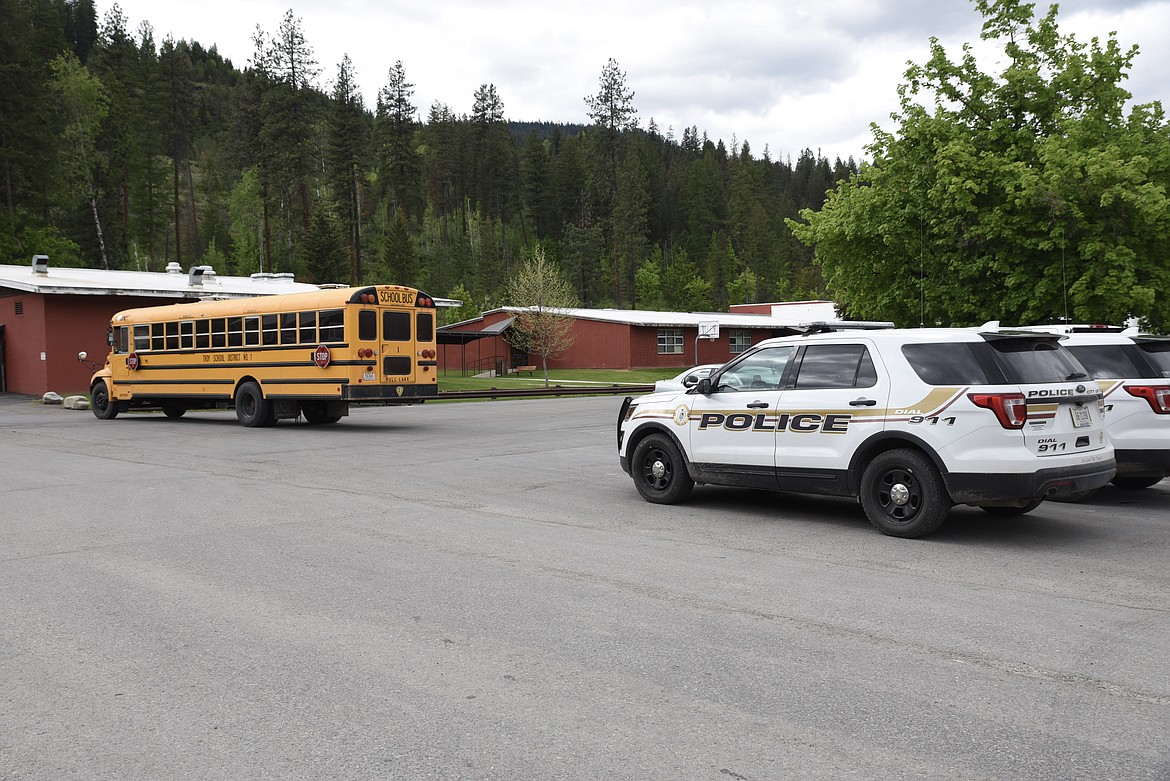 Troy City Police cars sit outside Troy High School and a bus is parked to restrict traffic through the parking lot Tuesday. Troy schools were on lock down and bus routes and after school activities were canceled after a chase that turned into a foot pursuit. (Ben Kibbey/The Western News)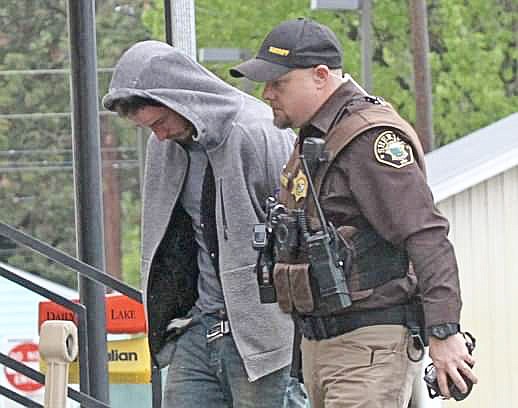 Shortly after Eugene Germain, 25, of Polson, was apprehended, Lincoln County Sheriff's Deputy James Derryberry escorts him into the Lincoln County Detention Facility. (Paul Seivers/The Western News)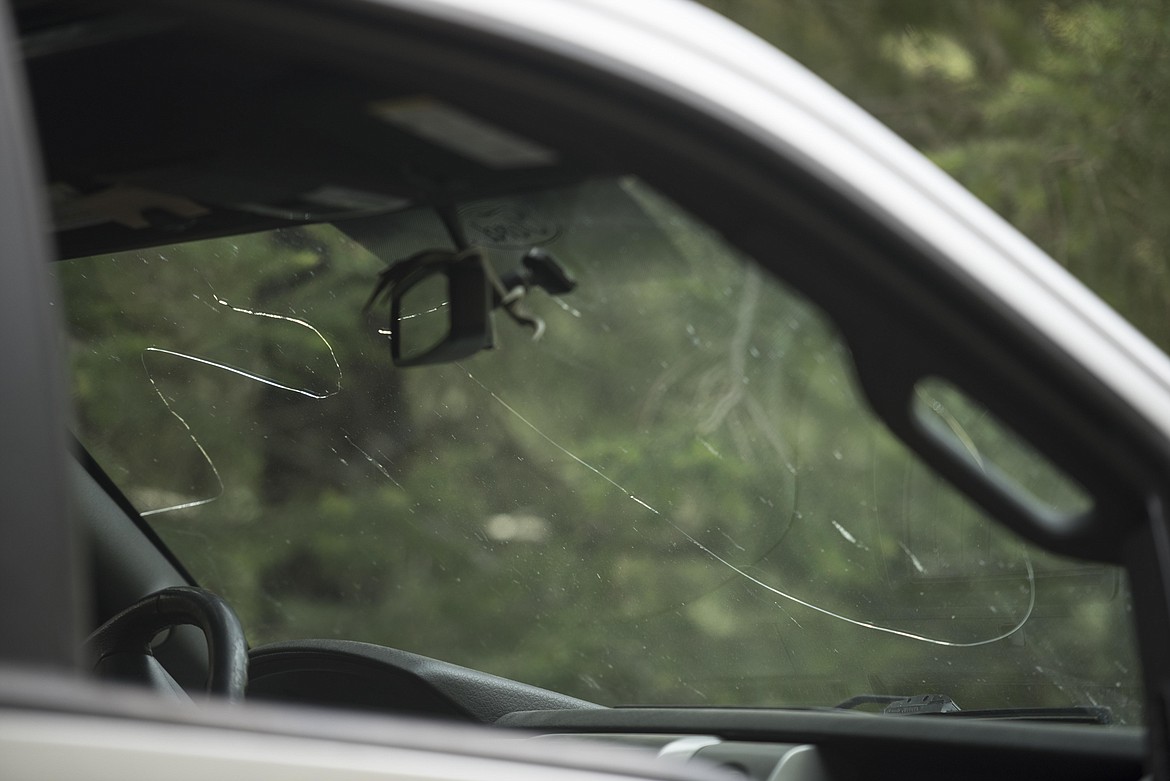 A crack on the front window of the stolen truck. (Luke Hollister/The Western News)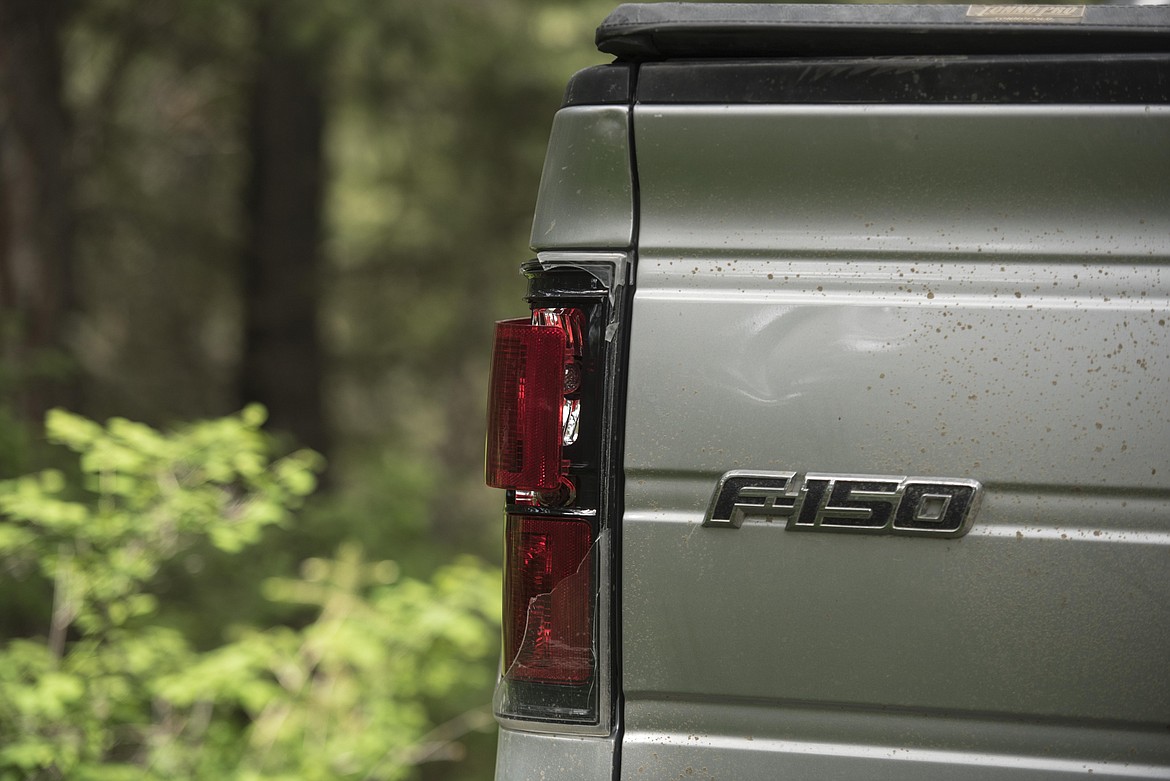 The rear light on the back of the stolen truck. (Luke Hollister/The Western News)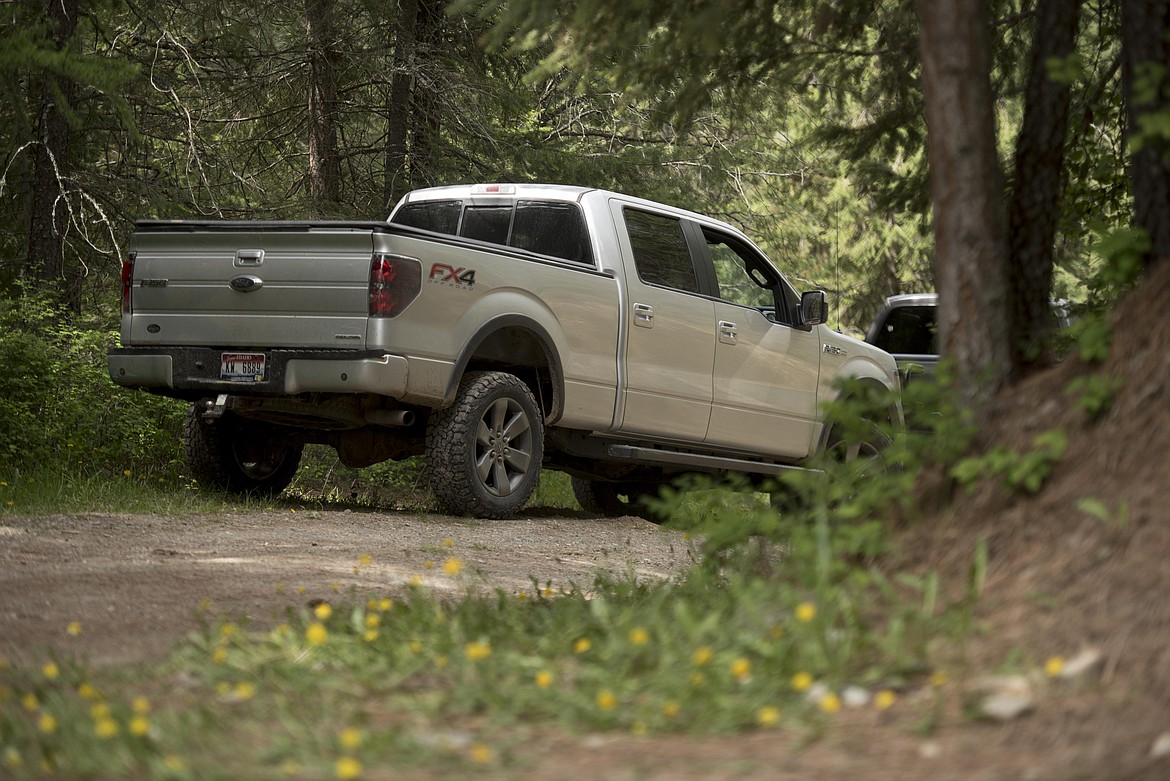 The stolen pickup sits near Lake Creek Road after being left there by the driver, Tuesday. (Luke Hollister/The Western News)
Previous
Next
by
Ben Kibbey Western News
|
May 24, 2019 4:00 AM
An eight-hour manhunt that began with a 911 call about a suspected stolen vehicle ended Tuesday night with the apprehension of a Polson man, found asleep in a cabin on Lake Creek Road with a stolen firearm on his hip.
Eugene Germain, 25, of Polson, is now in the Lincoln County Detention Facility and, as of Wednesday, charges were still pending, said Lincoln County Undersheriff Brian Griffeth.
Griffeth said that the truck Germain was driving has been identified as the same stolen vehicle being sought by Sanders County.
Following the 911 call, law enforcement located the vehicle in the Troy area, eastbound, at 10:31 a.m. Tuesday.
Griffeth said that when the driver saw law enforcement, he sped off and there was a short pursuit, though law enforcement were never able to get close to the truck.
Officers took multiple routes attempting to locate the truck. It was found off of Lake Creek Road, where the truck had apparently been run through a closed gate, according to a release from Lincoln County Dispatch. No driver was found in the vehicle.
Lincoln County Sheriff Darren Short said the driver of the stolen pickup truck "blew right through" the fence, parked the car and then went on foot.
The resident, Lori Goodman, said she saw Germain park on her property while she was sitting in her living room, about to get into the shower.
It "freaked me out," she said.
Goodman said she had a .45 and a .357 in her hands incase anything happened, and that she stayed inside her house to call 911.
At 11:41 a.m., a red alert was issued by the sheriff's office on Facebook for the Lake Creek Road, School House Lake Road and Highway 56 areas around Troy.
Griffeth said that Troy Police were requested by the Sheriff's Office to assist on Lake Creek Road. Montana Fish and Game also provided assistance.
Law enforcement set up a roving perimeter, which Griffeth said appeared to have been very effective in containing the suspect.
"Once he kind of hunkered down, he stayed put," Griffeth said.
During the search, requests were made for dogs as well as for assistance from Two Bear Air, but no dogs or air support were available.
The only initial description that was available was of a man with facial hair, between 20 and 30 years old, wearing blue jeans.
Around 5:10 p.m., Lake Creek Road residents returned home to discovered their home appeared to have been broken into and a firearm was missing, according to the dispatch media release. That information was relayed by Troy Area Dispatch to county dispatch.
Law enforcement arrived on scene at the Lake Creek residence minutes later, according to the release.
They cleared the residence, Griffeth said. The homeowners told law enforcement about several outbuildings on the property, which law enforcement also cleared.
While clearing a small cabin about 50 yards off of Lake Creek Road, law enforcement found the subject, Griffeth said. He was asleep, and the stolen handgun was on his hip.
"They caught him while he was asleep, and he gave no resistance — was taken into custody without any incident," Griffeth said.
Griffeth said Germain did not have any other firearms when he was found aside from the one he had stolen from the residence.
Joint effort
While law enforcement was looking for Germain, they were also working to ensure the safety of residents and their families.
Troy Public Schools went into a "soft lockdown" as soon as the red alert went out from the Lincoln County Sheriff's Office, said Troy Police Officer Henry Roy.
During a soft lockdown, classes continue inside the school and students can pass between classes, but teachers keep their doors locked.
After assisting with the initial pursuit and search, Roy said he met with Troy Public Schools administration and with Sheriff Darren Short to discuss dismissing students with the fugitive still at large.
Short and Roy met with Troy Superintendent Jacob Francom and W.F. Morrison Assistant Principal Diane Rewerts.
The decision was made to cancel bus routes and after school activities shortly after 2 p.m.
Roy said the bus routes were a concern because of how many of them would enter the area where the manhunt was ongoing.
Troy Police reserve officers were called up to help both secure the schools and ensure the city was covered while Roy and Officer Travis Miller assisted with the search, Roy said.
In addition to the police presence at the elementary, officers were also deployed to Troy Middle-High School. The parking lot was restricted by police vehicles and a school bus.
School staff guided parents through as they arrived to pick up their children.
Cooperation was "amazing," Roy said. The separate law enforcement agencies worked together seamlessly.
"The way I always put it, we are the same team, different colored uniforms," Roy said. "Our training and experience, in situations like this, it kicks in. We come together and just function as one solid team to get the job done."
Francom said law enforcement was very supportive as the school determined the best response to the situation.
"They were right on it. They really jumped on it really fast," Francom said.
Everything that happened followed the basic protocol for responding to this kind of situation, he said.
Luke Hollister contributed to reporting for this article.
---