Yaak Wings benefit success, Wings week rolls on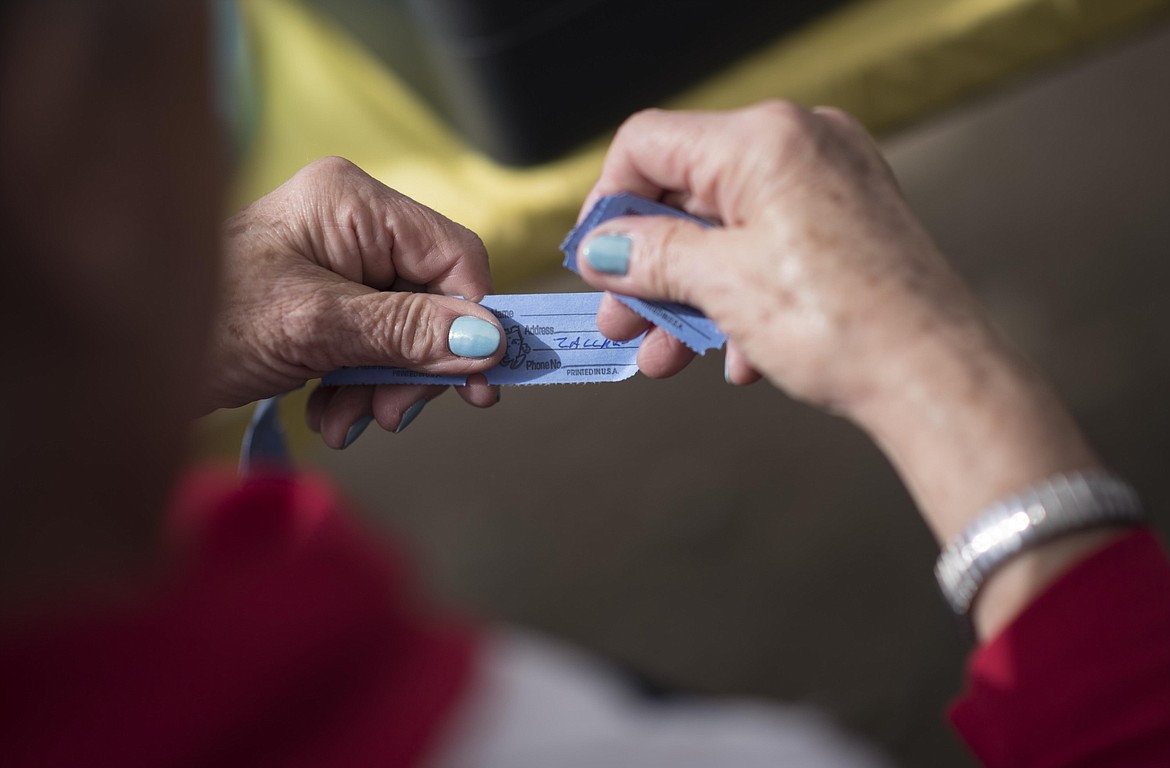 Attendees of the Wings benefit also bought raffle tickets as a part of their donations, Saturday at the Yaak River Tavern & Mercantile. (Luke Hollister/The Western News)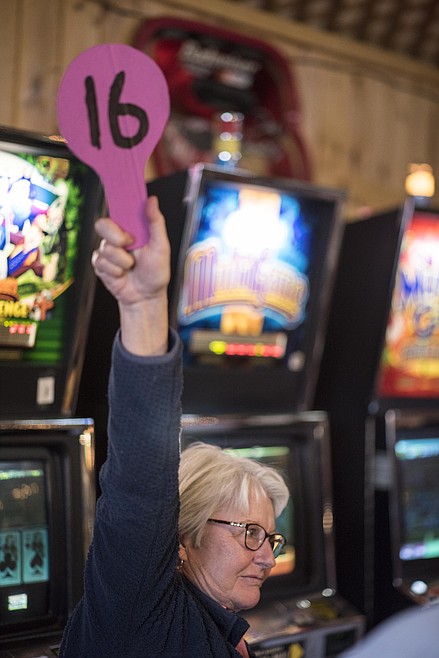 Victoria Johnson wins a $110 bid for a cake, Saturday at the Yaak River Tavern and Mercantile. Johnson said she bought the cake for Jim Mayo because "he does so much for Wings." (Luke Hollister/The Western News)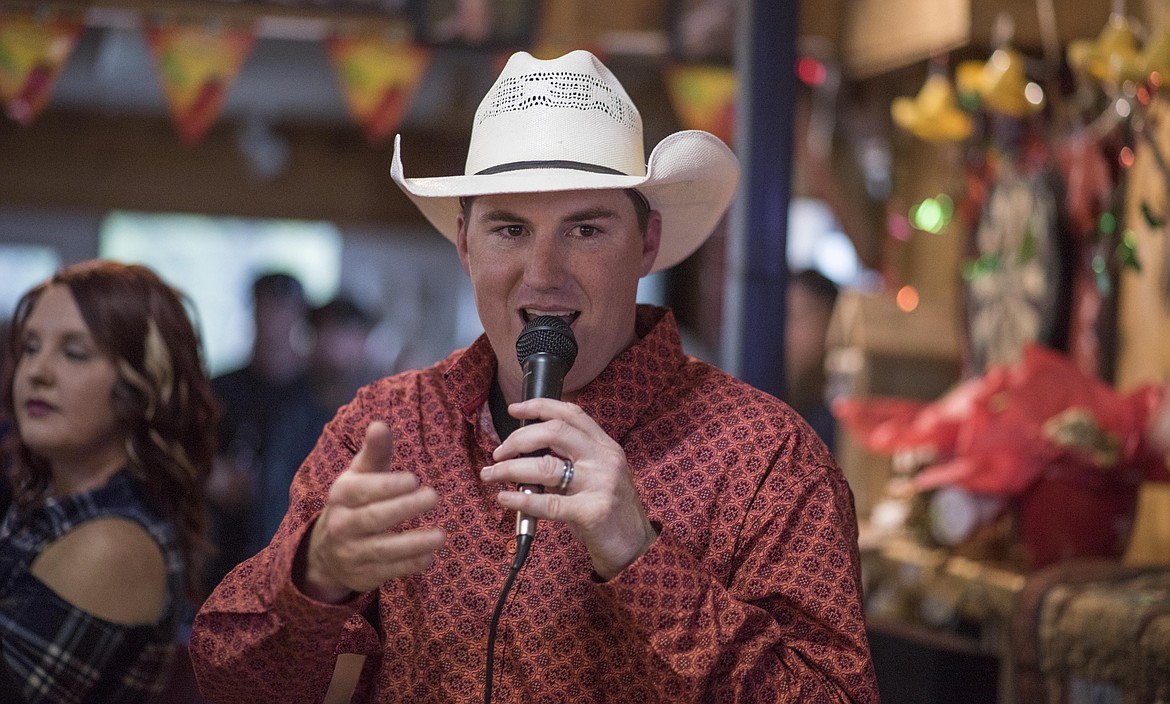 Kelly Morford, an auctioneer for the Wings fundraiser, rattles off prices as people bid, Saturday at the Yaak River Tavern & Mercantile. (Luke Hollister/The Western News)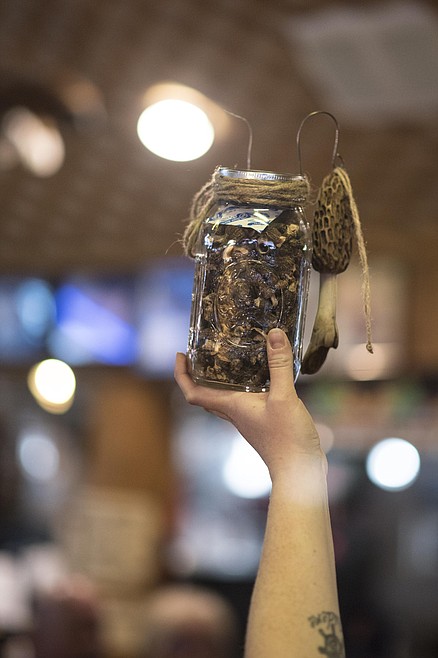 A jar of morels sells for $90 at a Wings fundraiser, Saturday at the Yaak River Tavern & Mercantile. (Luke Hollister/The Western News)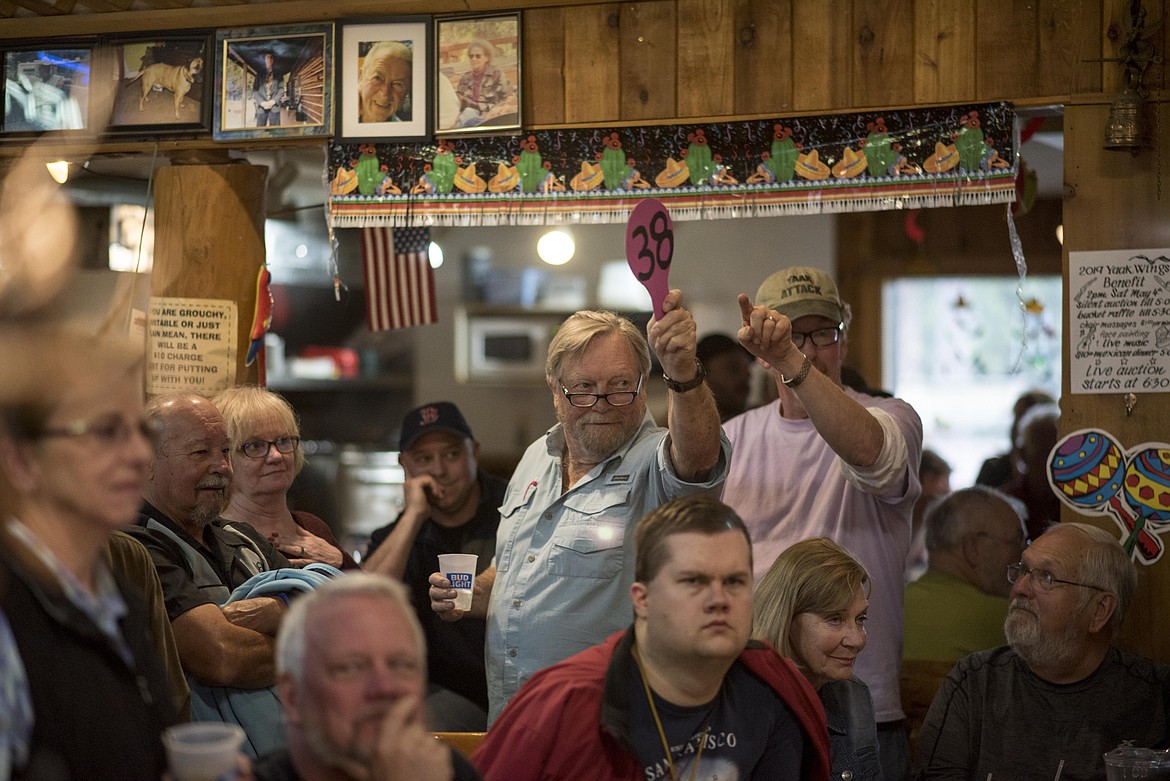 Paul Johnson raises a bid during a Wings fundraiser, Saturday at the Yaak River Tavern and Mercantile. (Luke Hollister/The Western News)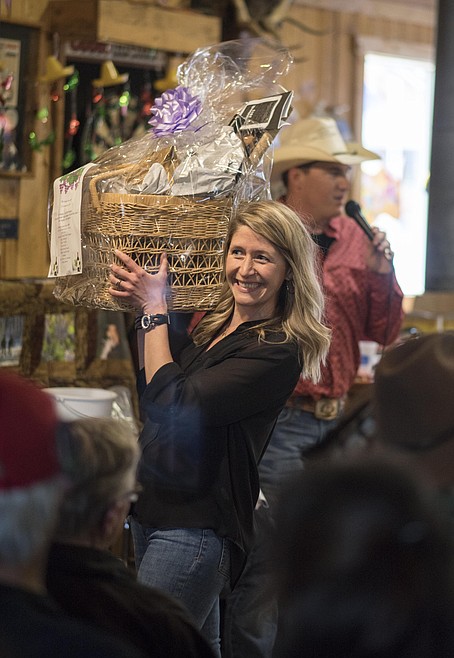 Helen Carpenter holds a basket of goodies while onlookers bid for it at a Wings fundraiser, Saturday at the Yaak River Tavern and Mercantile. (Luke Hollister/The Western News)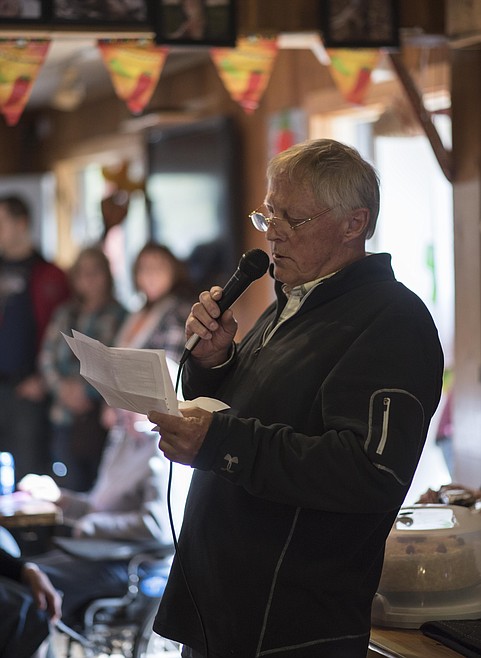 Jim Mayo reads off the names of donators to Wings before the live action begins, Saturday at the Yaak River Tavern & Mercantile. (Luke Hollister/The Western News)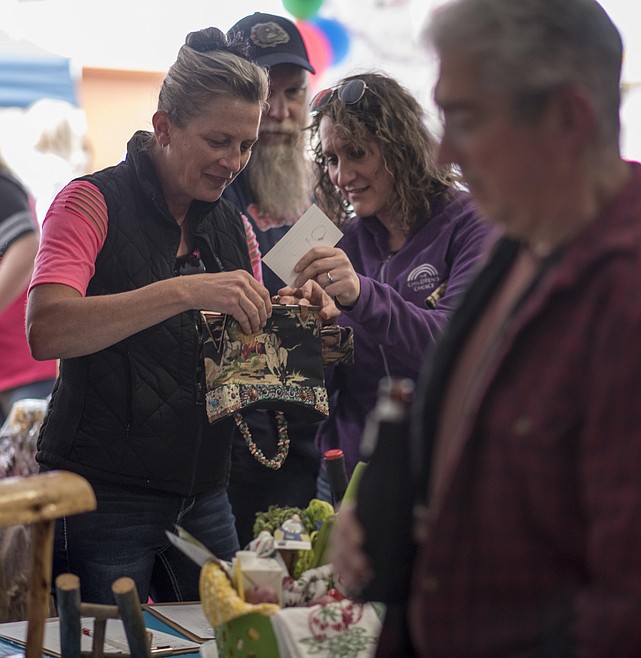 Silent auction bidders for a Wings fundraiser look at a purse being sold, Saturday at the Yaak River Tavern & Mercantile. (Luke Hollister/The Western News)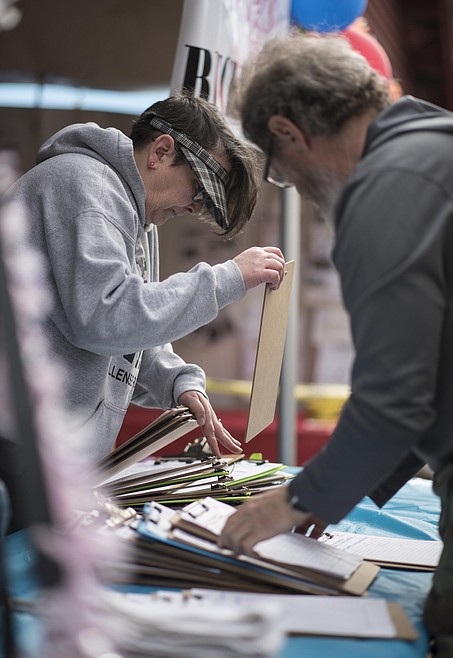 Diane Downey, left, and Randy Wilson sort through bsilent auction bid clippings, Saturday at the Yaak River Tavern & Mercantile. (Luke Hollister/The Western News)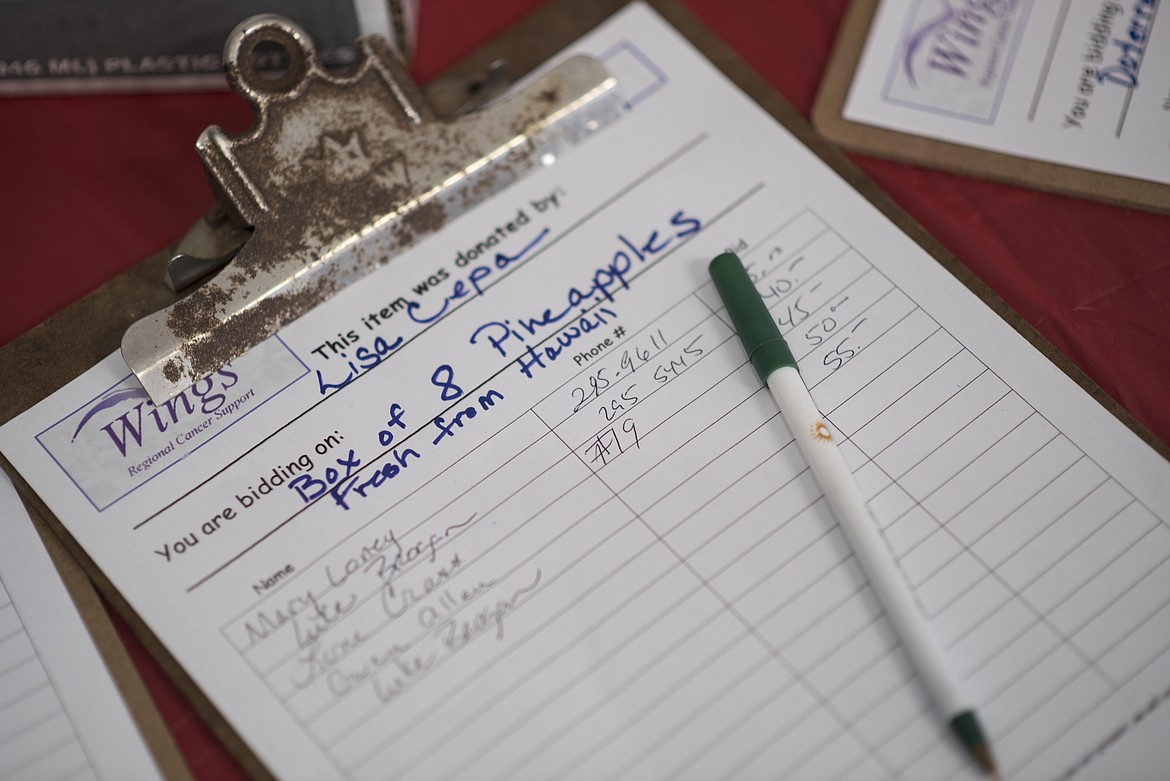 Bidders fight over a box a pineapples, with $55 taking the lead, during a silent auction for Wings, Saturday at the Yaak River Tavern & Mercantile. (Luke Hollister/The Western News)
Previous
Next
by
Benjamin Kibbey Western News
|
May 7, 2019 4:00 AM
On Saturday, the annual Yaak Wings Benefit took place at the Yaak River Tavern and Mercantile, raising over $30,000 for Wings Regional Cancer Support.
In 1995, Wings Regional Cancer Support first came together to help community members in Flathead and Lincoln counties with the out-of-pocket expenses associated with cancer treatment.
There are still several more events coming up around the area to raise money for the charity
On Tuesday, Lincoln Lanes will host Libby Bowling at 7 p.m.
On Wednesday, Wings volunteers will station in parking lots around Libby and Troy from noon to 6 p.m., accepting donations. The planned locations are Johnies Auto, Empire Foods, Hotel Libby, the former Libby drive-in, and at Trojan Lanes in Troy.
Saturday, May 11, there will be a motorcycle poker run, starting at the Switchback Bar and Grill in Libby. Registration is from 11 a.m. to noon It will be an approximately 100-mile round trip that ends at Veterans of Foreign Wars Post 1548 in Libby. All poker hand monies raised go to support Wings.
A ribs, beans and salad dinner will be held Saturday at VFW Post 1548 at 5 p.m., with a portion of dinner sales benefitting Wings.
For more information about the poker run, contact Jule at 406-291-2201 of Dee at 406-291-6939.
And every Thursday in May, Cabinet Mountain Brewery will have a Brews for Benefits fundraiser benefiting Wings, with $1 donated to Wings for every beer sold from 6 p.m to final call at 8 p.m.
Donations can also be dropped off at First Montana Bank in either Libby or Troy, or mailed to Wings, P.O. Box 1160, Libby MT 59923.
To find out more or volunteer, contact Karen Stickney at 406-293-4380.
Additional information about Wings can also be found at www.wingsnwmontana.org.
---