Swinging bridge to be done by late June
by
Luke Hollister Western News
|
March 29, 2019 4:00 AM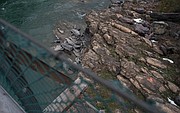 Contractors building the new Kootenai River Swinging Bridge, scheduled to be finished by the end of June, started mapping out their construction plans this week.
Mary Laws, a trails and program manager, said people will still be able to use the swinging bridge while the new one is being created.
A helicopter will carry in a drill and a generator to the site, she said. Contractors will be drilling holes in order to hold the new bridge as they install it.
The contractors will test and check the diameter to see if those holes are strong enough to hold the bridge, she said.
If the bridge is closed, it should not be for more than 30 minutes, she said.
The fork at the start of the trail leading to the bridge might be temporarily closed when the helicopters drop off equipment, she said. Any closure longer than 30 minutes must be requested to the Forest Service.
"We wanted to make sure that it was open to the public as much as possible," she said.
Laws said she is optimistic that the bridge will stay open during construction. The only time it will be closed is when the construction workers string up the new bridge.
When the workers put the cables on the new bridge, people might be able to get within 100 feet of it, she said.
Contractors will flag and close-off roughly 30 by 30 feet to use as a work area, she said. It will not block the trail. The work space will be on both sides of the river, on the rocky cliffs and near the bridge. The space will also store some equipment used by the construction workers.
---