Libby track getting spun up
by
Benjamin Kibbey Western News
|
March 26, 2019 4:00 AM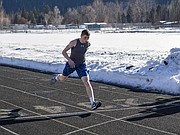 With the snow still covering the field and most areas around them, the Libby High School track team was hard at work last week, getting ready for the season.
Libby Head Coach Jim May said that track is dealing with the same decline in student athletes from last year as other sports this season. But, those who have shown up are getting right into it.
"I can't really speculate on individual events, individual people yet. I mean, we're still shoveling snow," he said March 19.
Most of the new student athletes this season coming out for track are freshman, with a few upperclassmen, May said. And the seniors are doing well at showing them the ropes.
"In practice, if our seniors will, in their technique sessions, do it right and condition right, then I think the young kids will follow suit, and that makes for a good combination," May said.
The team is also bolstered by the number of multisport athletes who are coming off of other seasons and into track, as well as those who didn't play winter sports, but stuck with their conditioning in the offseason, he said.
"The basketball players find out that basketball's a different sport than track, and so do the wrestlers. But what they do have is some endurance, so they can get through practice," he said. "They're in better shape to get in track shape — physically and mentally."
May said that it does help when the student athletes play other sports during the track offseason and continue to reinforce for themselves the benefits of hard work and discipline. Just having a success after putting in time during practice helps to boost them and their understanding of those benefits.
The young student athletes need to develop discipline, but also patience, May said.
"Every jump and run and throw is not going to be a personal best, but we're all working toward the end of the season," he said.
May also cautioned his athletes about taking their practices seriously as they ended practice March 19. With the short track season in Montana, 80 percent of the season is in the practices.
"If you don't get it done in practice, you know, you don't luck out and high jump higher or run faster," he said. "So hopefully they'll learn that, and it will help their other sports and help their school too."
The first event of Libby's track season will be the Eureka Meet on Saturday, April 6. The annual Libby Time Trial, originally scheduled for Friday, was canceled due to snow.
---