LIBBY VOTERS REJECT STUDENT RESOURCE OFFICER LEVY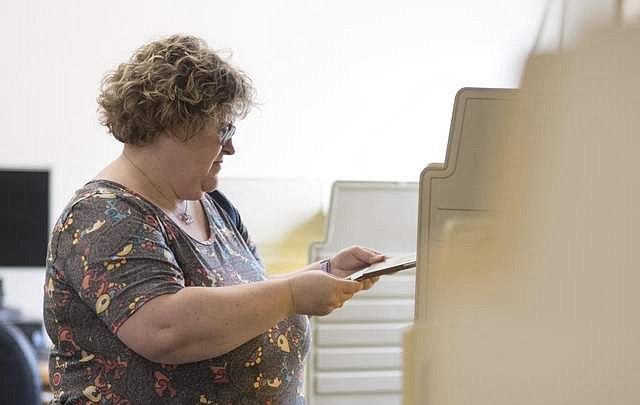 Deanna Malyevac reads over a mill levy bill for before turning in her vote, Tuesday in the school's administration building.
(Luke Hollister/The Western News)
Libby residents voted down a mill levy for a school resource officer by a significant margin on Tuesday.
2,047 residents showed up to vote in the election. 1,141 Libby residents voted against the levy and 906 voted voted for it.
Libby Public Schools Superintendent Craig Barringer said the results were not really a surprise. The thought of having to pay more in taxes is always a big issue.
Not a lot of people showed up to informational meetings and the fact that the levy would be an annual tax was hard to explain to residents, he said.
Adding, if the 5.51-mill levy passed the school probably would not have had to ask for the entire $7.44.
Explaining the levy face-to-face at meetings is challenging and tough, he said. The school district probably could have taken more steps to put better information out there for the public.
"You always hate to lose — to have something you want to see happen not be able to happen," he said. More should have probably been done to address absentee people before they voted, the school might have been able to sway a few more votes that way.
Moving forward, the school district will continue to move toward the 21st century as far as expectations of safety, he said.
Libby's school buildings were built back when intruders were not something people considered.
"We missed an opportunity, but we'll keep trying to look for opportunities," he said
Libby Police Chief Scott Kessel said the Libby Police Department will continue to do their jobs regardless of the results.
"Obviously I wanted it to pass," he said.
In an email, Kessel said he would like to thank those who voted for the levy and that the Police Department will continue to serve the Libby community, and the school district, to the best of their ability with the resources they currently possess.
If passed, the levy would have funded a full-time school resource officer for the Libby Public School with the help of a grant from Flathead Electric Cooperative. Part of the school's plan for the SRO was to help stop bullying and prevent violence before it happens by engaging with students.
The grant from Flathead Electric Cooperative, was not a school grant and is a missed opportunity, he said.
---