Delaine Lawson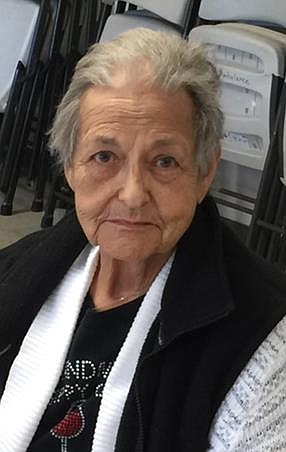 Delaine Regina "Dee" Lawson, 80, passed peacefully while surrounded by close and extended family members on July 19, 2019, at the Libby Care Center. She was born February 13, 1939, at St. Paul, Minnesota, to Arnold and Nell Krajewski LaChappelle. Dee was married in Moose Lake, Minnesota, to her high school sweetheart, Darrel Lawson, and they had celebrated their 62nd year together.
Dee loved sewing, cardmaking and bingo. She was the Master of her kitchen and was able to make a hearty, hot meal for a troop of people with nothing in the cupboard and little notice. Everyone was welcome in her home. She is loved by her family and always returned that love. Dee had a quick, sharp wit and a wicked sense of humor; her laugh was infectious. Heaven gained an angel, and boy is she a feisty one! Many great memories of her abound and will be carried forever with all that knew her. While Dee is not with us physically, her beautiful soul will remain in our hearts forever. Dee was a cancer survivor.
Dee was preceded in death by her parents and brother Richard.
Dee is survived by her husband Darrel Lawson, Libby; daughter Cherie (Steve) Gunderson, Libby; two grandsons, Jason Gunderson, Livingston, and Dustin (Janel) Gunderson; great-grandkids Clayton and Hadley, Kalispell; brothers Arnie (Claire) LaChappelle, Kalispell; and Rod LaChappelle, Minneapolis, Minnesota.
Services will be held at the Libby Church of God on Saturday, July 27, at 10:30 a.m. Donations may be made to Wings in lieu of flowers. Arrangements are by Schnackenberg Funeral Home in Libby. Online condolences and memories may be shared at www.schnackenbergfh.com.
---