Libby zoning in council's hands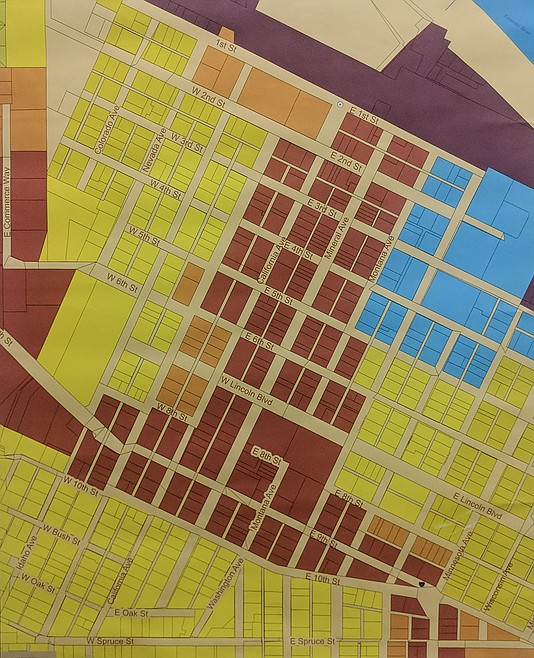 The current Libby zoning map, with business zoning in red, business-residential in orange and residential in yellow, is hanging in the council chambers at Libby City Hall. (Ben Kibbey/The Western News)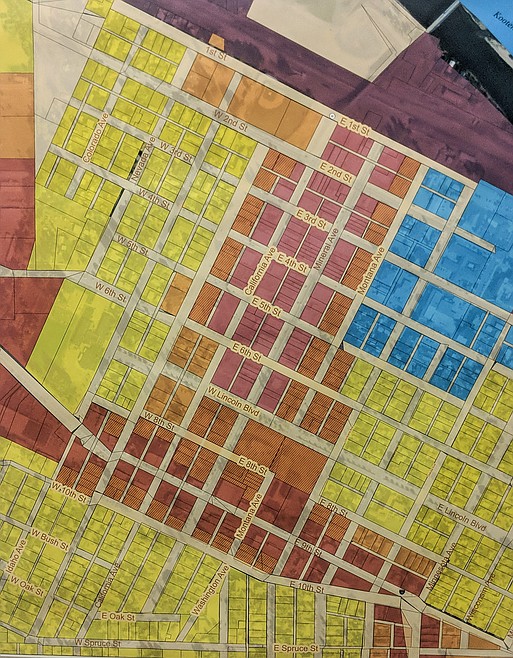 The proposed changes to the Libby zoning map, with the proposed downtown district in pink, business zoning in red, business-residential in orange and residential in yellow, is hanging in the council chambers at Libby City Hall. (Ben Kibbey/The Western News)
Previous
Next
by
Benjamin Kibbey Western News
|
July 19, 2019 4:00 AM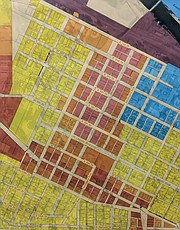 At their regular meeting Monday, the Libby City Council voted unanimously in favor of receiving zoning recommendations from the Libby City Planning Board, which is the designated zoning commission for the city.
Libby Mayor Brent Teske noted that the language on the meeting agenda was not completely correct, and that the council was there to accept, not approve, the zoning recommendations.
Under Montana state law, the council is in no way held to any recommendation from a zoning commission. However, the council must request recommendations from the entity designated as the zoning commission, and take those recommendations into consideration before passing any changes to zoning.
Additionally, the city council is required to hold a public hearing before they pass any changes.
Acting as the zoning commission, the planning board held a public hearing July 8 to present the zoning changes and gather public input.
The city council was jointly in session, though they did not make any decisions, and spent the latter portion of the meeting asking the planning board members their own questions about proposed zoning changes.
Planning Board Chair Kristen Smith began the meeting with a presentation on work done by the planning board, as well as some background.
Smith said that Libby's zoning has had no substantial changes made to it since 1974.
"But since that time, there's been substantial changes in Libby's economy, its demographics, its vision, its physical appearance," she said.
Proposed changes include allowing residential uses in some commercial buildings on the second floor, as well as restrictions on new curb cuts and some other restrictions. The proposed changes also include changes to the levels of zoning, adding a downtown and a highway district, as well as creating business-residential buffering between business and residential areas.
Smith said that the board wanted to more narrowly define the downtown business district and where it is. The focus was to narrow it down to Mineral and California Avenues, she said, as well as adding specific design standards for the downtown.
They also wanted to establish a transitional zone between the commercial and residential areas, where some residential uses were still permitted, she said. "People who have been paying good attention to the real estate market lately know that there's a great need for residential uses."
During the July 8 meeting, several questions were raised about whether requirements for things such as new paving would be applied to current business owners having to rebuild after a fire, such as Jay Moody.
However, the planning board responded that someone such as Moody is already protected under grandfathering requirements that are in state law, and there is nothing the city could do to put requirements on him in that scenario.
There were also objections to restrictions on new curb cuts.
No changes to zoning are as-yet in effect, and the ultimate decisions as to what changes to make — if any — rests with the city council.
---