Eureka Community Players presenting 'Always, Patsy Cline'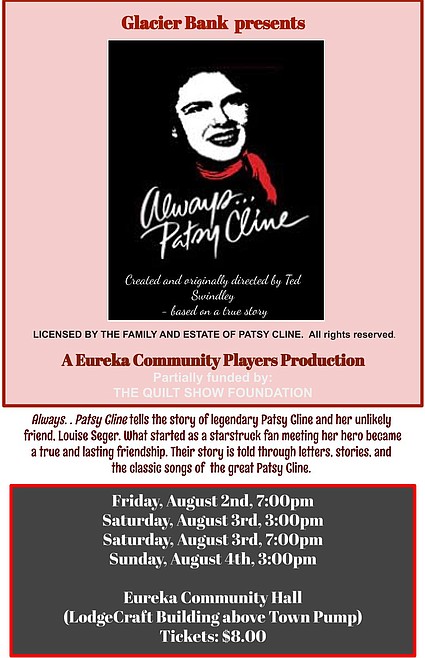 As a part of Eureka's annual quilt festival, Eureka Community Players is bringing Patsy Cline to the stage in the production, Always, Patsy Cline, by Ted Swindley.
Always, Patsy Cline is a unique and charming musical about the real life friendship between the legendary Patsy Cline and a fan turned dear friend, Louise Seger.
Louise spontaneously wrote to her hero, Patsy, and was surprised to get a response. What followed was an unlikely correspondence that ended only with Patsy Cline's untimely death.
Their story is told through the letters, conversations and, of course, the beloved songs of Patsy Cline.
Come to Eureka and enjoy a journey of music, friendship, laughter and tears. The production is sponsored by Glacier Bank and partially funded by the Quilt Show Foundation. It is licensed by the family and estate of Patsy Cline, all rights reserved.
The Eureka Community Players will perform Always, Patsy Cline at the Eureka Community Hall on Friday, Aug. 2 at 2 p.m., on Saturday, Aug. 3 at 3 p.m. and 7 p.m. and on Sunday, Aug. 4 at 3 p.m.
Tickets are $8.
---