Commissioners agree to evaluate dispatch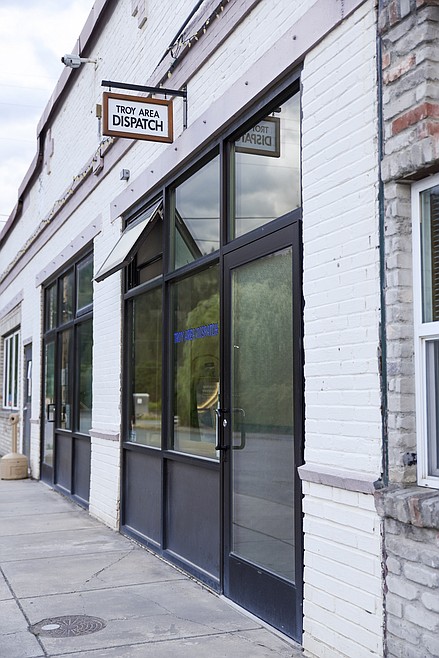 The Troy Area Dispatch in downtown Troy dispatches the Troy Police Department, Troy Volunteer Ambulance and volunteer fire departments ranging from Bull Lake up into the Yaak. (Ben Kibbey/The Western News)
by
Benjamin Kibbey Western News
|
July 19, 2019 4:00 AM
The Lincoln County Commissioners agreed to setting up a group to look at the best way to dispatch emergency services in Lincoln County, at their July 10 meeting.
Hank LaSala, a Troy area resident who has been advocating for the dissolution of the Troy Area Dispatch since 2014, came before the commissioners once again on July 10 to push for them to dissolve the Troy Area Dispatch.
LaSala told the commissioners he believes Montana state law would permit them to dissolve the district without either consulting the City of Troy or taking the question back to the voters.
LaSala said he felt it was unfair for residents who are not served by the Troy Police Department to pay taxes that support the Troy Area Dispatch, as their calls are re-routed through the Lincoln County Sheriff's Office Dispatch when they request law enforcement.
County Commissioner Mark Peck said that he finds it unacceptable in this day and age for someone calling in need of law enforcement to have to be transferred to a different agency.
Peck, who did work during the centralization of dispatching for Flathead County, said current technology should allow for consolidation into one dispatch center, rather than the three currently in the county.
He said that, beyond cost, the biggest issue is 911 callers having to be transferred.
LaSal said that he wasn't trying to do away with Troy's dispatch complete, and if the city wanted to keep and wholly fund a dispatch just for the city, that was up to them.
Peck proposed that a group be put together to look into what is the best way to dispatch emergency calls in the county.
The commissioners agreed to form a group of stakeholders and experts to begin looking for ways to improve how emergency services are dispatch.
Peck said that the goal should be to have a working group within 30 days, with a plan to re-evaluate the need for Troy Area Dispatch in eight months.
Complications
Lincoln County Sheriff Darren Short said that it would be relatively easy to re-route calls originating outside Troy, such that 911 calls from those served by the sheriff's office would go to the sheriff's dispatch.
Residents outside Troy but still within the Troy Area Dispatch service area are served by Troy Volunteer Ambulance and various volunteer fire departments. Those agencies are dispatched by Troy, and calls for fire or medical emergencies would then have to be re-routed to the Troy dispatchers.
"All that does is flip-flop the problem," Short said. "The delay would still be — from our end to their end, rather than from their end to our end."
Additionally, Short said that if the sheriff's dispatch were dispatching all the calls that currently go to Troy, it would likely require them to go to having two dispatchers on 24 hours a day from one.
"It definitely needs to be studied before any rash decisions are made," Short said. "We have to look into the hardware side of it — the repeaters, the radios — as well as the services."
Troy Police Chief Katie Davis and Short were both in attendance at the July 10 meeting.
"Communication has to be laid out. It has to be rock-solid," Davis said.
Davis said that hardware limitations in the past informed having a separate dispatch for Troy, noting that technology is always evolving.
"But it's one of those things where no one wants to see anyone rush into something, be hasty, and have it blow up in our faces."
Davis acknowledged that the Troy Area Dispatch serves additional functions beyond dispatching first responders. It is also the only city office that is staffed 24 hours a day, seven days a week, and is known as a place where people in the community can seek assistance or walk in to report crimes.
"We've had people that end up staying in the lobby overnight, because they have nowhere else to go," Davis said. They have even had people seek shelter at dispatch when in immediate danger.
"That's something we teach all of our kids when we go to our classes, is there's always a safe place for you guys to go in the city," she said. "If you're not sure of something scary, come to dispatch."
Background
The interlocal agreement that established the Troy Area Dispatch was signed between the city and the county commissioners in May 1996.
In a September 2016 The Western News article, it was stated that support of the dissolution began in 2013, when The Western News' investigation revealed that Troy Dispatch collected $986,000 more in taxes than it was supposed to over the course of 15 years due to county budgetary oversight.
According to public documents, the agency that was limited to 20 mills surpassed that authority for 12 out of 15 years since 1999, with an all-time high in the fiscal year of 2013-2014, where it it hit 56 mills.
While the dispatch received more money than voters approved, the legality of the taxes come down to the 1996 statewide ballot measure Initiative 105, that, after amendments, allowed some districts operating under county oversight to receive floating mills to ensure consistency.
At that time, Greg Larson — then the Troy area county commissioner — and then County Clerk and Recorder Tammy Lauer, told The Western News that the budgetary oversight was ultimately the county's fault, and did not attribute the blame to the dispatch.
According to The Western News coverage from June 2014, nearly 63 percent of voters in the Troy Area Dispatch coverage area voted in favor of keeping the dispatch and retaining the 29-mill levy that supported it.
---