Residence total loss in late-reported fire
by
Benjamin Kibbey Western News
|
July 16, 2019 4:00 AM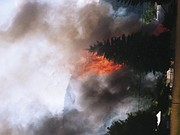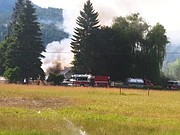 The Libby Volunteer Fire Department responded to a house fire on Glendora Avenue Sunday evening around 5:43 p.m., but the house was fully-involved — with the fire active in all parts of the structure — when LVFD personnel arrived on scene only minutes later.
"The entire structure, really, is smoke, fire and heat-damaged," Lauer said. The residence was a complete loss.
LVFD Assistant Chief/Fire Marshal Steve Lauer said that the fire appears to have started with burn barrels around the back of the residence. However, he said he was not certain Monday morning whether burning material was blown out of the barrels, or if the fire was caused by heat and proximity.
Lauer said the burn barrels were around 12 feet from the residence. The grass around the barrels was burned, but Lauer said he had not determined whether the fire had spread to the grass just due to heat, or if a spark had escaped one of the barrels.
The resident was home and inside when the fire began, Lauer said. Initially, she saw smoke, but did not realise that the wall was already burning.
"She thought it was maybe smoke from the burn barrel coming in," he said.
The resident was able to get out safely, and successfully evacuated her two dogs with the help of a passerby.
Lauer said that the house was a total loss. Though items that were closed away may be salvageable, anything in the open is likely to have smoke damage.
The response from the department went well, Lauer said. The narrow street did add difficulty to getting equipment into fight the fire, but they worked through it.
"We did have some nearby trees that were torching out, that put some 80-to-90-foot flames in the air, just from the trees nearby, which also ignited a field across the road," Lauer said.
With the residence fully involved by the time the first engine arrived on the scene only a few minutes after the call came in, most of LVFD's work was to suppress the housefire to prevent it from spreading to other properties, and containment of the grass fire in the nearby field.
Lauer said that 19 LVFD members responded to the call. That is a fairly normal showing for a house fire, he said, though he noted it was still good to have that many able to respond on a Sunday, when they might be spending time with family outside of town.
Libby Volunteer Ambulance also responded to the scene, according to the media release from the Lincoln County Sheriff's Dispatch. LVA was asked to check on a subject at the scene, though the release does not specify whether that individual was the resident or someone else.
---