Registration time for Northwest Montana Fair and Rodeo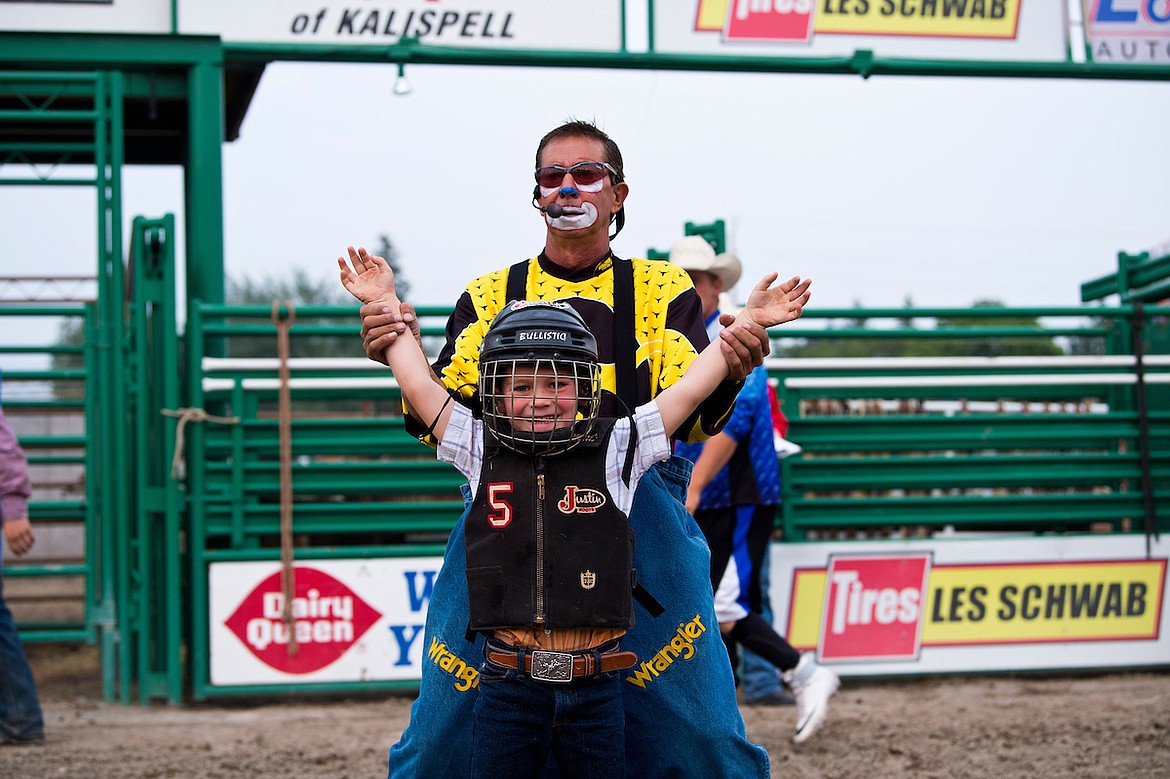 A happy young contestant in the the Mutton Bustin event at Northwest Montana Fair and Rodeo Kalispell MT August 17th, 2018. (Courtesy photo by Josh Homer/Burning Ember Photography)
by
The Western News
|
July 5, 2019 4:00 AM
Now is the time to register children for Mutton Bustin and other events included in this year's Northwest Montana Fair and Rodeo, scheduled for Aug. 14-18 at the Flathead County Fairgrounds in Kalispell.
Mutton Bustin' will take place at the opening of all three nights of the RAM PRCA Rodeo, Aug. 15-17. This crowd pleaser features children riding sheep and trying to hang on as long as possible. Mutton Bustin' is sponsored by Justin Boot Company, and the winner of the competition will receive a pair of Justin Junior boots.
To be eligible for Mutton Bustin', children must be ages five to seven, weigh no more than 55 pounds and submit a parental consent form at the competition. Contestants can register for the drawing until store closing time on July 25 at one of these locations: Western Outdoors, CHS or Murdoch's Home and Ranch Supply in Kalispell or Columbia Falls. Only 24 children will be selected to compete. The drawing for contestants will be held on July 26, and winners will be notified by phone.
Those wishing to enter 4-H, FFA or Open Class competitions may register online at nwmtfair.com/fairbook/ or at the fair office on weekdays from 8 a.m. to 5 p.m. All registrations must be received by 4:30 p.m. on Thursday, Aug. 1, with the following exceptions: Registrations for the Agriculture/Horticulture competitions must be received by 4:30 p.m. on Thursday, Aug. 8. Registrations for the Dahlias/Gladiolus and Floriculture competitions are encouraged in advance, however, additional entries may be brought the day prior to judging.
Registered entries should be delivered to the appropriate departments on the designated day and time, which is noted in the fair premium book.
---