LuRee Stoddard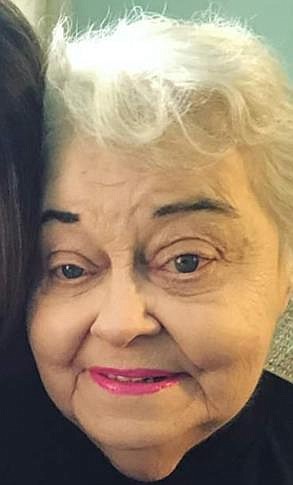 "I lova, lova, lova you!" - Always her parting words.
LuRee Anne Stoddard died peacefully on June 27, 2019, after a short stay at Libby Care Center. LuRee was born March 2, 1936, in Bemidji, Minnesota, to Lillian Parker and Vernon DeChaineau, who died to cancer when she was a small child. Lillian married Victor Bernardy in 1938 when LuRee was six years old. The family became "yours, mine, and ours," generating 10 children altogether. Each child became a special part of this family union that has remained so throughout the years.
LuRee had five husbands, but the true love of her life was Dale Stoddard, who married her in 2002 and died in 2012. Her life was spent in Bemidji, Minnesota, in Troy, Montana, in Prosser and Sunnyside, Washington, and finally in Libby, Montana, where she lived for the last 25 years, and where she will be laid to rest. She made wonderful friends and memories wherever she lived.
LuRee was very family-centered and showered her love and kindness on each one, fiercely protective of those she loved and cared for -- including their friends. She was always generous and welcoming, looking after others before she considered herself. She had a one-on-one intimate relationship with our Lord; she could "just talk with him." Her collection of angels reminded her of the angels in her life. Her grandchildren called her the "grandma with black hair and pink lipstick." Later she turned her natural, beautiful gray, but the pink lipstick remained.
LuRee is survived by her daughter Debbie Becker; grandchildren Chris Watts, Ashley (Chad) Nelson, Katie Summers and Kyle (Alysha) Leir; brother Neil (Rhea) Bernardy; sister Lynne Stapleton; special cousin Shirley March; step-children Marcia (Joe) Brenner, Steve DeHaan and Brenda Cogarubius; six great-grandchildren Sophia and Eli Watts, Cora Nelson, Gracie and Henry Summers, Parker Leir; and many nieces, nephews and cousins. LuRee was preceded in death by her husbands Norman (Dobie) Fuller and Dale Stoddard; her parents Victor and Lillian; sons Chris Leir and Randy Leir; brothers Mark Bernardy, Maurice Bernardy, Duane Bernardy, Merlin Bernardy, LeRoy Bernardy and Gale Bernardy; and sister Marie "Dell" Monbleau.
Family and friends lova, lova, lova you!
Rosary/wake service will be held at 7 p.m., Tuesday, July 9, at Schnackenberg Funeral Home; funeral Mass will be held at 11 a.m. at St. Joseph Catholic Church, Wednesday, July 10. After the burial at the Libby Cemetery, a luncheon will be served at the Parish Hall for family and friends. Arrangements are by Schnackenberg Funeral Home in Libby. Online condolences and memories may be shared at www.schnackenbergfh.com.
---