Special meeting Thursday to discuss Frontier phone service issues
by
Benjamin Kibbey Western News
|
January 23, 2019 2:27 PM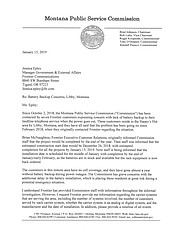 There will be a special meeting in Libby to discuss the status of failed backup batteries related to phone service for residents of the Happys Inn area on Thursday, Jan. 24 at 1 p.m. in the Lincoln County Courthouse.
Representatives from the Montana Public Service Commission will join Lincoln County elected officials and representatives from Frontier Communications and Flathead Electric Cooperative to discuss the situation and questions the Public Service Commission posed to Frontier in a Jan. 15 letter.
The batteries in question provide temporary backup power to maintain Frontier's phone service during a power outage. Mike Otte and other residents around Happys Inn have reported that there has been no phone service during power outages in the area since February 2018.
The meeting is scheduled to be held in the County Commissioners' meeting room on the first floor of the courthouse.
Justin Kraske, chief legal counsel at the Montana Public Service Commission, said in a phone call Tuesday evening that he expects the first portion of the meeting to not have a public comment period. Kraske said that before taking comments from the public, he would like to see the utilities and government agencies have the opportunity to discuss questions they have for one another.
Kraske said that he would like to hear comments and concerns from the public after the initial discussion, but that Lincoln County is taking the lead on organizing the meeting.
On Wednesday, the County Commissioners were uncertain whether a public comment portion is planned for the meeting. However, the entire meeting — which is scheduled from 1 p.m. to 3 p.m. — will be open for the public to attend.
Kraske said that, going by information that Frontier has provided the Public Service Commission, the batteries for Happys Inn may be in place already or this week.
He said that on Monday, Jan. 21, Frontier responded to the Jan. 15 letter, and have answered many of the Public Service Commission's questions. However, Frontier has requested that a portion of their response be kept from public release.
Kraske said that he was uncertain as of Tuesday night on the legal standing of Frontier's basis for requesting the portion of their response not be made public. He did not go into detail on what that basis is.
Kraske said that he expects Public Service Commission Vice Chair Bob Lake — the commissioner for the Public Service Commission district that includes Lincoln County — to attend the meeting.
---