Lady Trojans continue working on catch-up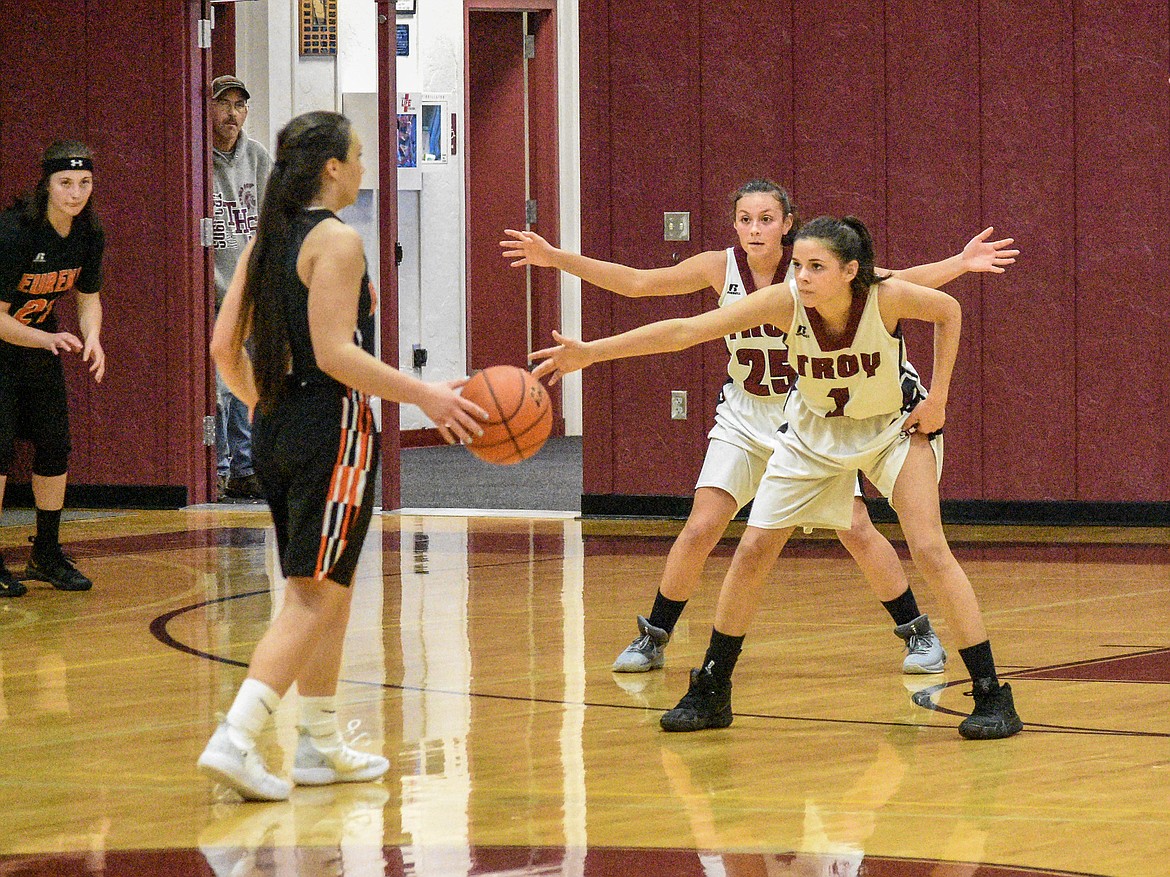 Junior Isabel Ramirez and sophomore Talise Becquart face down Eureka's Michael Shea late in the second quarter Saturday. (Ben Kibbey/The Western News)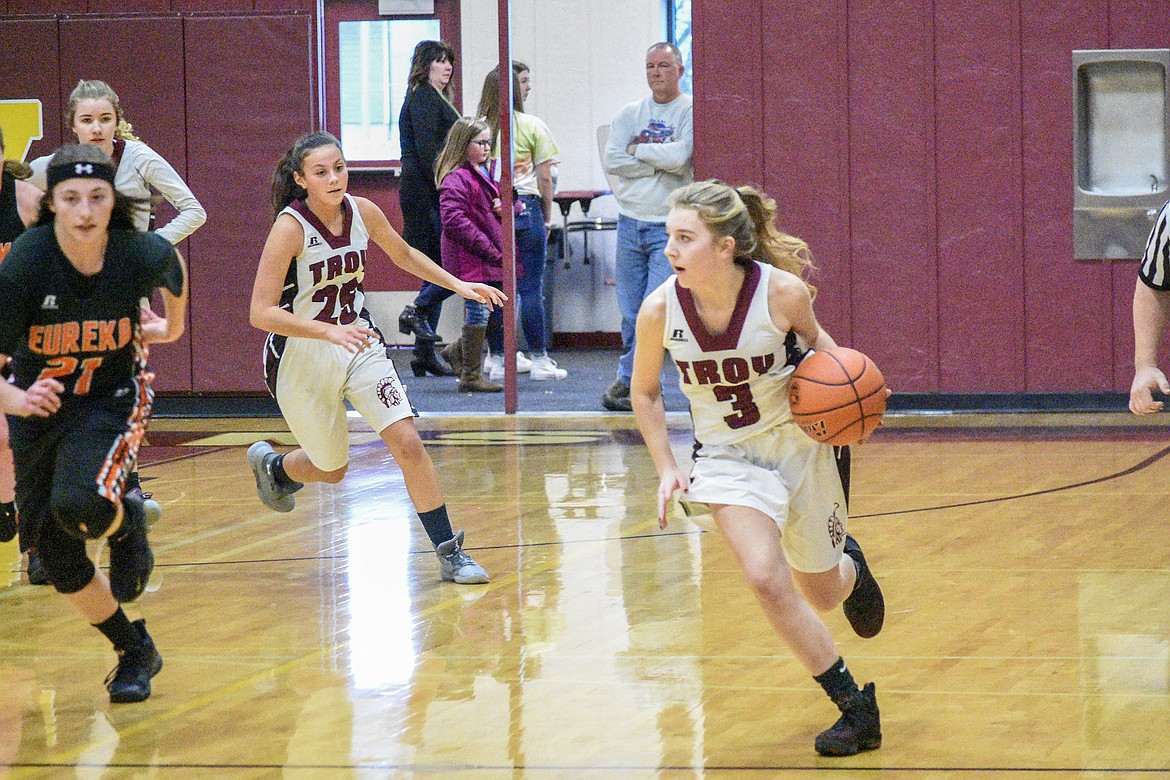 Troy senior Annie Day heads down court during the first quarter against Eureka Saturday. (Ben Kibbey/The Western News)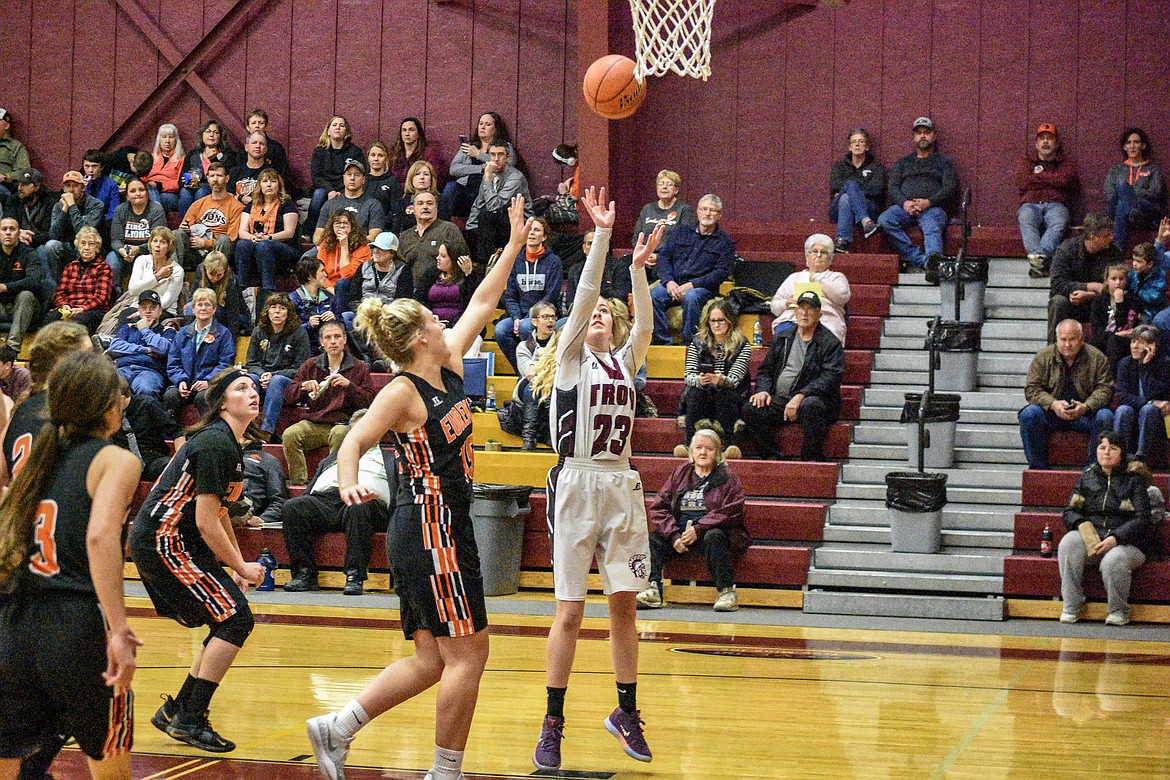 Troy junior Katelynn Tallmadge makes a layup early in the third quarter against Eureka Saturday. (Ben Kibbey/The Western News)
Troy sophomore Talise Becquart gets the rebound before scoring the only Lady Trojan basket of the first quarter against Eureka Saturday. (Ben Kibbey/The Western News)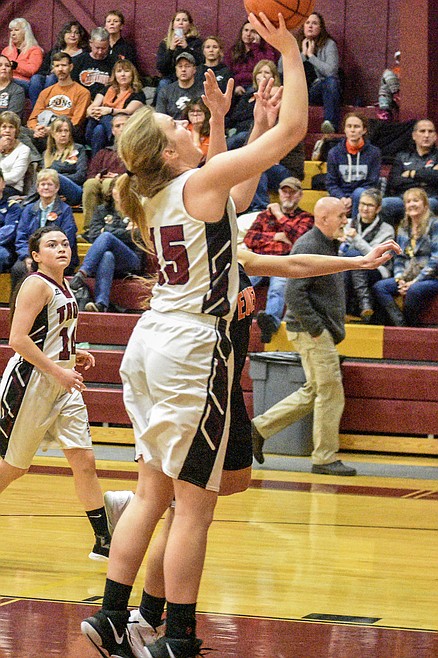 Troy junior Ella Pierce makes a layup late in the final quarter against Eureka Saturday. (Ben Kibbey/The Western News)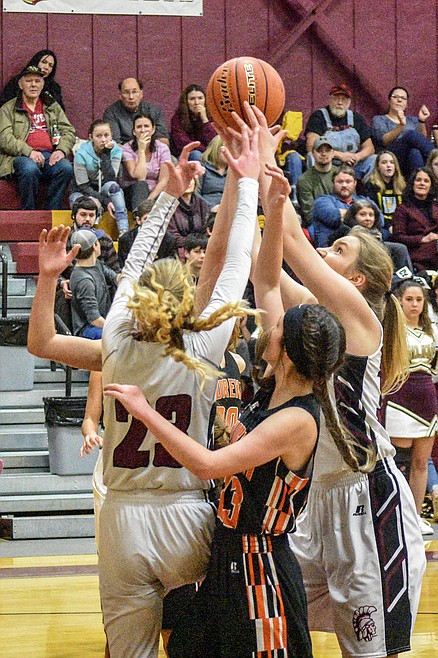 Troy junior Ella Pierce gets the rebound and makes the shot at the buzzer just before halftime against Eureka Saturday. (Ben Kibbey/The Western News)
Previous
Next
by
Benjamin Kibbey Western News
|
January 15, 2019 3:00 AM
With a 66-19 loss to Eureka Saturday, the Troy High School girls basketball team is still working to overcome the loss of junior Montana Rice, but continuing to show improvement.
As Troy Head Coach Bradley Dunn-meier pointed out Saturday, the Lady Lions also beat Big Fork, a team that trounced the Lady Trojans 61-12 a week before.
Juniors Katelyn Tallmadge and Ella Pierce have been working to fill the gap left at post after a shoulder injury removed Rice for the season. Sophomore Talise Becquart has been helping out under the net as well, Dunn-meier said.
"The good thing about Talise, she's very athletic, and she can play any spot," Dunn-meier said.
Like much of the team, all three are multi-sport athletes. At 6-feet, 1-inch, Pierce, who participates in high jump and hurdles in the spring, shows potential to dominate under the basket.
In the final second of the first half against Eureka, Pierce showed she can exercise some of the determined control over the ball that has been Rice's hallmark. Pierce refused to give up the rebound, using her natural reach to add two more points for Troy before the buzzer.
At other times, Pierce appeared to hesitate in the post position against Eureka, possibly trying to judge how far she could push things without having a violation.
Dunn-meier agreed that many of the things the Lady Trojans are still working through come down to just having the experience to base their actions on.
On defense, Troy has gotten good on anticipating where the ball is going, but sometimes they still fall for misdirection when they are one-on-one, he said. "We do really well out front where we're anticipating passes, but actually defending one-on-one, that's what we've struggled with."
Much of that simply comes down to seeing things in games over-and-over, until responding to them becomes second nature, he said.
But there is a willingness to improve and desire to get better that Dunn-meier always returns to when discussing his team.
"They're improving. There's no doubt about it. The problem is, we started so much lower, and this is a tough league right now," he said.
Looking ahead to their upcoming game against Florence, Dunn-meier said that the season isn't going to get any easier, as they play teams that have beaten teams the Lady Trojans have lost to.
But with only two seniors this year, the rest of the team is thinking ahead to next season as well, he said. They are realizing that they will be facing the same players again in a year, and taking stock of where they want to be when that happens.
Becquart is one of several players who have been focusing on their shooting at practice, Dunn-meier said. "I'm seeing a real desire now to improve some things that they weren't too sure about before."
In losses such as their double-digit fall to Noxon, the difference seemed to come down to just making their shots, Dunn-meier said. The Troy formations are working well, and their offense has been opening up shot opportunities, but they haven't been converting.
In other games, such as against Bigfork, even senior Annie Day struggled to get past the press, something that isn't normally an issue for the leading Lady Trojan.
Against the more structured Eureka press, Troy did much better, Dunn-meier said. "We were able to prevent from getting double teamed tonight, which really helped."
The Lady Trojans did well with sharing the ball against the Eureka press, he said.
"Our offense is working. We're getting shots. We're getting passes where we want them to be. It's just, we're not converting it into any points," he said.
Dunn-meier said that he talked to the team about the time they put in during the off season.
Standing under a basket taking shot after shot is boring, but it's important, he said.
Dunn-meier said it would have been fun to have a whole team performing at Day's level. "They really had that potential, but it just never happened."
Especially in a game such as basketball, being good at one thing isn't good enough, he said. "You have to block out and you have to rebound and you all have to shoot — you have to do all of those pretty well to really be a successful player."
"I like working with these girls; they're really fun, and it's just too bad that we haven't had the opportunity to develop the skills that they have," he said.
The Lady Trojans play next at Florence, with the first game starting at 2:30 p.m. Friday. Their next home game will be against Stillwater on Saturday, Jan. 26, with the first game at 1 p.m.
BigFork 61, Troy 12
BF: 22 22 8 9 - 61
T: 0 4 4 4 - 12
Bigfork: Meredith Benford 2 points, 2-2 FT; Emma Berreth 10 points, 1-2 FT; Hidi Schneller 8 points; Audrey Buenz 4 points, 0-4 FT; Ansleigh Edgerb 16 points, 4-4 FT; Sayler Martine 4 points, 0-1 FT; Izzy Scintistevan 11 points; Ashton McAnalle 6 points
Troy: Emily Ramirez 2 points; Annie Day 5 points, 1-2 FT; Kaitlyn Tallmadge 3 points, 1-2 FT; Isabelle Ramirez 2 points
Saturday, Jan. 12
Eureka 66, Troy 19
E: 20 17 20 9 - 66
T: 2 10 2 5 - 19
Eureka: Sienna Utter 17 points, 2-2 FT; Maggie Graves 13 points, 2-4 FT; Karlee Frost 5 points; Rhianna Hawkins 14 points, 3-4 FT; Michael Shea 6 points, 0-3 FT; Alyssa Utter 4 points; Megan Hanson 2 points; Reena Truman 2 points, 2-3 FT; Michelle Leonard 3 points
Troy: Annie Day 3 points; Kaitlyn Tallmadge 5 points; Isabelle Ramirez 3 points; Ella Pierce 4 points; Talise Becquart 4 points
---