Libraries plan for future ahead of centennial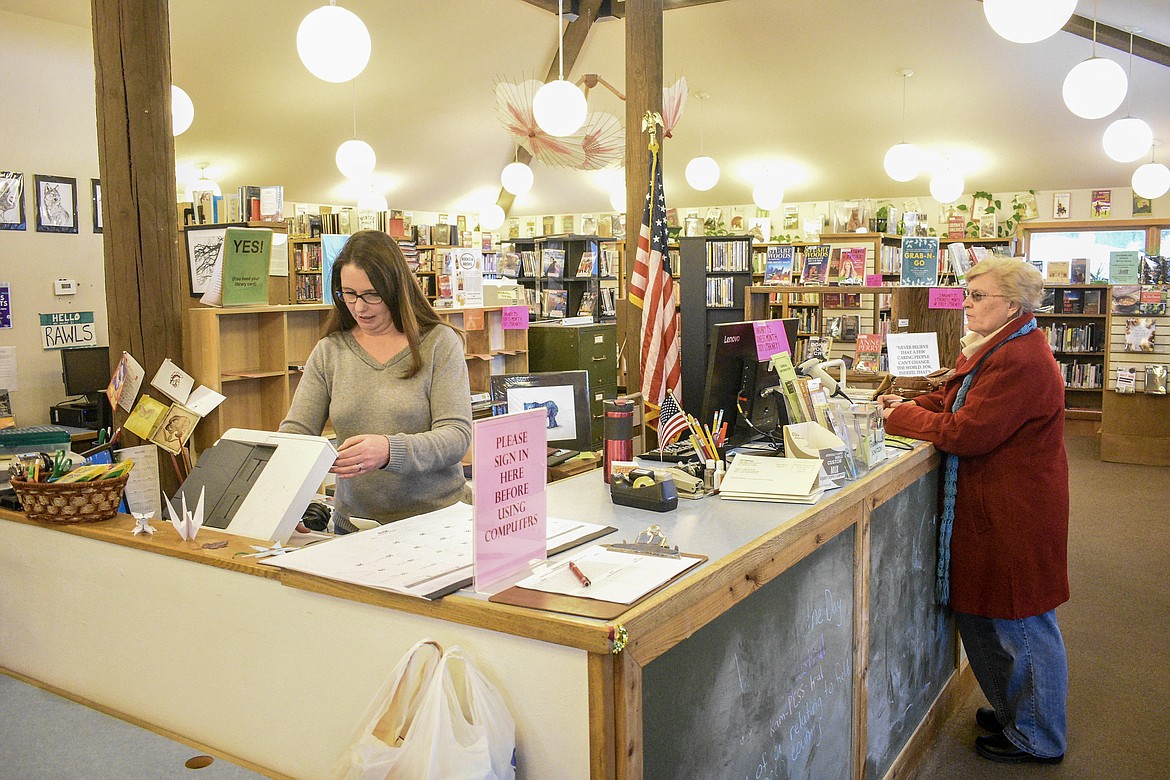 Troy Librarian Sharee Miller assists Lois Chapel at the circulation desk on Wednesday, Jan. 2. Miller said that she would like to eliminate the large desk, freeing up a lot of space in the small branch for community programming. (Ben Kibbey/The Western News)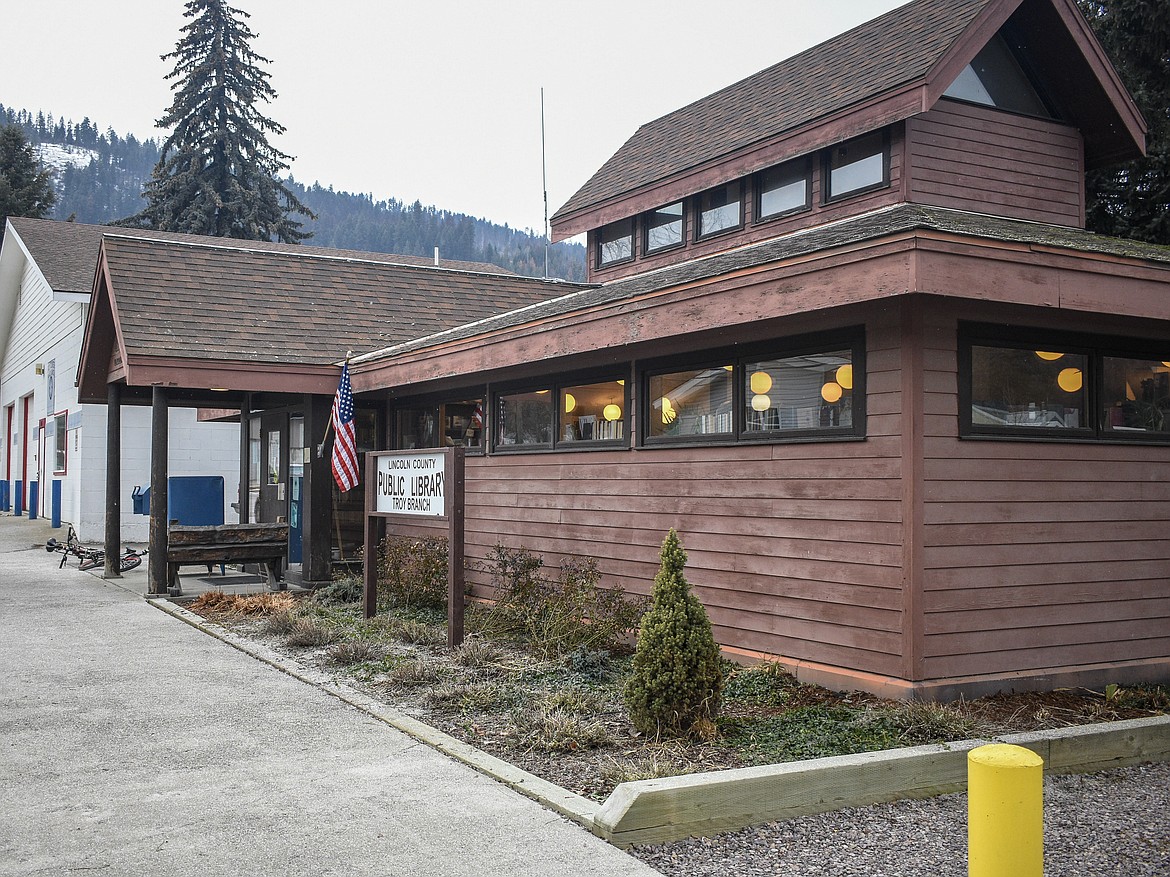 The Troy Branch of the Lincoln County Public Libraries. (Ben Kibbey/The Western News)
Previous
Next
by
Benjamin Kibbey Western News
|
January 4, 2019 3:00 AM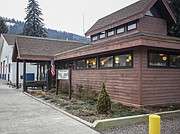 Approaching the 2020 centennial of the Lincoln County Public Libraries, the Board of Directors is beginning work on a four-year strategic plan, and Libraries Director Alyssa Ramirez has an eye to the future role of the libraries in their communities.
Ramirez said that part of the strategic planning will include developing a core brand that encompasses all three branches — Libby, Troy and Eureka.
They will also be looking at the current libraries levy, which at this time only covers some of the cost of employee salaries and benefits, she said. Currently, any additional costs such as just keeping the buildings open falls to allocations from the County Commission.
"We're left with what they can give us after they've given budgets to all of the other departments," she said.
Yet, Ramirez said she does not anticipate seeking any change to the levy before 2022. First, the libraries board will need to finalize the strategic plan so that they know what costs to anticipate.
However, it does not seem likely staffing costs will go down.
The current library staff of six full time positions is about half of what it was in the 1990s, Ramirez said. Recently having a staff member on leave has shown that it's not feasible to operate three branches with any fewer.
It would be nice to actually have more people, said Ramirez, who is currently filling roles that were shared by three people when she first started working for the libraries.
Since the levy does not cover even the full cost of staffing, there is nothing to go into a capital improvement fund for maintaining or improving the branch buildings.
The Libby branch was built in the 1950s, Ramirez said. The roof was never well-designed for snow loads, and a recent assessment stated that the membrane will likely need replaced.
There are also problems with the boiler, and thermostats in the building that the staff aren't even sure if they connect to anything.
"Right now, especially with the Libby branch, it kind of feels like we're just putting bandaids on things until we really figure out what's going on," she said.
But, until they have a comprehensive assessment of what the building will need, Ramirez said she also hesitates to start any major renovations. "That way we aren't changing things, and then find out we wasted money."
Ramirez said the libraries are also looking into grants to help pay for improvements as they determine what improvements are needed.
Branching out
While major improvements at the Libby branch are pending further assessment of the structure, the libraries are looking into a grant for improvements at the Troy branch, Ramirez said.
So far, they have submitted a letter of intent for a $25,000 grant to make improvements to the Troy branch, she said. They will not know until March if they are invited to submit an application for the grant.
Ramirez said that they took into account the sizes, condition and desired improvements at all three branches when looking at how they would allocate grant funds if they are awarded.
A needs assessment last fall revealed that the biggest concern for the Troy branch was a lack of space, Ramirez said.
It's a concern Troy Librarian Sharee Miller shares.
Standing behind the large desk at the entrance to the library branch, Miller said that she simply doesn't need so large a desk. In fact, she has cleared out most of the filing cabinets and storage behind the desk.
Miller said that the renovation plans for the branch would give more space for community programming while also freeing her up to help more with that programming.
Instead of the large circulation desk, Miller would have a mobile work station, opening up the center of the library entirely.
There would also be a self-service checkout kiosk.
"Taking out this counter is my dream," Miller said. "Right now the librarian is taking up a third of the library."
Ramirez said that there would be some consolidation of the Troy branch's catalogue and that some of the shelving in the center of the library might go away. The shelving around the edges of the room would remain.
The central space of the library would be completely open, with furniture that can be moved around to accommodate community programs for both children and adults, Miller said.
The Troy branch is already a kind of hub for the community, Miller said. In December, they served over 1,400 customers.
"We're a really busy library for such a small space," Miller said.
The branch hosts a monthly homeschool hour, with four to six children who regularly attend. It also hosts the Kootenai Job Service the first Wednesday of every month.
Miller said she sees ways to expand on such offerings, including educational events that would allow homeschoolers to mix with their peers from the regular school system.
Miller recently ordered a math activity program, but found it required more space than she had. She was able to work with Troy Public Schools' After School Program to make sure the material saw use, but she wasn't able to serve her homeschoolers that way.
While many people may have Internet on their phones now, Miller said the library is still a place where some come for access to the Internet or even just a computer.
She also sees the opportunity for the library to be a way for community members to connect. She pointed out a board with sticky notes where people could post the things that make them happy.
The hope is that the "What makes me happy" board will spark conversations, she said.
"It's a good place for people to come, and that's what we want," she said. "We are kind of a community center, and we want to be that to the community."
Volunteering
Currently, Miller said that she isn't able to participate in things such as the story time program that the Troy branch has on Fridays. Since she is alone in running the branch, she has to rely on volunteers to make programs possible.
In Libby as well, volunteers are essential, Ramirez said. She estimated that the work done by Friends of the Library volunteers account for the equivalent of another 1.5 employees.
"Even just simple things like relabeling books and wrapping books and reshelving books — those are things that the staff can't get to," Ramirez said. "They are a huge help."
In Troy, Miller said that volunteers instruct children in things such as origami during the homeschool hour — teaching math in a "sneaky" way by making it fun.
Troy could use more Friends of the Library volunteers, though, Miller said. The group has been essential in helping to finance programs and allow the branch to have activities that wouldn't exist without them.
Ramirez said that any community member interested in volunteering to help out at their local library branch is welcome to contact her directly.
Ramirez can be emailed at aramirez@lincolncountylibraries.com, or phone inquiries can be directed to the Libby branch at 406-293-2778.
---