First baby of 2019: It's a girl!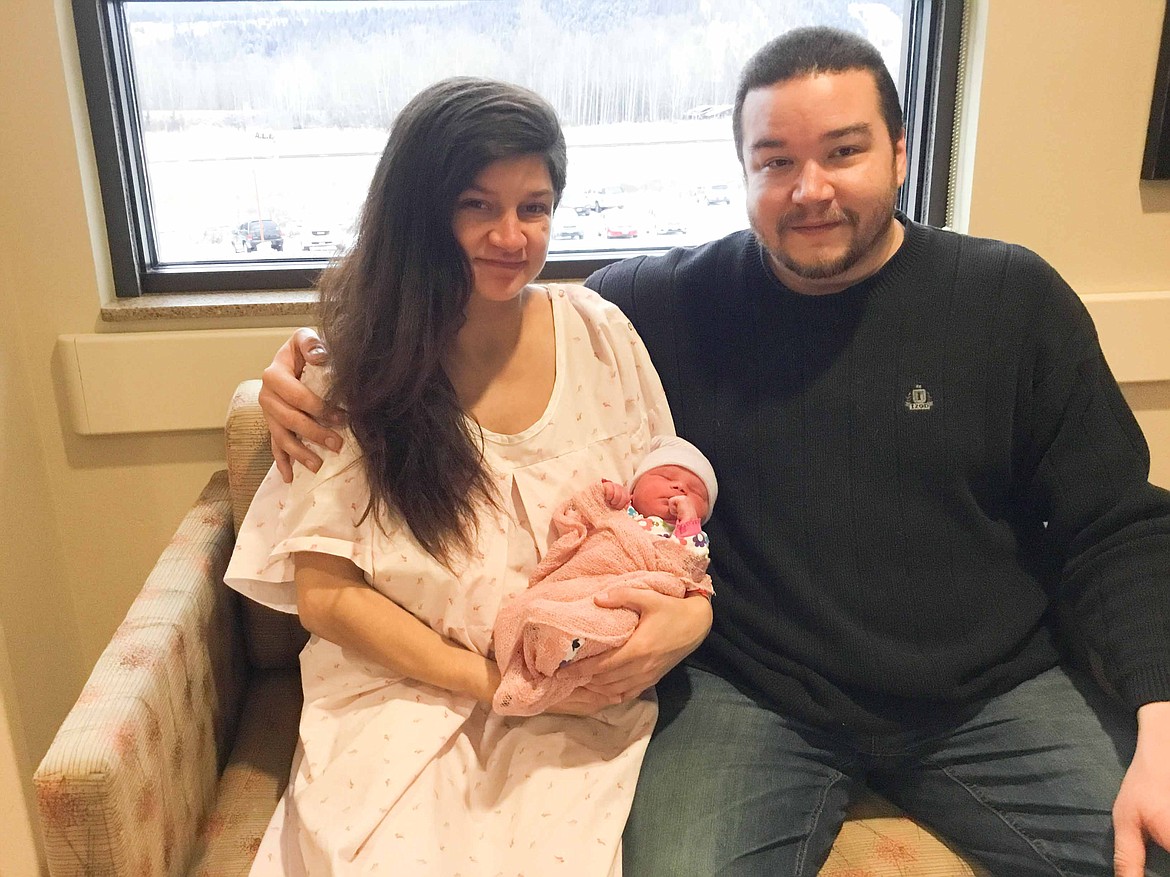 Jeff and Hailey Briere sit with their new baby girl, Alora. (Courtesy photo)
by
The Western News
|
January 4, 2019 3:00 AM
The first baby of 2019 born at Cabinet Peaks Medical Center was a girl, Alora Briere, daughter of proud parents Jeff and Hailey Briere.
According to a release from Cabinet Peaks, Briere was born at 1:54 a.m. on Jan. 2, weighing 5 lbs, 4 ounces, and was 18 inches long. Dr. Gregory Rice was the attending physician.
"Baby Alora's family is excited she is here," the release states. "She has two brothers that can't wait to meet her — Khyber, 3 years old, and Wilson, 1 year old. They stayed with their grandma while uncle Jonathan drove Hailey to the hospital, where dad met them after he finished working."
Community members and local businesses contribute to help make the celebration of the first baby born in southern Lincoln County each new year a bit more special, according to the release.
Cabinet Peaks Medical Center provided the new little girl and her parents with an Ergo Baby Child Carrier equipped with an all weather cover and infant insert, and an afghan created and donated by a CPMC employee. Cabinet Peaks Clinic Family Medicine donated a Graco stroller; Cabinet Peaks Clinic OB/GYN donated a Graco swing/bouncer; Cabinet Peaks Clinic Bull river donated a jumparoo; Glacier Bank provided a Visa Gift Card; Northwest Community Health Center donated a baby bouncer, and Libby Clinic donated a pack and play.
More than 100 babies are delivered every year at Cabinet Peaks, according to the release.
"At CPMC, we feel that all of our new additions deserve to be celebrated," the release quotes Kimberlee Rebo, RN, BSN, CMSRN and Manager of Acute Care Services at Cabinet Peaks as saying.
Every baby born at Cabinet Peaks is provided a hand stitched blanket made by the Hospital Auxiliary Team and crocheted infant hats made and donated by hospital and community members, according to the release. They also receive a free newborn baby photo and an 'I was born at Cabinet Peaks Medical Center' onesie.
Many other community organizations provide items and educational materials as well.
"New babies & families alike are celebrated and supported in this new adventure!" Rebo said.
For more information about the Birthing Services at Cabinet Peaks, call Kate Stephens at 406-283-7140.
---