For the home team Libby cheerleaders work hard for team, community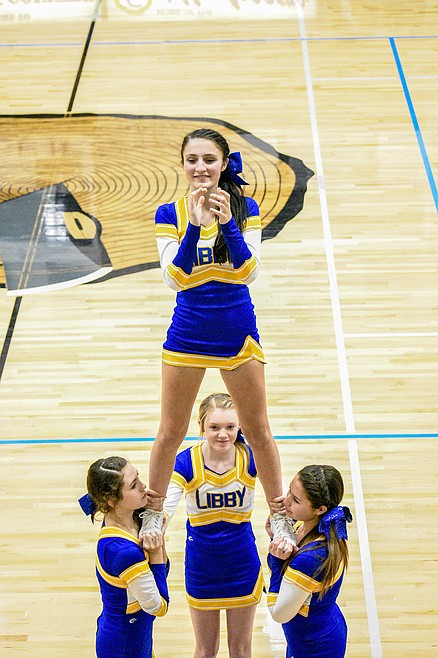 Flyer Aspen Swartzenberger is held aloft by (clockwise from left) Arista Munsel, Annika Thorstensen and AnnaMarie Kerschbul during a Libby basketball game Jan. 19. (Ben Kibbey/The Western News)
by
Benjamin Kibbey Western News
|
February 19, 2019 3:00 AM
Libby High School's cheer squad has been had the greatest participation in years this winter season, and the members see no reason that shouldn't be a continuing trend in coming years.
Cheer Coach Jennifer McElmurry said that in the decade she has been coaching, she hasn't had this many cheerleaders come out before. Even after losing a couple members, the squad still boasted 18 around the end of the season.
She quipped that maybe so many came out just because they love having her as a coach, but McElmurry said that she thinks the real reason is that the wider perception of cheer is changing.
"I just think that cheerleading's getting to be bigger, and it's really a lot of fun," she said.
From basketball games at home to this weekend at the Montana Northwestern A Divisional Tournament, Libby's cheerleaders are always there to get the crowds cheering for their teams. Even at Libby's home wrestling meets, they do a slightly modified version of their cheers.
Outside of Libby, cheerleaders at a wrestling match aren't necessarily something to be expected.
But McElmurry said that it's a longstanding tradition here.
From a seated position on the ground, the squad uses their hands to make up some for not being able to move around as much, beating in time on the floor as they do their cheers.
"It's so fun to cheer at wrestling," said McElmurry, who was a cheerleader herself in high school. With around 100 cheers to choose from, even from a seated position, the squad still has plenty of ways to go about getting the crowds pumped up and giving the wrestlers a little extra motivation.
They even have cheers for specific moments in a match, such as when a wrestler is working on an escape.
Junior Ashlyn Monigold — who plays volleyball in the fall — is one of several of Libby's cheerleaders who plays a sport when she isn't cheering.
Though she has several friends on the girls basketball team — and volleyball teammates as well — but decided on cheer for the winter season after trying basketball her freshman year.
"The best part about cheerleading is just being able to be with my friends and have fun and support the teams. My friends play basketball, so I get to cheer for them and then also have fun at the same time," she said.
From being on the other side and knowing how much it helps when the crowd is cheering the team on, Monigold said she understands the difference cheerleaders can make for the athletes. And the same goes when she hears the cheerleaders encouraging her during a volleyball match, she said.
"It just boosts your confidence. It makes you play better," she said.
Of course, the main goal for the cheerleaders is to get the crowd going to really help fuel the team's spirit. No matter how the game is going, knowing the crowd is behind them can really make a difference in the motivation of the players.
Pressure
But, there's all kinds of pressure on the cheer side too, she said. They aren't just performing for the crowd, but trying to communicate with them. Yet, even when the crowd isn't responding, such as during a losing game, the cheerleaders can't show discouragement.
"You just get over it, because it's your job," Monigold said.
Junior Jaycee Thornock said that the unique way cheerleaders engage the crowd can add demands that aren't there when playing a sport.
"Other sports, you just go out and play the game, but you're really focused on the audience during cheer," she said.
Of course, both juniors agreed that there is also an added exhilaration when the crowd really responds to them.
Junior Sydney Croucher said that cheer is a lot more physically-demanding than many people may realize. "You get kind of tired, actually."
While not all of the cheerleaders may do weight-lifting — some are involved in the school's general sports conditioning program — that doesn't mean they get out of lifting some weight, Croucher said.
No matter how big or small a person, when all their weight is coming down on one foot that another cheerleader has to support, holding them up, balanced in the air, it can be quite an effort. Let alone when holding them in the air is followed by tossing them into it.
That's also a time when the trust and confidence they have built in practice becomes key, three juniors agreed.
Monigold is a "flyer." She's the one who gets to "fly" during stunts. It can take an incredible amount of trust in her squadmates to not only get her into the air safely, but to catch her coming down, she said. But, she admitted she does love the adrenaline rush of it.
Community spirit
Of course, the cheerleaders aren't just there building spirit in front of the crowds at games.
Some of the cheerleaders are also on the media team, and they go to events such as golf tournaments to get pictures.
And one of the biggest things the squad does in the community is just serving at events, representing the school and and Libby athletics in front of people at everything from the annual Festival of Trees to the annual Libby Chamber of Commerce Dinner, McElmurry said.
McElmurry said that, while she usually is there accompanying her squad when they serve at community functions, she also has a good group who she can trust to do a good job representing the school.
"I trust them 110 percent. I really do," she said.
And the cheerleaders enjoy getting to spread some community spirit as well as school spirit, she said.
Thornock said she feels like the squad makes a great impact when they are involved in community events. She particularly enjoys the cheer camp they run for younger girls.
"We teach them the dance, then they get to perform. They get to be one of us for a night," she said. "It makes me feel really good, because I love working with the kids."
---